You don't have your Michelin four stars quite yet and you have just recently started feeling comfortable in an apron. That said, there's no rush, Mahatma® Rice has several simple and easy rice recipes for you to follow to give you a jump start in the right direction. From Thai to Indian, Mahatma Rice® has a recipe for you no matter where your mood may take you. Before diving into the array of tempting choices let's look at an overview of some of the rice choices Mahatma Rice® has to offer:
Mahatma® Rice Varieties
With so many different types of rice it's easy to feel overwhelmed and it is hard to keep track of them all. Here is a list of some of the most common rice types and later we will talk about how to use them and some delicious recipes you can try at home.
Mahatma® White Rice – This extra long grain family favorite is a versatile choice for any occasion. When cooked, it will have a fluffy dry texture making it perfect for any meal of the day.
Mahatma® Jasmine White Rice – An aromatic long grained rice that is soft, white and fluffy once it is cooked. It is Gluten Free and is an ideal choice for any vegetarian dish or vegan dish. Since the texture is sweet and fluffy it is also a preferred choice in Asian cuisines such as Cambodian, Indian or Thai. 
Mahatma® Basmati Rice– This is a long and slender grain with a fluffy texture. It has a nutty and floral aroma. This rice stays separate, firm and never sticky. It is ideal to use for different international cuisines like curries or spicy Southwest rice.
Now that you know a bit more about these MahatmaRice® types let's look at some possible recipe options.
What's on the Menu?
Mahatma® Rice makes it easy to satisfy everyone's cravings with their wide variety of options. Whether it's seafood, meat, or a vegetarian meal you want, Mahatma® Rice has got you covered.
Seafood Recipes
This simple Kimchi Salmon Fried Rice one pan dish is perfect for a weeknight meal with the family.
Some of the ingredients are: leftover salmon, egg, garlic, soy sauce,kimchi and gochujang. You may be wondering what those last two ingredients even are?
Kimchi is a slightly spicy, traditional Korean type of sauerkraut made of fermented vegetables like cabbage, carrots and radishes. Korean chili, ginger and garlic are added for flavor. Gochujang is essentially a Korean fermented pepper paste. It's thick and a wondrous combination of spicy-sweet! Just remember that a little goes a long way.
Let Mahatma® Rice take you away to a local Spanish restaurant with this Authentic Spanish Paella with Seafood recipe. Monk fish, mussels. calamari rings and prawns is just the beginning of your paella journey. Seafood paella is the most traditional of all of the paella types. Try it tonight!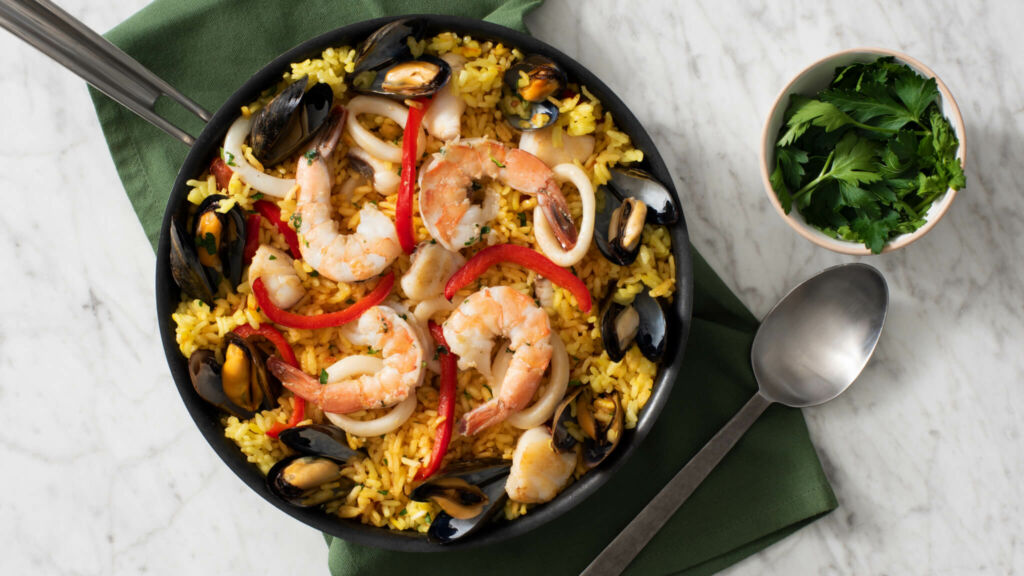 Meat Recipes
Is your family craving a meat dish? Chicken it is! Arroz Verde Con Pollo. This delicious recipe is sure to be a victory for everyone . With Mahatma® Jasmine White Rice, drumsticks, onions, peppers, garlic, chicken broth and cilantro the entire family will be wanting seconds.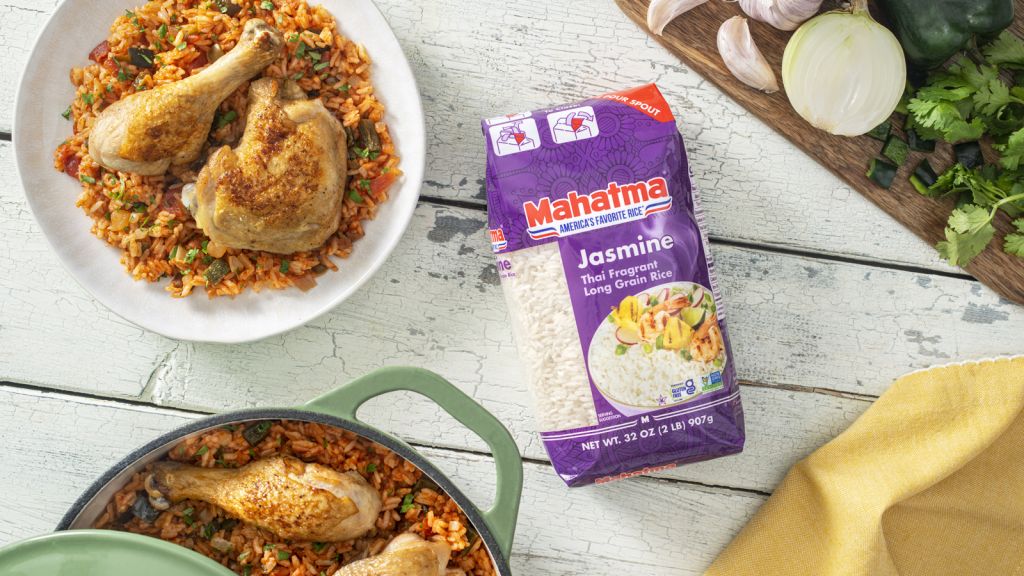 Are you entertaining or looking for a fun family meal with the kids? With ground beef, onions, carrots, garlic, pepper, cheese and marinara sauce these Jasmine Rice and Quinoa Meatball Sliders are a winning combination for any event.
Vegetarian Recipes
And lastly, do you have a vegetarian request? Rice and Beans Stuffed Plantains are an ideal choice. Plantains, olive oil, black and refried beans, cheese salt, tomato, cilantro and lime.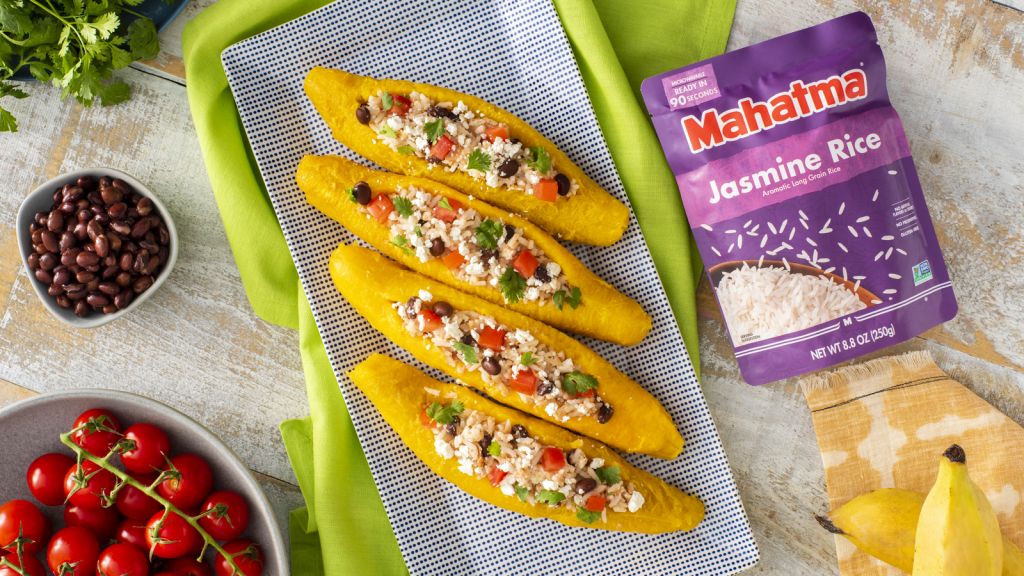 What are Plantains?
Plantains look like bananas but they cannot be eaten raw. They need to be peeled and cooked. They are very versatile and a huge benefit is that they can be used during any stage of ripeness! They can be used in a variety of dishes from appetizers to desserts. They can also be boiled, grilled, fried, steamed or baked! You can usually find them in the produce section of your local supermarket.
This tangy Vegetarian Beet ¨Poke¨ Bowl will not disappoint! It is packed with flavorful vegetables like cucumbers, beets, and carrots. Rice bowls are super versatile so whether you are craving a filling lunch or want to use all the leftovers in your fridge for dinner anything will do!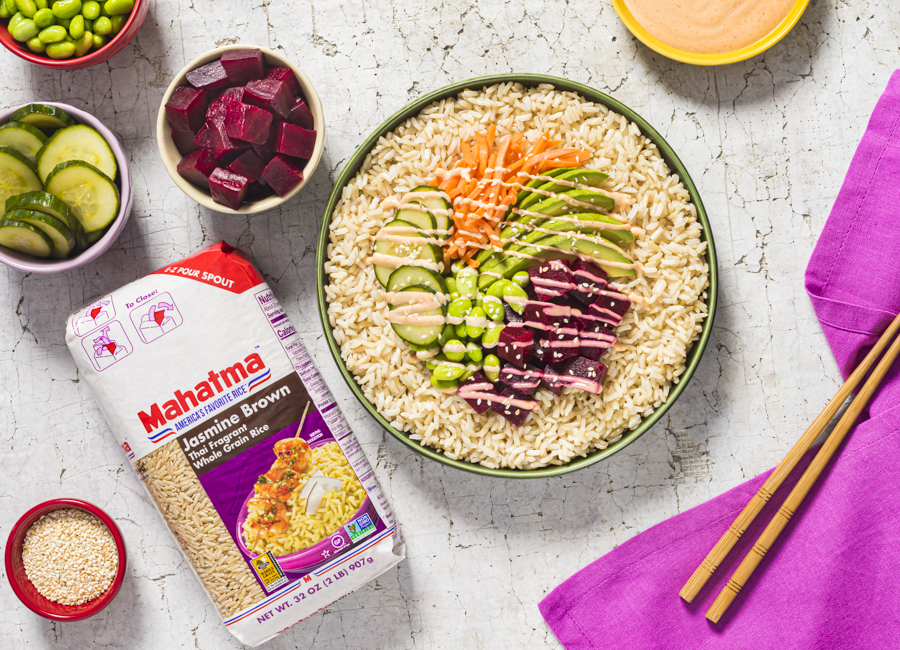 After your meal has finished and your sweet tooth has kicked in, Mahatma®Rice has several ways to serve rice as dessert!
Dessert Options
Craving coconut? This Easy Coconut Rice Pudding recipe includes: coconut milk, coconut oil, salt, vanilla extract and toasted sweetened flake coconut. While you are chatting with your friends or family in the kitchen you can continue to stir until the mixture has thickened. When finished, you can top with cinnamon or sprinkle a dab of coconut. Other fun topping options are fresh fruits such as; bananas, pineapples or mangos with a freshly grated lime or orange zest.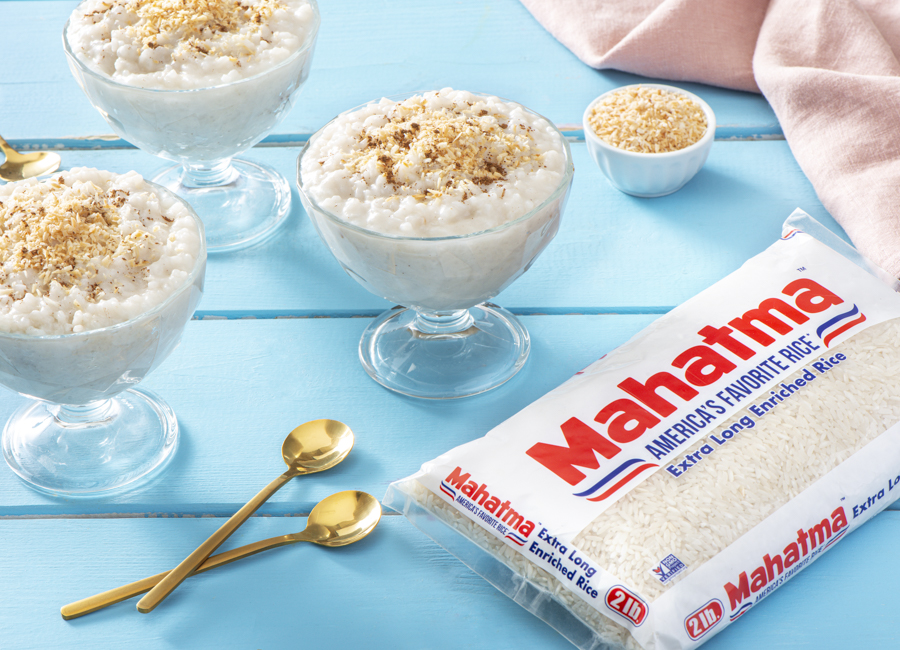 Have somewhere to go? Cook this Easy Slow Cooker Rice Pudding pudding on low in the slow cooker for five to six hours and it will be ready and waiting for you when you get back from that basketball game. This recipe has: butter, whole milk, sugar, salt, orange zest, vanilla extract and nutmeg. (Nutmeg will add a warm and nutty flavor).
If you enjoy cooking with almond milk, this Almond Milk Rice Pudding recipe is for you. It contains: almond milk, cinnamon sticks, orange zest, maple syrup, vanilla, salt and cane sugar.
As you can see, Mahatma® Rice has an unlimited amount of simple and easy recipe ideas for any occasion.
Don´t be afraid to try new recipes and reach for those stars.
Follow Mahatma® Rice for even more recipe inspiration!