Stuffed vegetables are a wonderful and comforting dish that can cross cultures and cuisines to remind you of savory home cooking. Humble vegetables are elevated to an impressive main dish as they're filled with all kinds of ingredients, namely grains, proteins and flavorful sauces. Quite possibly one of the tastiest ways to get more veggies onto your table for a family-friendly dinner.
While everyone can enjoy a simple Stuffed Pepper recipe made with white rice and ground chicken or turkey, or maybe a jalapeño popper style finger food Cheesy Stuffed Pepper, there are many other options to discover! So, at Mahatma® Rice, we'll help you explore other stuffed vegetables with confidence and of course, delicious and hearty fillings that go beyond the traditional stuffed pepper.
Filling Criteria For Stuffed Vegetables
Almost any vegetable can be stuffed, those with a deeper inner cavity just tend to be easier to scoop out and fill. But honestly, what really upgrades one recipe or another is the filling! So, before we delve into our favorite vegetables to stuff, let's take a look at what elements are essential for an above-the-top filling.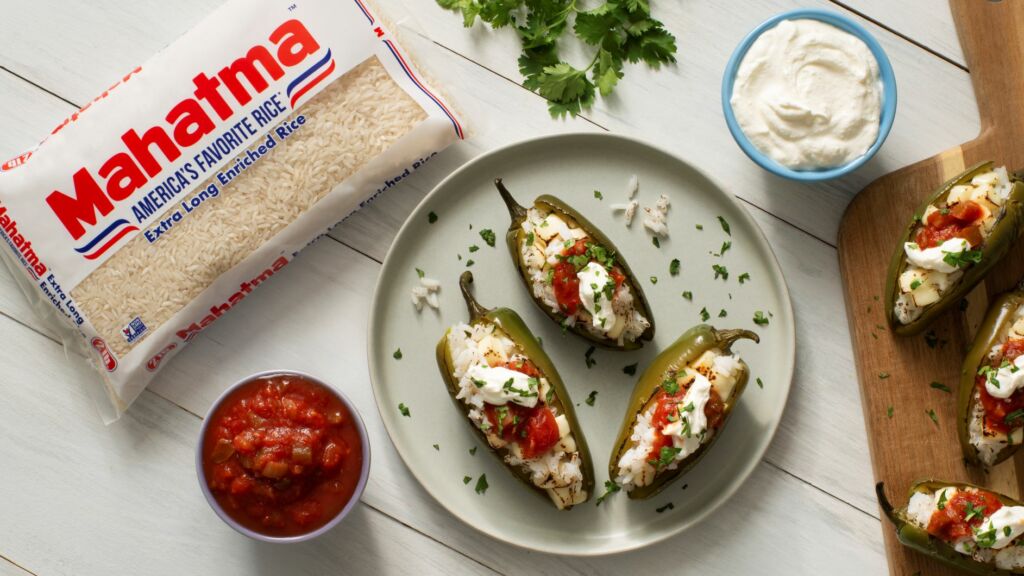 Grains: The perfect filling base, grains like rice or quinoa are an essential part of any stuffing to give your dish that hearty oomph to keep you feeling full. Grains are also perfect for absorbing the flavor of the cooking liquid. If using plain rice, try vamping it up by using ½ broth or season the cooking water with herbs and spices.
Protein: To keep you feeling satisfied, a protein will come in handy! While most recipes call for ground meat, protein can also come from fish and eggs or beans, tofu or extra vegetables for a meat free alternative.
Sauce: There is a wide range of sauces to use that keep your vegetables from drying out when cooked. Some of the most common are tomato-based like marinara or oil-based like pesto.
Herbs and Spices: Using ingredients like fresh herbs and spices helps to cut down on the use of salt, while providing loads of flavor in every bite.
3 Sensational Stuffed Vegetable Ideas
Step out of your stuffed pepper comfort zone and try one of these delicious filled vegetable options. We've chosen vegetables with a deeper inner cavity for more filling goodness that have thicker walls to withstand the heat and hearty grains! Take a look at our top picks.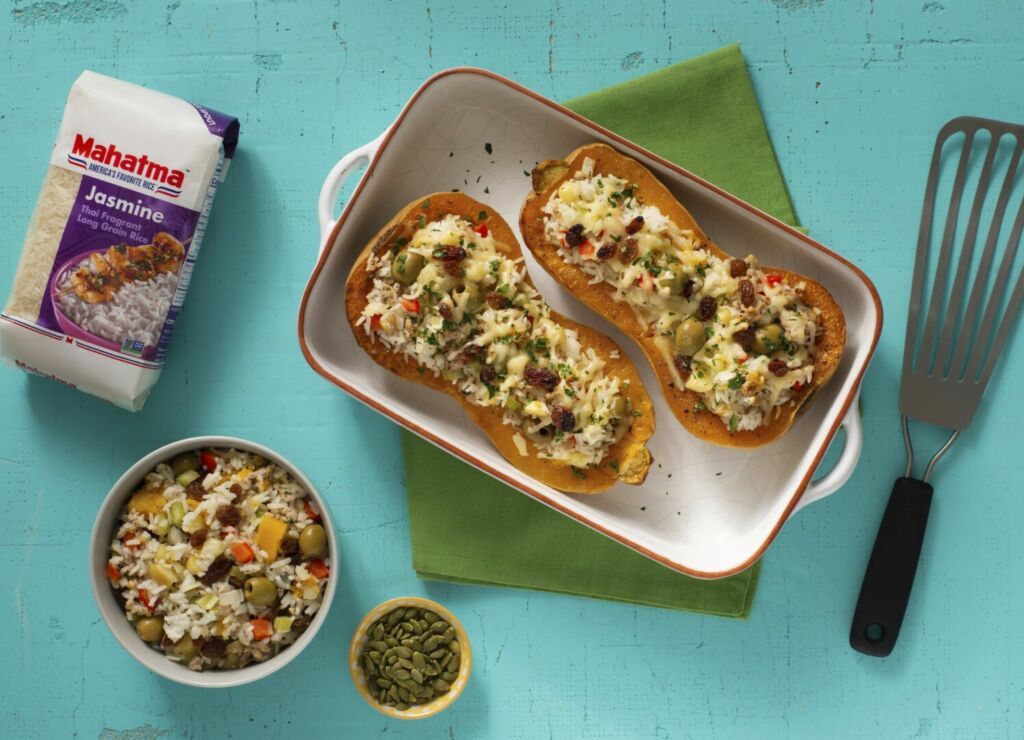 Squash
This fall favorite vegetable can also make for a show-stopping stuffed delicacy. Its thick and durable walls make it ideal for holding in a hearty filling. Use any variety you choose from winter squash like acorn, pumpkin or butternut to summer varieties like zucchini or yellow squash.
A vibrant Butternut Squash is filled with a base of aromatic Thai Rice, or Mahatma® Jasmine Rice, perfect for absorbing the flavor of sautéed pork, celery, bell pepper, apple, thyme, salt and pepper. For added texture and taste, the rice mixture is tossed with extra squash, Parmesan, olives and sweet raisins. As each squash is loaded with flavor, the sauce is swapped out for melted cheese and crunchy seeds for a finishing touch.
For an unconventional option, this Brazilian-inspired Shrimp Stuffed Pumpkin is filled with a stew-like mixture and served over brown rice after everything has been oven-baked inside the pumpkin! Switch up your average weekend dinner with a new and international recipe.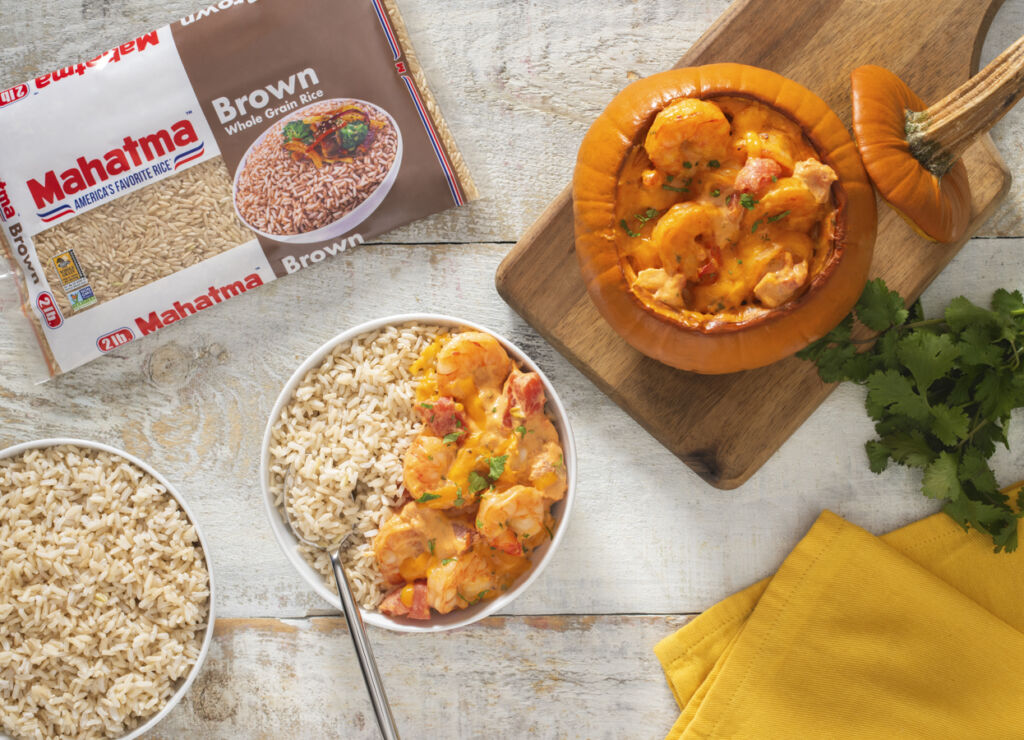 Eggplant
Quite common in Middle Eastern and Mediteranean cuisine, stuffed eggplant are rich, meaty and tasty. They can be filled with all kinds of ingredients and are perfect as is or can be topped with anything from bechamel and Parmesan cheese to a tahini drizzle.
This recipe for Stuffed Eggplant is made with a base of fragrant Mahatma® Basmati Rice simmered to perfection in broth and tomatoes. The filling includes the rice base with the eggplant pulp sauteed in paprika, cumin, coriander, allspice and cinnamon with cilantro, mint and parsley and extra sauce drizzled on top.
Mushrooms
While traditional stuffed mushrooms are often associated with a delicate finger food, by swapping in large portobellos, you can turn your appetizer into a satisfying meal!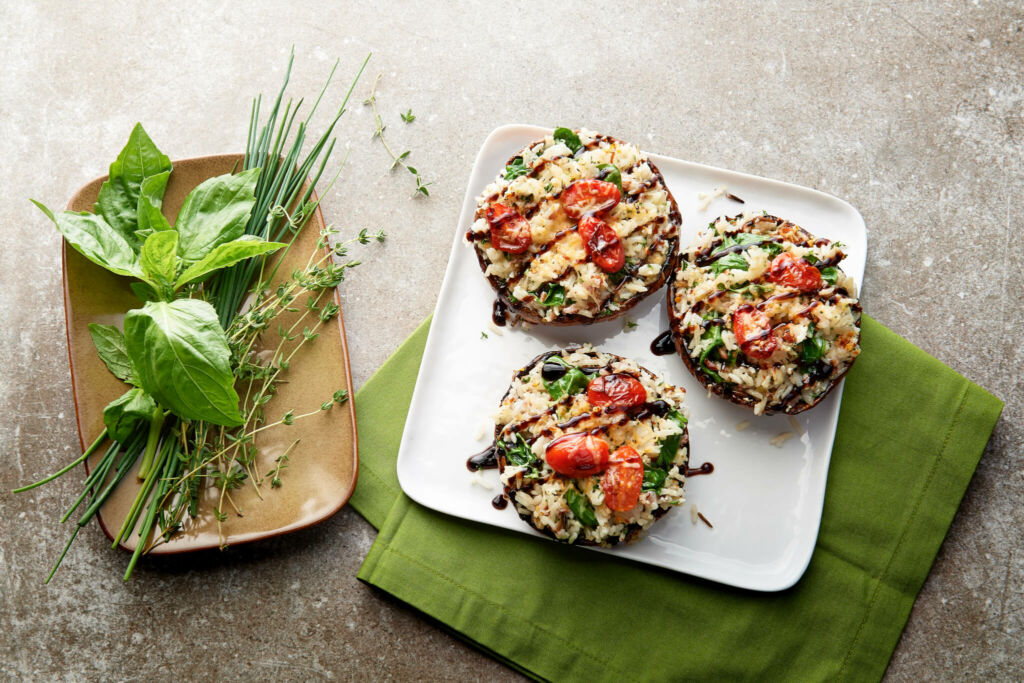 These Wild Rice and Sausage Stuffed Mushrooms are filled with a premium rice blend of Mahatma® Jasmine Rice with Red & Wild Rice with Italian sausage, panko breadcrumbs, Parmesan cheese, garlic, and thyme. Top with Cheddar cheese for optimal flavor. While this recipe calls for baby portobellos, make sure to swap in the larger variety for a more filling meal.
You can also make your stuffed mushrooms a vegetarian meal by skipping the Italian sausage. Try these Stuffed Portobello Mushrooms, also made with our premium mulit-grain blend alongside fresh herbs, spinach and goat cheese all drizzled with a balsamic glaze!
Starting with your favorite variety of Mahatma® Rice, take your weeknight dinner to a whole new level with any of these tasty stuffed vegetable recipes! Find more kitchen tips and recipe ideas in our cooking section. If you are looking to spice up your week try this Taquitos Dorados recipe.