While fruit and rice might often be associated with a sweet dessert, this clever combination works in many savory dishes as well. Often the base of a tasty holiday stuffing side dish or an authentic Spanish paella simmered in tomatoes, there are plenty more recipe ideas combining these ingredients – almost as many as fruit varieties themselves!
Learning how to combine foods is the easiest way to enhance any meal, while trying something different every time. It's almost impossible to get bored when it comes to cooking with rice, but if you need a little inspiration, we've put together our top fruit and rice dishes. No matter what time of year, there is a perfect rice dish, whether it be a light spring salad or a comforting skillet for a filling weeknight dinner.
Rice Salads
All Time Classics
Start off with a classic Fruit and Rice Salad made with whole grain brown rice and not one but three layers of fruit flavor! Mix with fresh mango, dried cranberries and nuts, and drizzle with a raspberry vinaigrette dressing.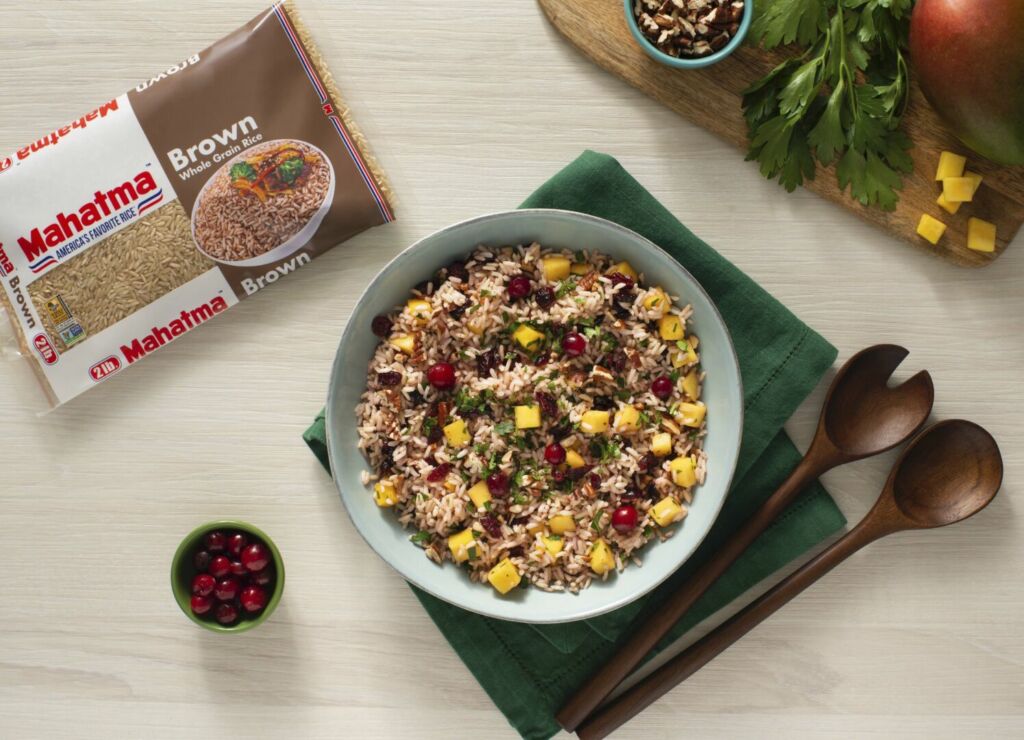 Try this Wild Rice, Strawberry and Spinach Salad for a hearty take on a classic mix. Made with a premium blend of three rice varieties including Mahatma® Jasmine Rice with Red & Wild Rice, this salad has added flavor and texture in every bite.
Or, go with a colorful and energizing Mango Chicken Rice Power Salad with leafy greens, golden raisins and Mahatma® Organic Brown Rice alongside protein packed red quinoa.
International Inspired
Found in dishes all over the world, rice is grown on nearly every continent— and for good reason! And, when paired with fresh or dried fruit, it makes a flavorful centerpiece no matter which cuisine you're using for inspiration.
Fresh Fruit: Try a Peruvian Ceviche rice salad with fresh mango, sushi-grade tuna and a zesty mix of cucumber, red onion, cilantro, orange juice, jalapeño, lime juice and salt. You might also enjoy a classic by learning to make Mexican rice with fresh tomatoes rather than the canned variety.
Dried Fruit: Get inspired by this Moroccan Wild Rice Salad with Dried Apricots all drizzled in a homemade zesty orange dressing.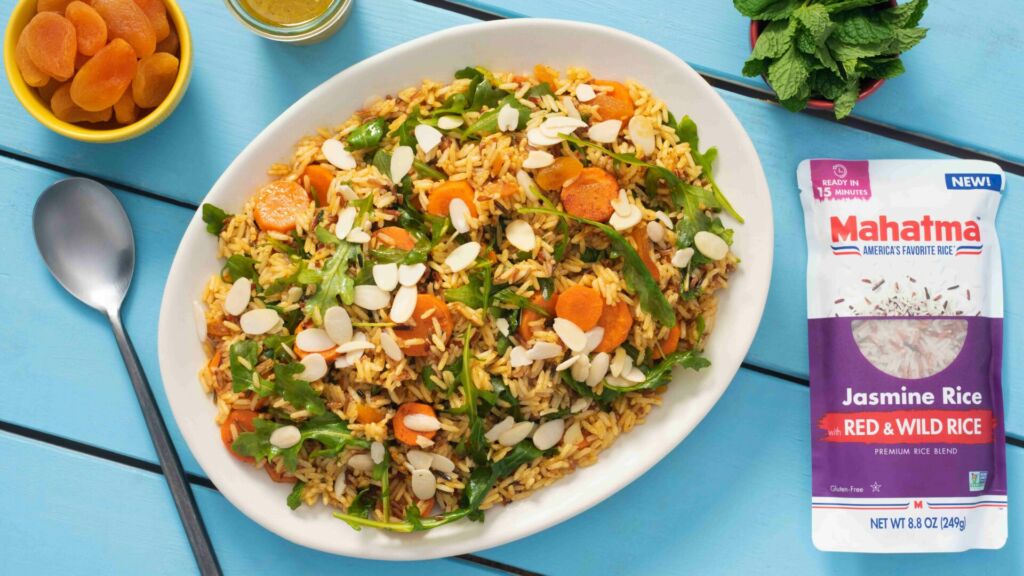 Sweet and Savory Rice Skillets
Savor every bite of these skillet dishes using fruit and rice in fun and delicious ways.
Fried Rice
For a fun new spin on a staple dish like fried rice, complement savory meat or tofu with a zesty citrus sauce or chopped fruit like in this Pineapple Salami Fried Rice. Use fresh or canned pineapple and Mahatma® Long Grain and Jasmine Rice Blend, which is ideal for fried rice dishes.
Risotto
Enjoy Italian comfort food with this Creamy Risotto made with sweet sliced pears and crumbled blue cheese for flavor in every bite. Top with toasted walnuts and balsamic glaze to tie all of the flavors together perfectly.
Rice Pilaf
Mixing dried fruits and nuts with rice and vermicelli is a tradition in many Middle Eastern dishes like this Peruvian style Christmas Arab Rice. The result is a stunning blend of color and flavor that you can make any weeknight in just 20 minutes – no need to wait until the holidays!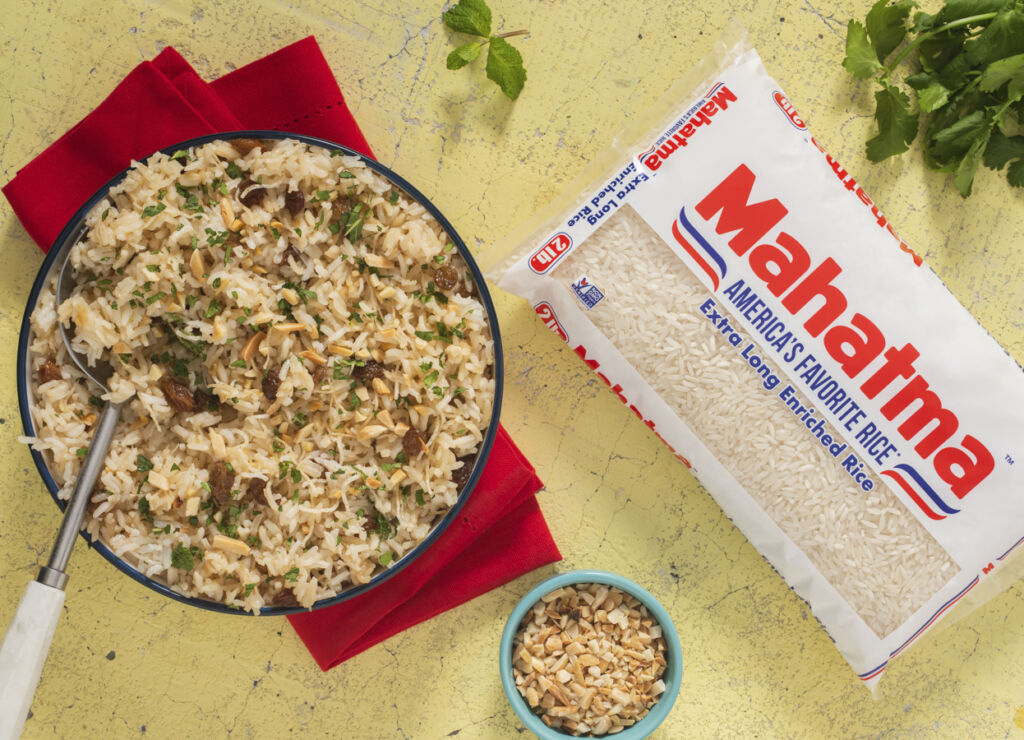 Fruit and Rice Stuffings
Use your fruit and rice as a delicious stuffing combination for both classics and modern twists.
Stuffed Vegetables
Step out of your rice and tomato stuffed pepper comfort zone and try more complementing sweet and savory flavors like in this Stuffed Butternut Squash. Filled to perfection with a blend of pork, apple and fragrant jasmine rice – never tried it before? Learn how to cook jasmine rice by visiting our guide.
Modern Twists
When it comes to cooking, there is always room for innovation and delicious new takes on traditional flavors. Try subbing in a blend of fruit and rice for these classic meals and enjoy a new and fun spin on a favorite.
Fruit Sushi: Swap in coconut milk, sugar and vanilla for the water to cook our Mahatma® Authentic Short Grain Sushi Rice and roll with all of your favorite fruits like oranges, kiwi, strawberries and just a hint of lime juice.
Sweet Rice Tamales: Use a sweet rice and berry filling to make these sweet tamales.
Tip: If you're hosting a Latin-inspired tamalada, use this recipe to switch things up from traditional savory tamales.
Sweet Treats With Rice
Get inspired by these recipes and use a sweet combination of rice and fruit to get your day going or finish your day off with an indulgent treat to savor.
Sweet Breakfast
Start your morning on the right foot with this Hearty Breakfast Smoothie using frozen cherries (or other fruit), spinach, coconut milk, peanut butter, honey and ice cubes! For a quick meal on the go, use our fragrant precooked Mahatma® Ready to Heat Jasmine Rice, all of the same flavor in less time.
Or use our traditional Mahatma® Jasmine Rice to make this simple and spiced Breakfast Rice Bowl with fruit and nuts.
Rice Pudding Dessert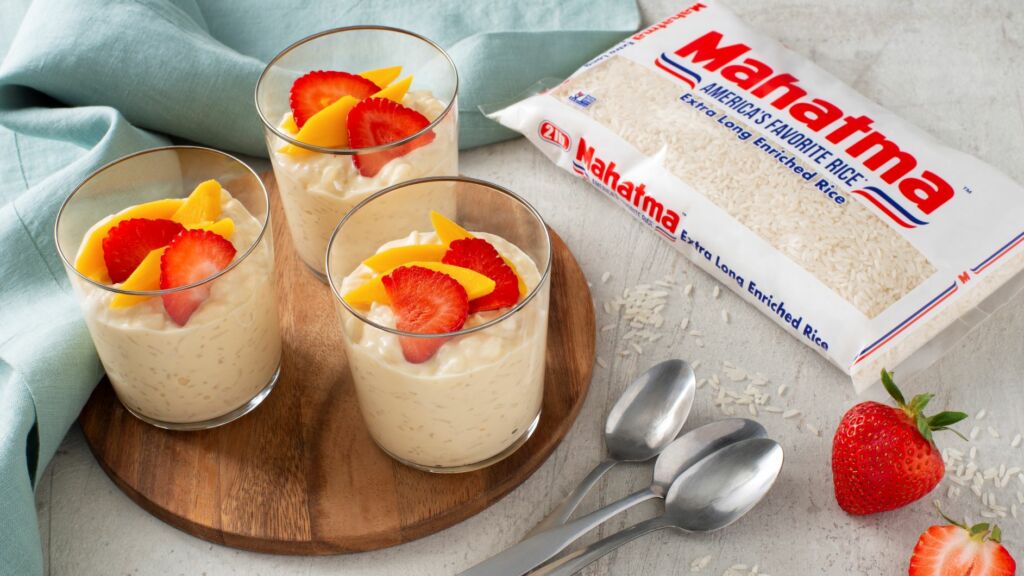 Ditch the store-bought caramel and give your rich and creamy rice pudding a homemade, fresh fruit topping for a delectable dessert.
Combine three creamy milk varieties for this Tres Leches Rice Pudding topped with your choice of fresh fruit on top. We suggest using seasonal fruits for the most flavor or slice up ripe mango, banana or other berries like strawberries, raspberries, or blueberries.
If rice pudding wasn't delicious enough, this Pineapple and Mango Rice Pudding is layered to perfection for a homemade parfait like dessert.
Enjoy Mahatma® Rice in all of your favorite dishes, no matter which ingredient combination you choose. Start adding fruit to your savory creations and get excited about cooking something different by discovering new and traditional dishes like learning how to make arroz con leche or these bean and rice tacos in our recipe selection.