Nowadays, it's hard not to get into a meal rut when you've got a busy schedule or just don't have time to make another grocery store run. Sitting down to organize your meals might seem like an impossible task. This tends to lead to three things, enjoying lower quality meals, eating the same thing over and over, or skipping meals altogether.
To save time, reduce your spending, and enjoy delicious meals without hassle, we suggest stocking up on two pantry ingredients that not only make a dynamic duo combination, but can also be reinvented into a wide variety of different recipes and dishes. Not to mention, together rice and beans form a complete protein great for a variety of dietary habits like vegetarian, vegan, and Gluten Free!
So, if you're unsure where to begin, buckle up because we're taking you on a trip to enjoy rice and bean recipes from the comfort of your own home. While most of us cannot book a trip every time we feel like eating different cuisines, what we can do while we wait for our next vacation is to "travel" through our meals! This classic combo is one of our favorites because you can use it as a side, main dish, homemade dip, rice bowl, or burrito filling.
Discover the Versatility of Rice and Beans
Cajun Seasoning Wonders
For our first stop, we're making our way to the state of Louisiana for a southern Cajun dish that packs a punch. If you find yourself craving spice and flavor in your meal, give your taste buds some of that New Orleans vibrance with our vegetarian Red Beans and Rice Skillet Dinner.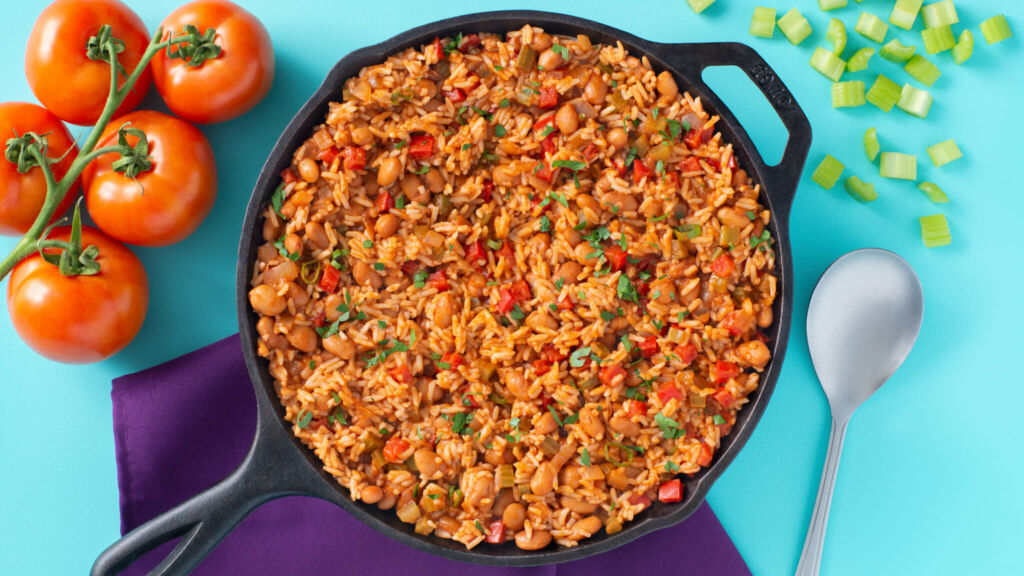 This colorful New Orleans-inspired dish is full of amazing flavors like Cajun seasoning, tomato sauce, veggies, pinto beans, lemon juice, and is made with Mahatma® Garlic & Olive Oil Jasmine Rice for even more flavor – you can also try it with Instant Pot Jasmine Rice. The best part? You can enjoy this tasty dish in less than 15 minutes and with staple ingredients found right in your kitchen!
Tex-Mex Recipes
Whether you're from Texas or not, you probably dream of Tex-Mex dishes. If you know, you know. From yellow rice to arroz con pollo or even a Mexican Rice Bowl, it's no wonder it's a top destination for travelers looking to explore gastronomy.
A Tex-Mex inspired meal that is easy to make right in your kitchen and that will fill you up with Southern warmth is our Rice Migas dish. Migas are traditionally served as a breakfast dish composed mostly of leftover bread or tortas. The classic Migas recipe has evolved to become a staple in the gastronomy of many different regions and can now be found as a key dish in some top restaurants.
Want something a little lighter to share? Our Spicy Southwest Rice Salad should do the trick. And, if you want to take it on the go, choose your favorite tortillas and wrap it up into a Black Bean and Rice Burrito.
Delicious tacos filled with all the perfect ingredients Tacos Dorados.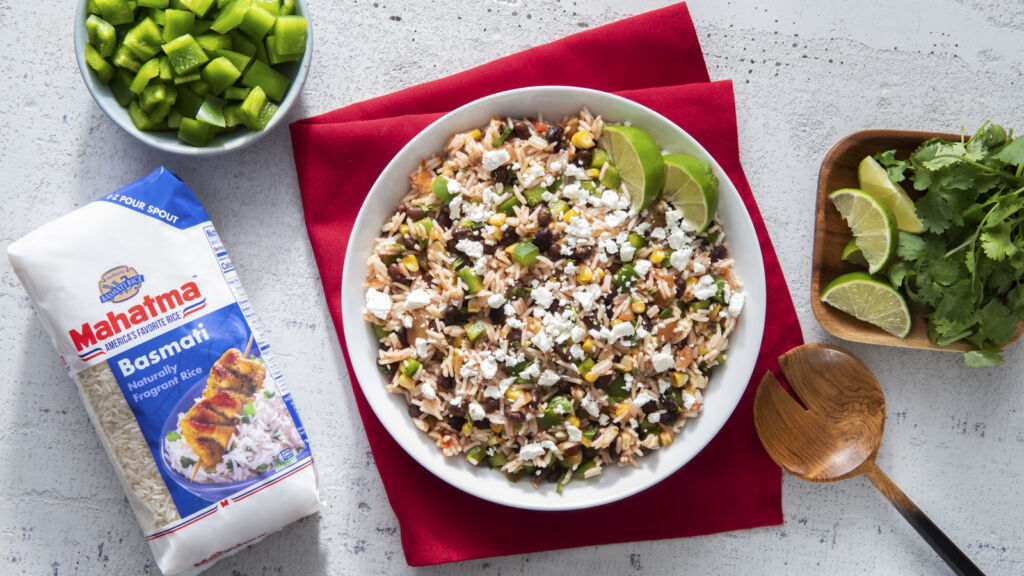 Caribbean Style Rice and Beans
If we're talking rice and beans, the Caribbean is a must visit.
We'll begin our Caribbean tour with a Dominican Bean and Beef Stew that is so patriotic that the colors resemble that of la bandera, meaning the flag!
Next, let's try some Puerto Rican-style comfort food. This warm and tasty Arroz Habichuelas Guisadas rice and beans dish is ideal as a side dish and hearty enough to serve as a main dish.
This classic dish translates to "rice with stewed beans" and is loved internationally for its mix of savory bacon, rice, and pinto beans seasoned and stewed to perfection with adobo, vegetables, and broth topped with creamy avocado and lime juice.
And whilst we're here, no true culinary tour of the Caribbean would be complete without plantains! This unique fruit tastes great with both rice and beans and can be used for either sweet or savory snacks. Learn how to cook with plantains in our guide.
Latin American Favorites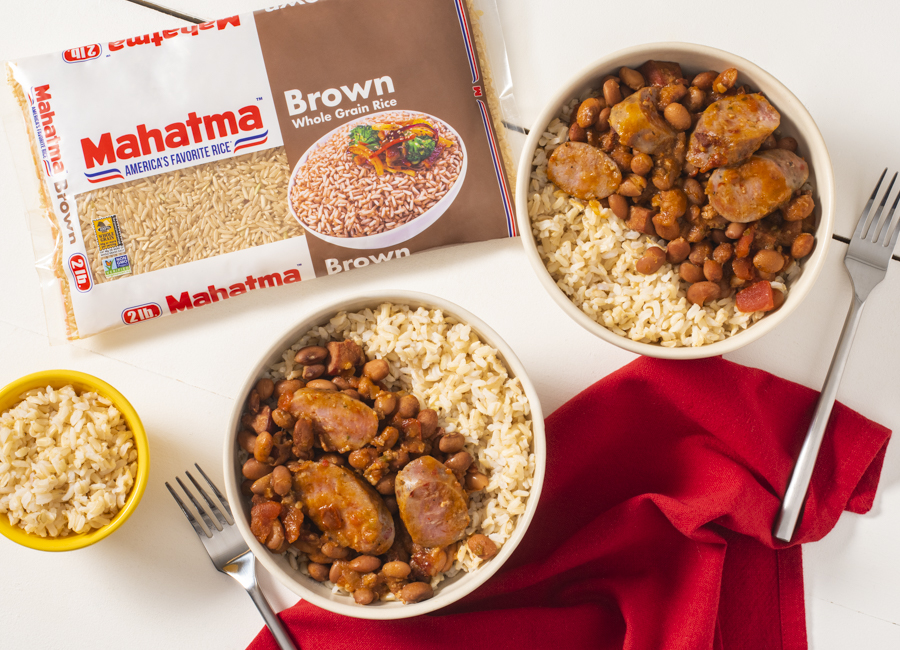 Classics
A staple at most meals throughout Latin American countries, rice and beans can be found in a wide variety of meals.
Never made Tacu Tacu before? Try it out in this recipe video
A Taste of Central America
Making our way south, this next stop is to Central America. If you like the idea of enjoying a delicious and satisfying meal in less than 15 minutes, keep reading. This delectable Gallo Pinto dish is a traditional mix of quality white rice, black beans, onions, bell peppers, Worcestershire sauce, hot sauce, and cilantro.
It's said that one of the best ways to learn about a culture is through its cuisine and we are certainly on board with that theory. The legume and grain combination is thought to be a representation of the infusion of mestizo culture in Central America and Spanish culture as the rice grains were introduced upon Spain's arrival. Latin American food is a great example of how food can tell you about history, and how the union of different cultures' cuisines can have delicious and long-standing results.
This simple, yet versatile dish is a great option to enjoy as a side for your breakfast, lunch, or dinner. Pair it with a couple of sunny side up eggs, toss in a rice and bean bowl with more of your favorite veggies, or use it as a quick and delicious burrito filling. Let your creativity fly and change it up every time. We're making this cooking thing seem pretty easy, aren't we? That's because it can be!
If you're still in doubt about how to prepare meals using your pantry rice and beans, browse through our delicious recipe selection. Whether you like your dishes spicy, creamy, cheesy, loaded with rice and beans, or all of the above, we have recipes galore that are perfect for many diets and that can fit into most busy lifestyles.