May 2nd is Tuna Day! One of the most active and significant fish in the oceans is the tuna. When it comes to size, strength, agility, and speed, it is undoubtedly one of the most fascinating. It is also among the most crucial animals for human diet and the economy. Mahatma® Rice is here to help you celebrate with delicious recipes that contain yummy tuna. Before we get started, let's take a look at some interesting tuna facts.
Fun Tuna FAQ´s
Which Countries Consume the Most Tuna?
The main consumers of canned tuna are the European Union, the United States, and Japan, who consume 51%, 31%, and 6% of the product globally, respectively.
Where is Tuna From?
The majority of tuna from around the world comes from Thailand.
Why is Tuna Important?
In addition to being an essential part of human nutrition and the economy, tuna is one of the primary sources of sustenance for marine life. Additionally, it contributes to the preservation of the ocean environment's equilibrium as one of the top predators in the marine food chain.
Now that we know some fun facts about tuna, let's dive into some fabulous tuna recipes.
Seafood Appetizers
Let's begin with seafood starters! If you want to impress with your hors d'oeuvres, then seafood starters are the way to go. They are irresistible for their bursts of flavor and are effortless to make.
With our Canned Tuna Rice Puff recipe you'll leave your visitors wanting more. This creamy dish is a convenient choice if you're in a hurry. After its quick preparation, pay special attention to the temperatures and timing that the Mahatma® team recommends.
Hungry for more? Our Brown Rice Tuna Patties with Avocado Mayo are a fantastic option. These delicious bite-sized goodies are suitable for any occasion: from birthday parties to family functions. These patties (made of rice, tuna, eggs, parsley, chives, lemon, garlic, cumin and paprika) acquire a completely new and improved flavor when dipped in the avocado mayo (blended mayonnaise, lime juice and avocado).
You could also finish the dish by adding a side of arugula salad, carefully dressed with a mixture of olive oil, lemon juice, honey, mustard, salt and pepper. To meet picky eaters' needs, you can replace the avocado mayo with their favorite sauce and the arugula salad with a simple chopped romaine lettuce, or just fries.
You can´t go wrong with our Seared Tuna Crispy Canapés.
This sushi and rice combo is nothing short of perfection.
The party is just getting started with Mahatma® Rice, and we have plenty more delicious tuna recipes to offer.
Tasty Tuna Salad
Salad enthusiasts will love the Canned Tuna and Rice Salad: the perfect idea for using up your leftovers. The great thing about rice salads is their versatility. In this particular case, the dish is loaded with tuna, but it also contains fresh veggies, tangy capers and a zesty, homemade dressing. This is a perfect on the go meal since it can be eaten cold as well.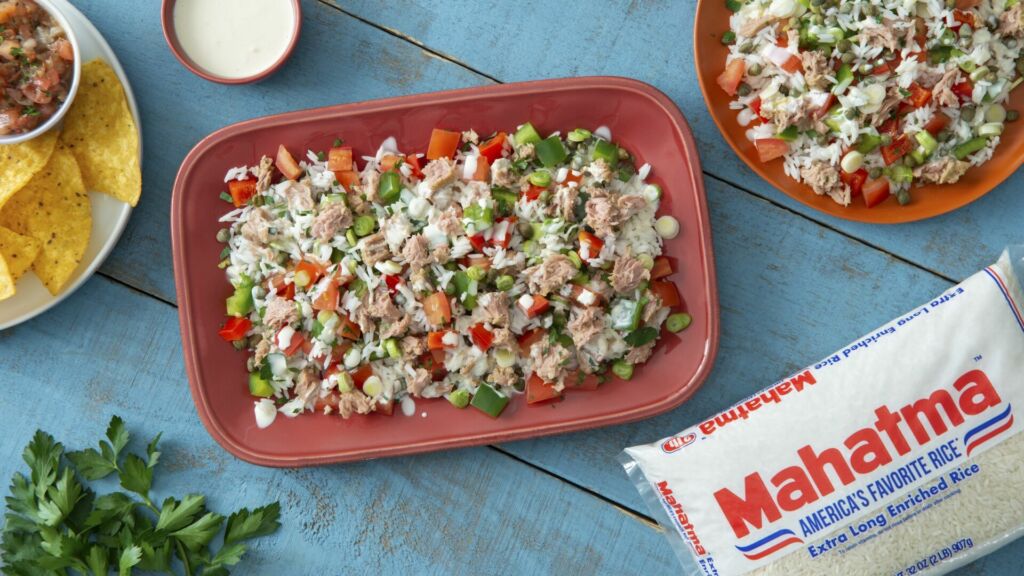 Now, if you´re wanting to pack on some heat, try some of our spicy tuna recipes.
Zesty Tuna Recipes
A tasty option to add some glorious tuna to your rice is by making Chipotle Tuna Meatballs and Rice and serving them over brown rice. That's right, meatballs can also be made with fish! If you have an air fryer, this recipe is perfect for you; but if that's not your case, you can easily bake them in the oven following the recipe's instructions. They are both suitable methods to prepare this dish, and we are sure you won't be disappointed by its unique flavor. Check out our blog on how to make the perfect meatballs.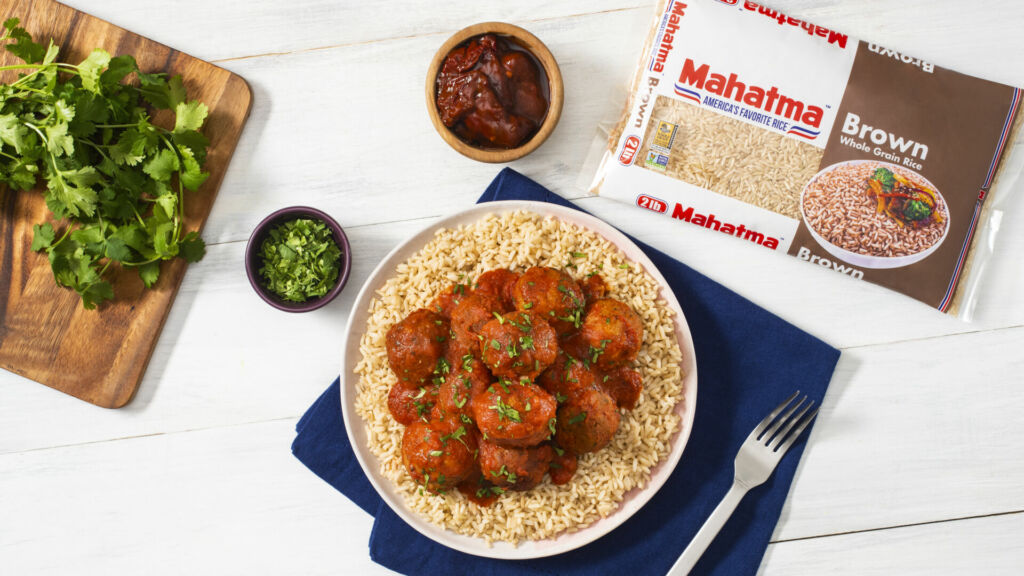 Canned Tuna Cuisine
A simpler recipe to follow is our Rice with Tomato and Tuna. You can find the dish's main ingredients in its name, while it also includes olive oil, vegetables, fresh herbs and spices such as onion, thyme (or oregano) and paprika. It can be prepared in just 35 minutes, and the whole family can pitch in.
Rice Bowl Options
Just when you thought tuna couldn't be prepared any other way, we'd like you to try our Mediterranean Tuna, Hummus and Rice Bowl. Packed with flavor and simple to assemble, the Jasmine Rice base, arugula, tuna and roasted pepper flavors are a hit. Just don't forget the hummus on top! Another great rice bowl option containing tuna is our Orange Miso Sesame Tuna Poke Bowl with Sticky Rice. This dish is customizable and feel free to experiment with different interesting toppings. Get inspired with these Hawaiian style rice bowls.
If you enjoy experimenting with rice bowls check out our blog ideas here.
Sushi Grade Tuna Meals
See how to prepare a delicious, cooling ceviche with avocado, mango, citrus, and tuna that is served over fragrant Mahatma® Jasmine Rice. Our Tuna Ceviche with Mango and Avocado recipe is perfect to try if you're searching for something exotic and fun.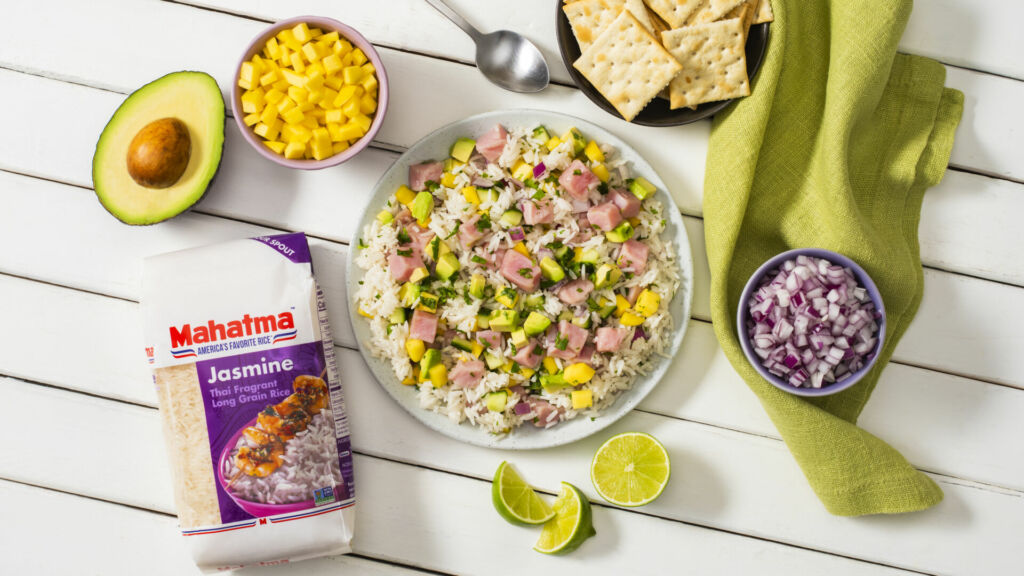 With Mahatma® Rice you don't have to worry anymore about where to look for rice recipes as you can easily find several options in the appropriate section of our website.