Cheese is one of the most loved and consumed foods around the world. It´s rare to find someone who doesn´t love it, crave it, want it or need it on a daily basis in some form or another! It is the ooey-gooey melty stuff that causes us to break diets and possibly one of the reasons we get out of bed in the morning. When you combine Mahatma® Rice and cheese, wonderful things happen in the kitchen! Before we explore some of our unique recipes, let's look at some facts about cheese.
Interesting Facts about Cheese
Unless you're a cheese expert, the following info may be new to you…
A Cheesemonger is an expert on cheese.
Typically, blue cheeses are matured in a temperature-controlled space like a cave or a basement.
The most popular type of cheese is…..(drum roll please…) Cheddar!
Macaroni and Cheese is the most popular cheese recipe in the United States.
Now that you know some fun and interesting facts about cheese, let's take a look at some of the delicious cheese recipes that Mahatma® Rice has to offer.
Cheesy Rice Recipes
You really cannot go wrong adding cheese to your rice recipes, and cheese can be added to any meal throughout the day.
Appetizers
Mahatma® Rice has the appetizers covered whether you need a little something to bring to a gathering or want to prepare yourself a bite at home.
Our Mexican Rice and Cheese Balls are made with our Mahatma® White Rice, onions, garlic, chicken broth, queso fresco, panko breadcrumbs and more. Don´t forget your favorite dipping sauces like salsa roja or warm enchilada sauce.
Our Mushroom and Cheese Pastelitos are a perfect choice for any party platter. They are crispy and mini packed with gooey cheese and fresh mushrooms. They simply can't be beat.
If desired, prepare your pastelitos in your air fryer. You can still get a crispy crust without using oil. For tips on how to make your appetizers crispy, read here.
If you're craving something a little on the spicier side, try our Cheese and Jalapeño Quinoa Cakes with Garlic and Lemon Aioli. These crispy jalapeño and cheese nibbles are paired with a handmade roasted garlic and lemon aioli and are warm and delectable on the inside. With a zesty and creamy dip, the spicy, cheesy, and savory flavors of these pan-fried cakes will take your palate to new heights and give quinoa a whole new look. For best results, use Mahatma® Jasmine Rice with Quinoa.
Sides
Sometimes a side or a lighter dish is all you need. Mahatma® Rice has several recipe options to choose from. Craving a hot bowl of fresh, cheesy soup?
Our incredibly easy to make Broccoli and Cheese Soup is warm, delicious, and comforting. This soup is packed with chicken, veggies and rice. The broccoli and cheese combo is always a match made in heaven and this soup is also a great way to get your daily dose of veggies. You can make it vegetarian by omitting the chicken and using vegetable broth instead.
Also, make it lighter by adding Greek yogurt and omitting the whipping cream. For more soup recipes check out: Heartwarming Soup and Stew Recipes.
Our Broccoli Cheese Rice is made with our Mahatma® Fluffy Rice, broccoli florets, cheddar cheese, butter and more. It is a perfect side dish for any meal and your kids won't even realize they are getting their greens in, hidden under all that cheese. Or try our Creamy Poblano and Cheese Rice, full of hearty whole grains and a tad bit on the spicy side, this recipe will add extra umph to any main dish you choose to serve.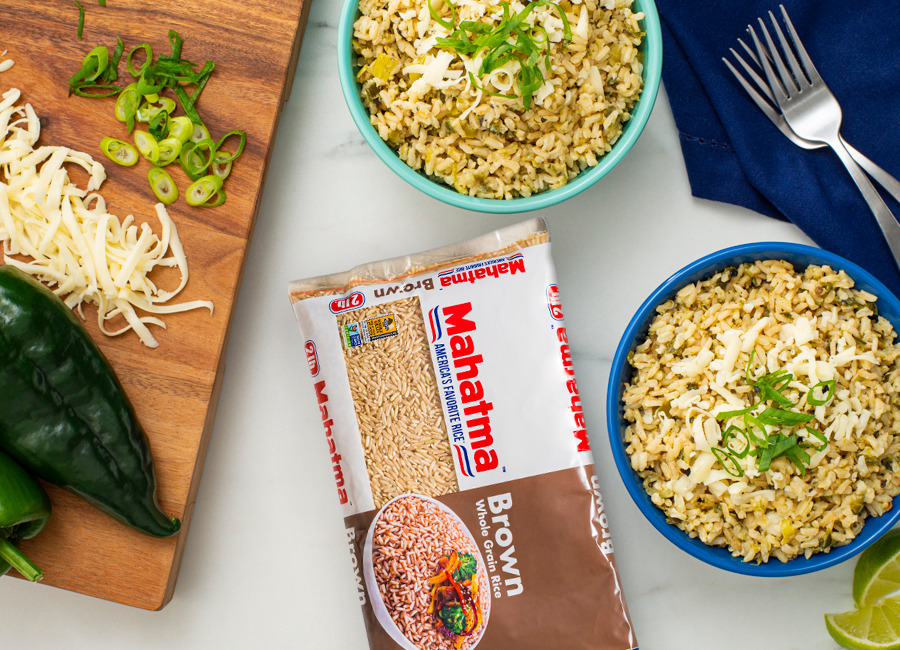 Mains
From creamy risottos to hearty mac and cheese, Mahatma® Rice has recipe options that the whole family will love.
Risotto
This unique Risotto with Pears and Blue Cheese recipe is flavored with butter, shallots, garlic, sautéed pears, blue cheese crumbles, dry white wine, toasted walnuts, and a balsamic glaze. This recipe will remind you of your favorite Italian restaurant without leaving the comfort of your own home.
Another unique risotto choice is our Beet Risotto with Greens and Goat Cheese. Our Mahatma® Arborio Rice is used in this vegetarian risotto recipe, which is essential for giving the dish its creamy consistency. Beets and beet greens also provide a beautiful color. Intensify the flavor of the risotto by adding crumbled goat cheese at the very end.
Get more ideas from these 5 Creamy Risotto Recipes if you've already declared yourself a risotto enthusiast.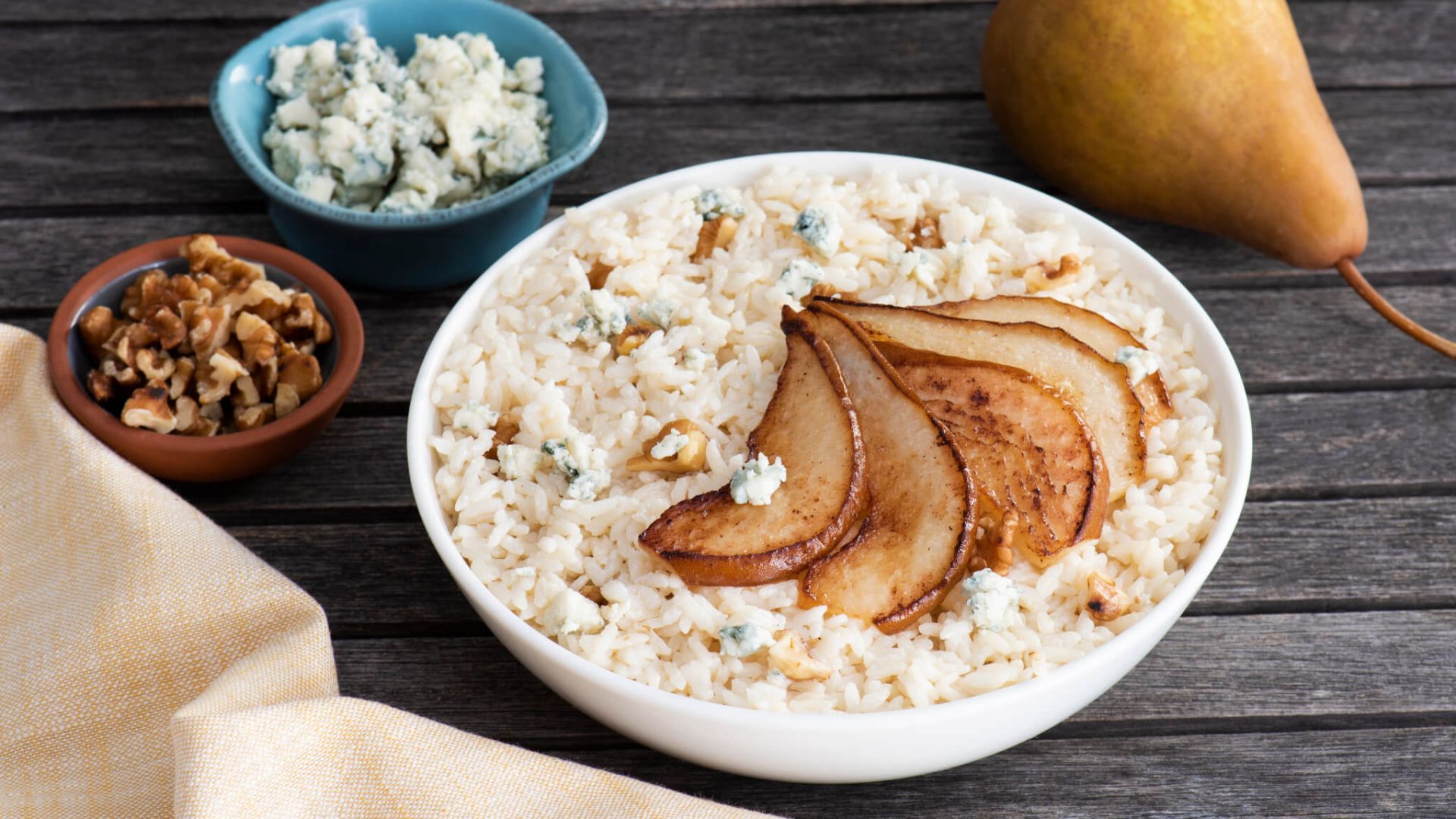 Mac and Cheese
Who doesn't love a yummy bowl of Mac and Cheese for lunch or dinner? Our Rice Mac and Cheese is a unique choice in that it´s made with our Mahatma® Ready to Heat Jasmine Rice Naturally Flavored with Garlic & Olive Oil to give it a more sophisticated touch. Made with butter, cream cheese, cheddar cheese and milk, this easy to make recipe will soon become a family weekly favorite.
Dessert
Why not add some cheese to your Sweet Arancini Dessert Board? Mixing rich and savory cheeses with sweet succulent fruit is a wonderful contrast that brings out the best of both!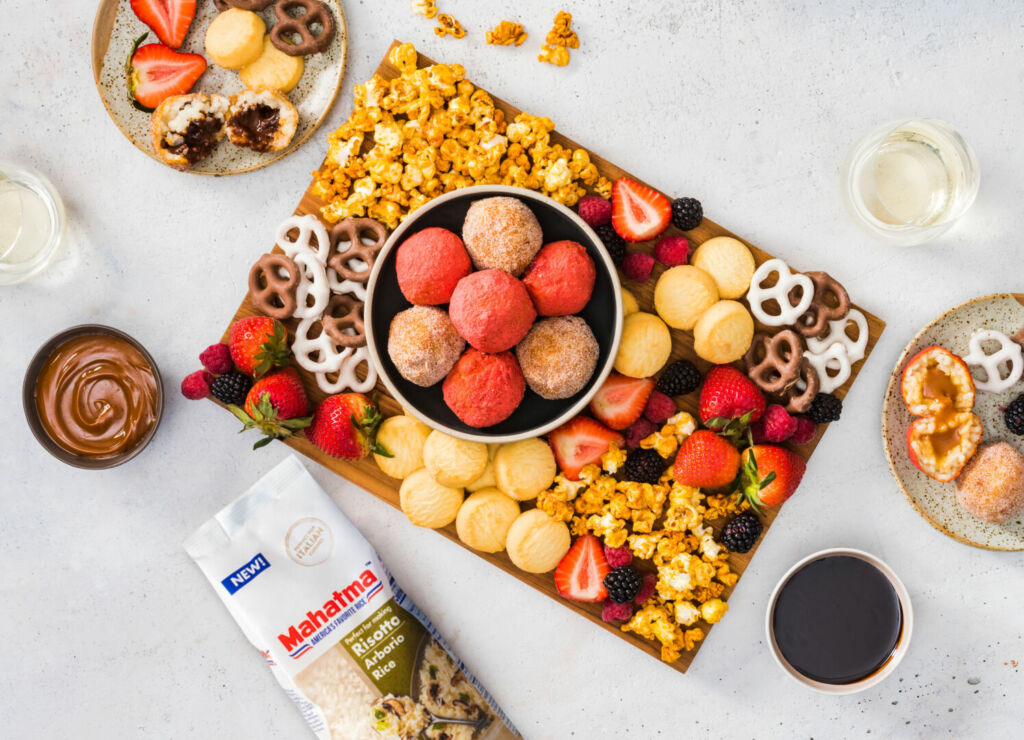 For more delicious recipes check out the Mahatma® Rice website.