Used for both sweet desserts and savory sides and snacks, plantains may look like large bananas, but they actually have their own unique taste and texture. Whether you've been enjoying them for years at your family table or have yet to try them, we'll explore four different ways you can cook and eat them with recipe inspiration!
Let Mahatma® Rice guide you with everything you need to know in order to impress your friends and family with newfound cooking knowledge and kitchen skills. So, let's get started!
Plantains vs. Bananas
While many may confuse plantains with being just a type of banana, they are actually different and often considered to be like cousins with the same family of fruit. And, while bananas are generally always sweet and a tad soft, plantains are firmer, larger and a lot less sweet in taste. In fact, they even have a starchier consistency, which means they should always be cooked before eating, unlike traditional bananas.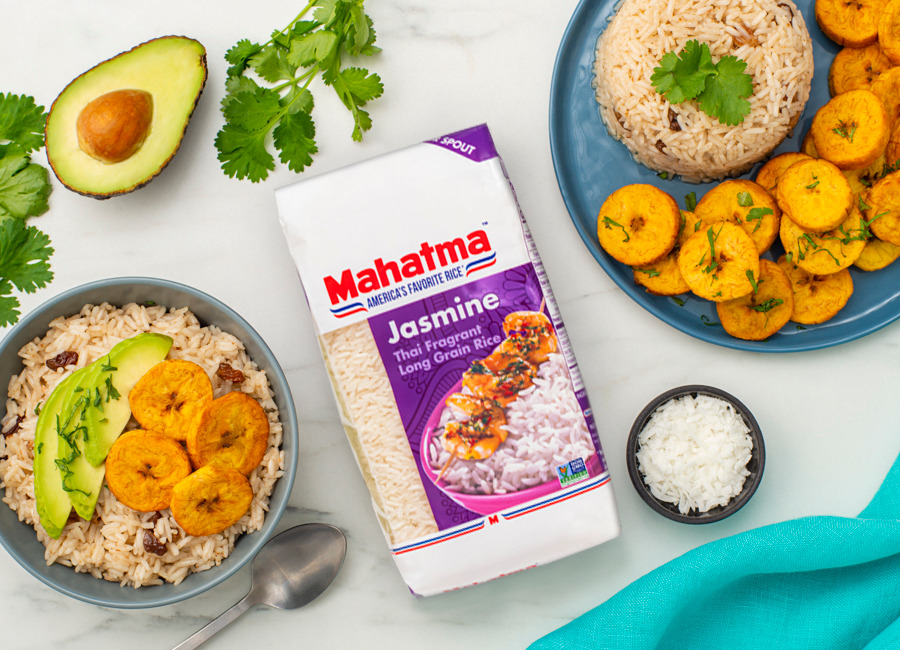 One similarity that these two fruits have is that they range in color based on how mature they are. As they mature they range from green (unripe), to yellow (slightly ripe), and finally black (ripe). Once either of these reach the black phase, they are very sweet as the starches have converted into sugars. However, we suggest you check the blacker options carefully to avoid any that may have a moldy smell or color, or that are overly soft in texture.
Cooking Plantains Based on Ripeness
These three different phases are perfect for cooking in different ways. Unripe green and yellow plantains tend to be tougher making them perfect for boiling, stewing or frying. Plantains with a blacker color, that have not gone bad, are sweeter in flavor making them perfect for desserts and sweet maduros served as side dishes.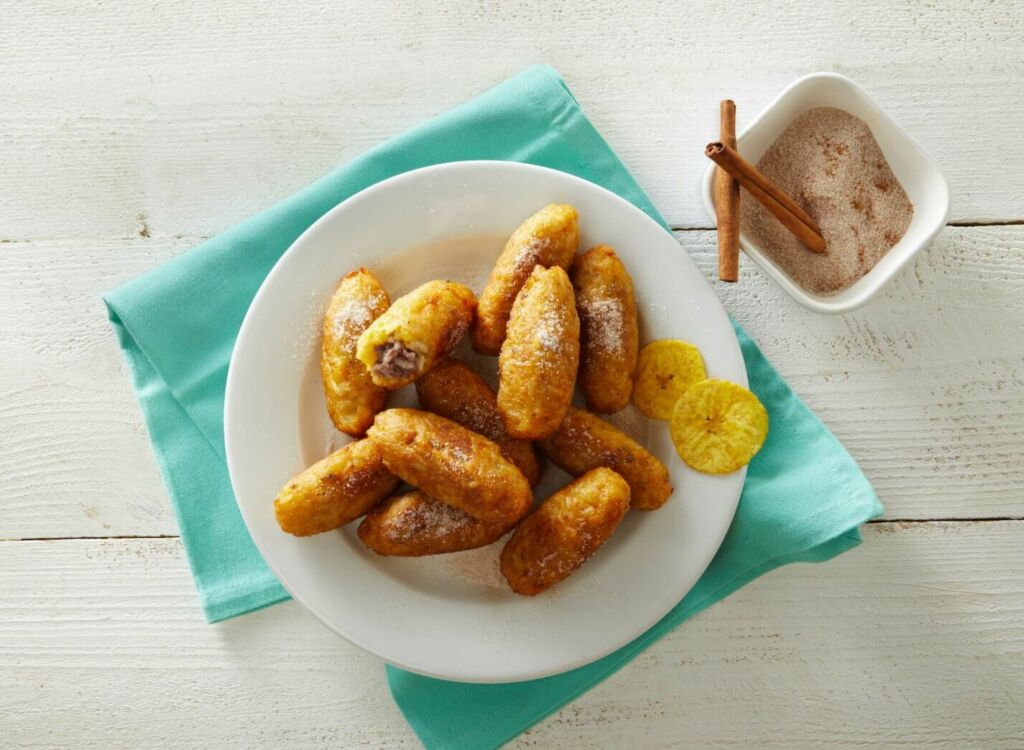 Plantains are found in cuisines all around the globe such as the Caribbean, African, Southeast Asian and are definitely a Latin American staple food. Let's dig into how you can prepare them at home for all kinds of meals!
#1 Boil or Stew Plantains
While plantains of any color can be stewed, if you have green or yellow on hand they are better to stew or boil as they will not turn mushy too soon. Start by setting a pot of water to boil. The size of the pot will depend on how many plantains you intend to cook. They should have enough room to boil evenly on all sides and not be too cramped. Once the water is boiled, add a pinch of salt and place the plantains in the water for about 15-20 minutes.
If you want to try stewing them in a delicious recipe, try this Dominican Sancocho Stew with other fruits and vegetables served with fragrant Jasmine rice.
#2 Fry Plantains (Tostones)
Our second method is one of the most common ways to prepare plantains — tostones or fried plantain chips. Many countries serve them as a snack or side dish to accompany a plate of rice and beans or other foods.
Prepare them yourself using this Rice with Fried Plantains recipe from Chef Pati Jinich where she details her method for frying them perfectly.
Peel plantains and slice diagonally into 1/4-inch thick slices.
Add about 1/4-inch of oil in a sauté pan over medium heat. Add the plantain to hot oil and fry until browned, about 2 minutes per side.
Remove from oil and drain excess fat on a plate covered with paper towels.
Once you have yours prepared, use them to accompany other dishes or as a snack. Try them in these recipes:
For Dipping: Spicy Beef Chimichurri Rice Dip
Side: Arroz con Coco and Fried Plantains
Side: Ropa Vieja with Rice
#3 Mash Plantains
When your plantains are darker in color and a bit softer, it's the perfect occasion to mash them and use them in desserts like these Plantain and Rice Rellenitos typical of Central America. The softened plantains are peeled and mashed in a food processor to add a substantial dough texture to fill with a sweetened bean paste mixed with Thai Jasmine rice. The rellenitos are then fried and coated in cinnamon sugar for a delicious treat.
#4 Caramelize Maduros
Another way to use up ripe plantains and take advantage of their sweeter taste is to prepare maduros. In fact, the name maduro comes from the spanish word for ripe! Unlike tostones, maduros are tender in the middle with crispy edges and a caramelized outer texture.
They are perfect for accompanying different flavors like in this African Jollof Rice. The spicy kick is balanced out with the sweeter plantains.
With all of these tasty options, which will you try first? Let us know on social media by tagging @mahatmarice so we can see your incredible creation. If you're still craving Latin American food, try these bean and rice tacos.