Rich with diversity, Caribbean cuisine is a true fusion of global cultures and cooking methods that have found their way together throughout history to form delicious and crave-worthy meals. Uniquely vibrant and bold, these Island dishes are a blend of citrus and spice along with sweet and savory to create a feast for the senses.
If you've ever tried it, this cuisine is a blend of incredible flavor and the best part is that it doesn't have to be difficult to make at home! So, while a trip for some authentic food would be fantastic, it's not always possible. At Mahatma® Rice, we'd like to give Caribbean food the spotlight it deserves by showing you a few key elements you'll need to make it in the comfort of your own kitchen with a few delicious recipes to try.
Elements of Caribbean Food
From sauces and spices to fruits and beans, we're going to uncover some traditional elements of Caribbean cuisine and delicious recipe ideas using easy-to-find ingredients!
Sauces, Spices and Seasonings
With bursts of citrus, spicy flavor and sweetness, Caribbean cuisine is loaded with incredible sauces made from a blend of spices, herbs and seasonings.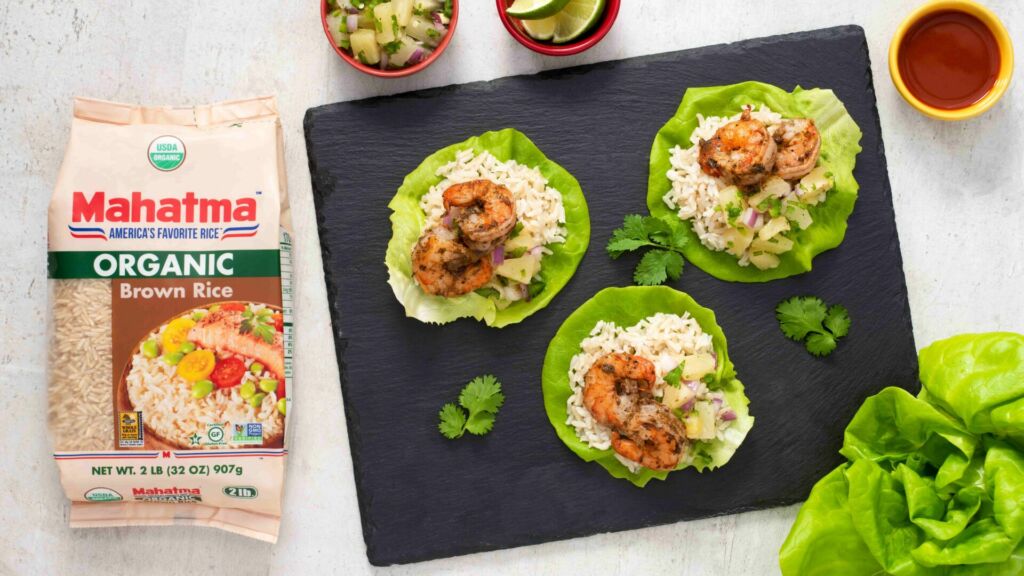 Jerk Marinade and Sauce
One of the most famous sauces, jerk seasoning is made into a sauce using a blend of allspice with aromatics, hot pepper, brown sugar and herbs. It can be used to coat anything from seafood to chicken and steak or a wide variety of vegetables.
If you're curious to try it, start with these Jerk Shrimp and Rice Lettuce Wraps with a kick and a homemade pineapple salsa to balance out the flavor!
If you prefer chicken, try this fusion of Spanish paella with Caribbean flavors – Jerk Chicken Paella. For best results, use Mahatma® Parboiled Medium Grain Rice which is crafted specifically for absorbing loads of flavor and making incredible rice paella dishes.
Mojo Sauce
While mojo can be found across the globe in many variations, the Caribbean Islands have a few incredible versions. You might find an herb-based mojo made using cilantro and parsley, while others use a blend of citrus, oil and spices like in this Cuban-inspired Mojo Chicken and Yellow Rice Bowl. Marinate the chicken in a homemade mojo sauce and serve over traditional yellow rice and your taste buds will thank you!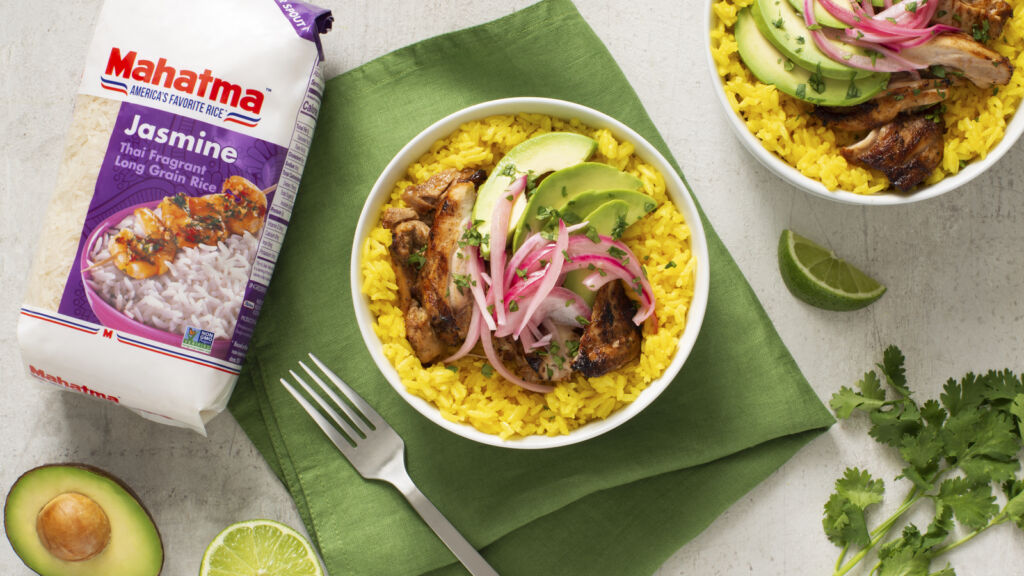 Seasonings
A true melting pot of cultures and traditions that were fused throughout history, the Caribbean is rich with intricate spice blends.
Curry: While curry is traditionally from India and other Asian countries, this spice blend found its way into Caribbean food. This festive and bright dish of Caribbean Calypso Rice is made with curry powder along with garlic, onion, red pepper, carrots, chili pepper and fresh thyme.
Allspice: Often used in Middle Eastern and Latin American dishes, allspice is key for many dishes found along the coast like this dish of Ropa Vieja with Rice. The allspice is paired with sweet and savory warm spices like cumin, oregano, paprika, smoked paprika, cloves, salt and pepper.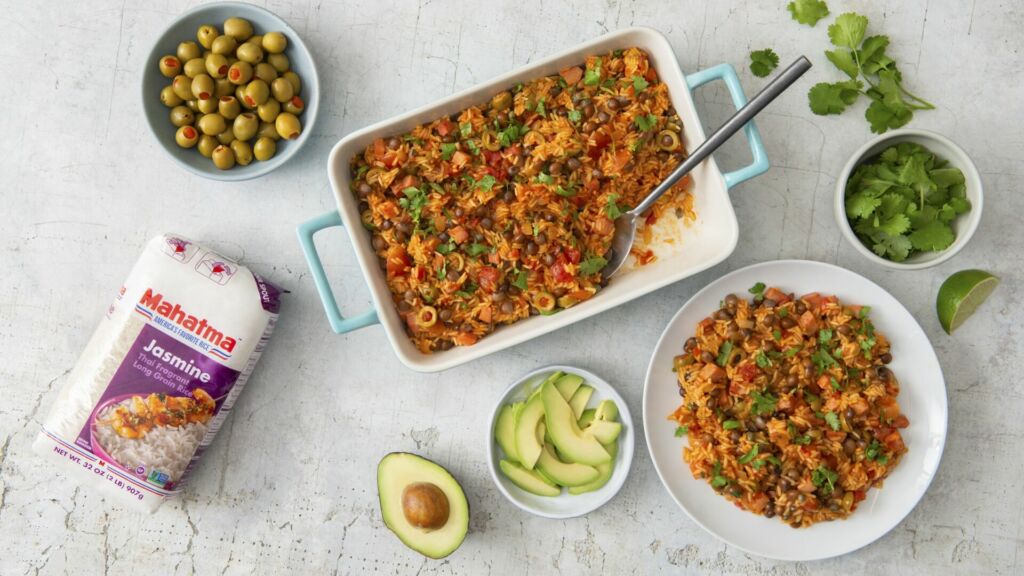 Achiote: Many traditional dishes in the Caribbean use peppers that have been ground into a spice like achiote, cayenne or paprika. This dish of Arroz con Gandules uses sazon, achiote, adobo seasoning, oregano, coriander and cayenne for a deep red color and a kick of heat.
Cooking With Rum
With a smoky and intense flavor, adding rum to dishes complements Caribbean spices wonderfully for both sweet and savory dishes.
This Coconut and Jasmine Rice With Shrimp helps to give the coconut rice more flavor while these Christmas Cake Brown Rice Fritters are soaked in a rum simple syrup for a moist texture and sweet taste.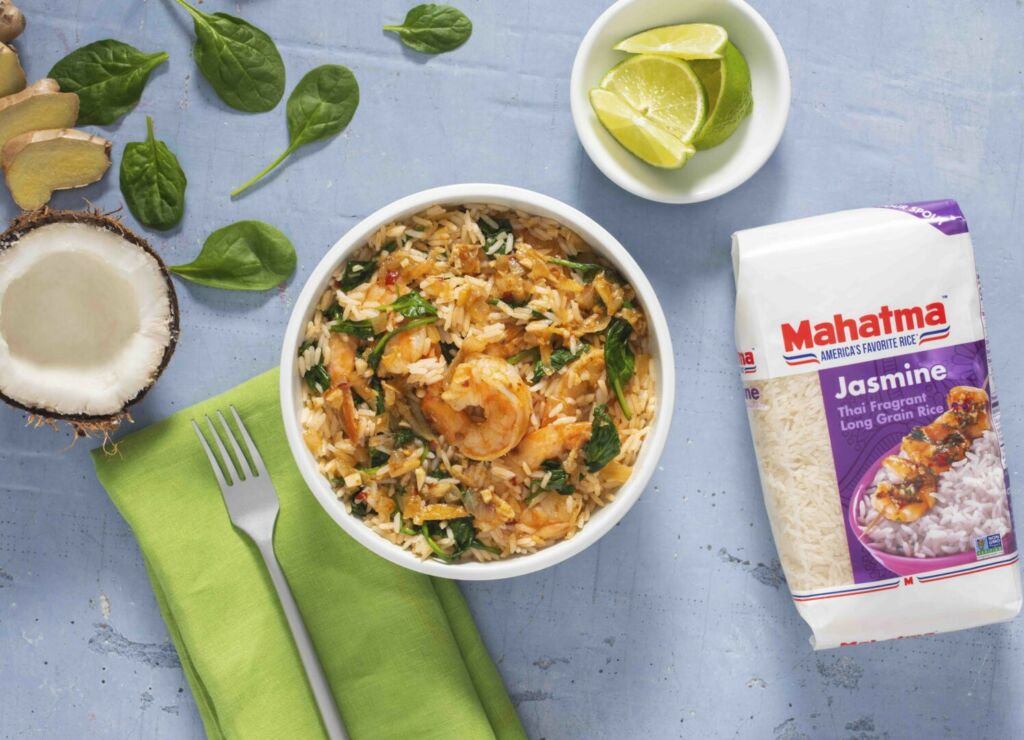 Beans, Grains and Legumes
Often the base of Caribbean dishes, no meal is complete with beans, rice or legumes. Some of the most common include: jasmine or white rice, black beans, pigeon peas, chickpeas, pinto beans and more. They are often combined together into delicious and hearty dishes like these:
Tropical Fruits
Perfect for adding vibrant color, sweet taste and balancing out the spice and other seasonings, tropical fruits like banana, plantain, pineapple, mango and coconut are essential for Island meals.
Mango
Harvested abundantly in the Caribbean, mango is added to both sweet and savory dishes and is considered a staple ingredient for the Islands.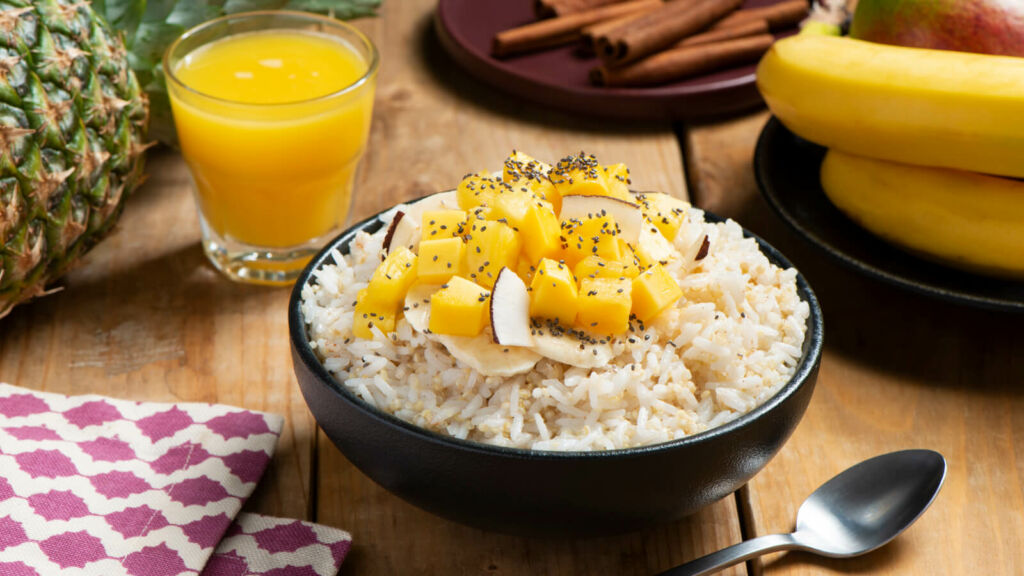 Try it in something savory like this Caribbean Chicken and Rice Salad made with jerk marinade, mango, white rice, black beans, avocado and more. It's extremely appetizing and flavorful!
If you're craving something sweet, try this Tropical Jasmine Rice and Quinoa Bowl made with creamy coconut milk infused Mahatma® Jasmine Rice with Quinoa topped with bananas, pineapple, mango and coconut. Perfect for a breakfast or snack. Make sure you have a tasty arroz con leche recipe handy fir a simple snack!
Coconut
Versatile in nearly every form from coconut water and coconut milk to shredded coconut and coconut flour, this ingredient is ideal for fresh flavor. For a simple side dish, this Easy Coconut Rice is made with coconut milk, a dash of salt and green onions. Serve with any of your preferred Caribbean sauces, vegetables and meats.
With a little help from Mahatma® Rice, you can experience global flavor from the comfort of your own kitchen. Try traveling to the Caribbean or another destination today in our recipe selection!