Vibrant in color, green rice or arroz verde, is a wonderful, traditional dish that adds a pop of color with complex flavors to any table. Often compared to a rice pilaf recipe, it is made with a base of white rice infused with delicious depth from fresh herbs, peppers and broth. However, it's key to getting everything just right for amazing results.
So, if you want to prepare an impressive plate of green rice, get ready to take notes and follow along. We'll walk you through all of the different variations you can make with recipe inspiration using Mahatma® Rice as well as tips from Mexican Chef Pati Jinich!
Authentic Green Rice
Originating in Mexico, there are many varieties of this dish ranging from household to household and region to region. And, similar to an arroz con pollo or arroz con leche, everyone seems to have their own version of authentic arroz verde.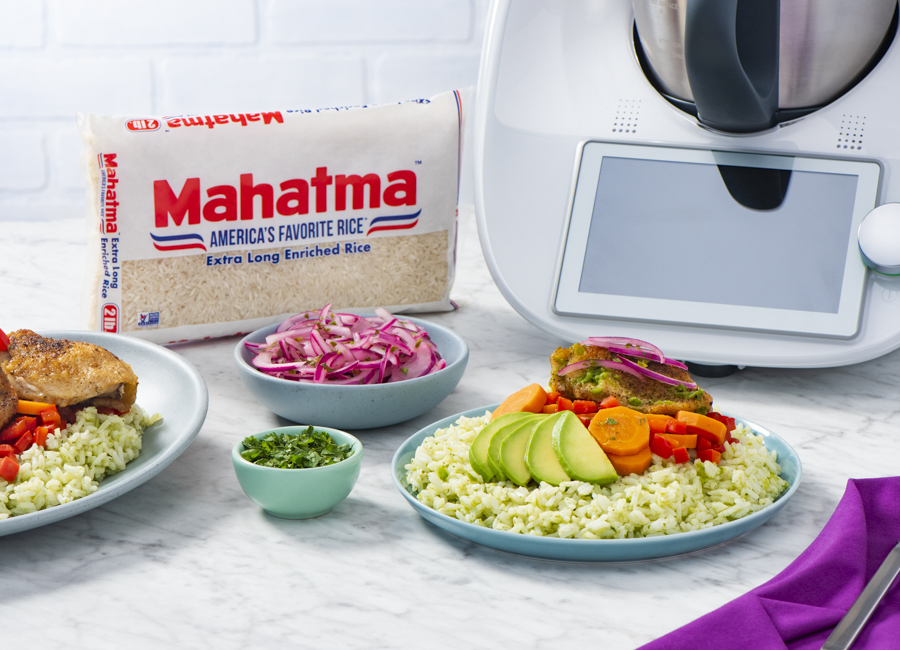 Characteristic of many Latin American recipes, it is made with mild or spicy peppers for a kick and some families might say it only includes a purée of water, jalapeños, cilantro and salt. Others might argue that it includes broth or stock, jalapeños, poblano and serrano chiles, herbs and lime juice. There are also recipes that make it milder using spinach or tomatillos in place of hot peppers to still maintain that signature color.
No matter which ingredients are used to brighten up the flavor of your dish, there is one ingredient that always remains the same — high-quality rice!
What Rice Is Used for Green Rice?
To really let the colors come through, we suggest using a white rice such as traditional Mahatma® White Rice, or a more aromatic variety like Jasmine Rice or Basmati Rice.
Can You Use Brown Rice for Green Rice Recipes?
If you're interested in the whole grain value of brown rice, it can also be used to make green rice recipes. Just take this recipe for Grilled Jalapeño Rice using grilled jalapeño and green onions with olive oil, lime juice and salt mixed with Brown Rice. Or, try a hearty dish of flavorful bone-in, skin-on grilled Chicken Thighs Served over Arroz Verde!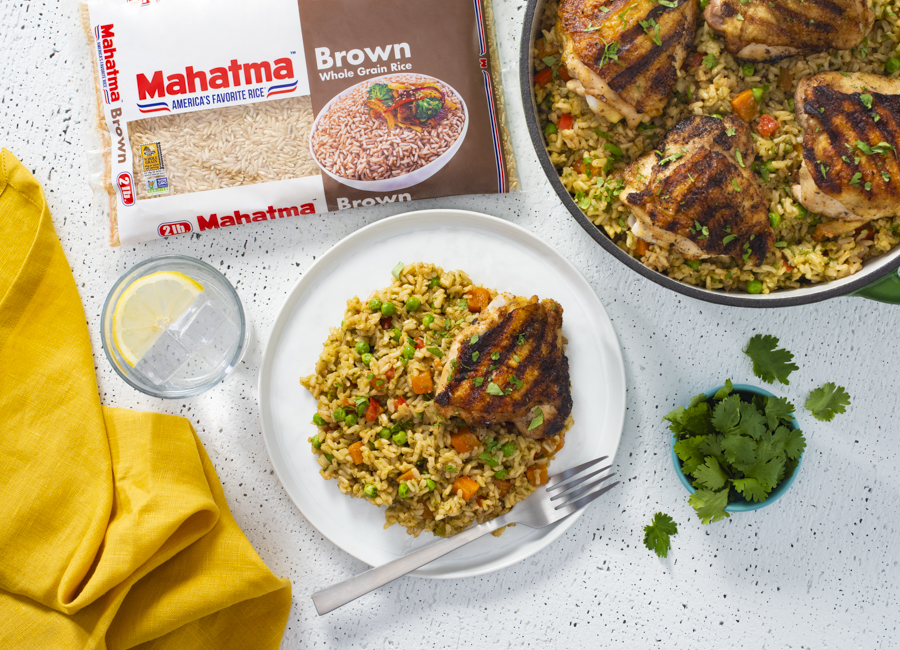 How to Make Green Rice
With your rice in hand, it's time to prepare your green rice recipe. To start, there are 3 main ways to mix your rice with flavor, texture and color.
Method 1. Prepare Rice in a Saucepan and Mix
The first method involves preparing the rice over the stove in a saucepan with broth or water, and then combining with a purée of vegetables, herbs and lemon juice.
Use this Green Poblano Rice recipe as an example to try cooking this version and follow our recipe video below.
This option offers a bit of freedom when it comes to the ingredients you can add in. Prepare a homemade sauce to add in to your prepared rice or use additional green ingredients to really add flavor and texture.
Using Other Green Ingredients
Homemade Chimichurri Sauce: Starting with shallot and garlic, make your own herbed Argentinian sauce with parsley, cilantro, olive oil, vinegar, lemon juice, oregano, cumin, salt and red pepper flakes in this Classic Chimichurri Rice.
Zucchini: For a new way to use your bumper crop vegetable, cook it with your white rice for a plate of Zucchini Rice. With the addition of Parmesan cheese, green onions, cilantro and basil this rice dish is a wonderful and fresh addition to your meal spread.
Avocado: In place of peppers or other green vegetables, mashed avocado offers a creamy texture in this Avocado Lime Rice dish. For an extra kick, this recipe uses lime juice, garlic, cumin, and cayenne pepper.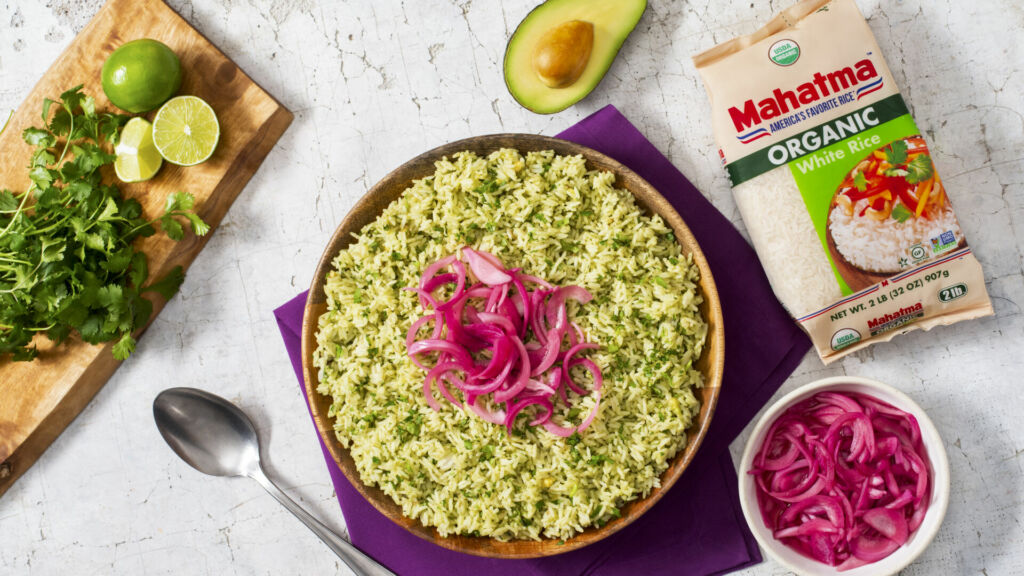 Method 2. Infuse the Rice In a Skillet
The second method refers to first sautéeng your rice in aromatic vegetables in a skillet such as onion or garlic and simmering in a purée of green vegetables and herbs with broth for an essentially one-pot meal.
Start with a simple version like this Salsa Verde Rice made with a base of sautéed onion and garlic with toasted rice simmered in store-bought salsa verde and broth.
Method 3. Oven-Baked Green Rice
Finally, the third method involves combining all of the ingredients including uncooked or cooked rice and oven-baking together in a casserole dish.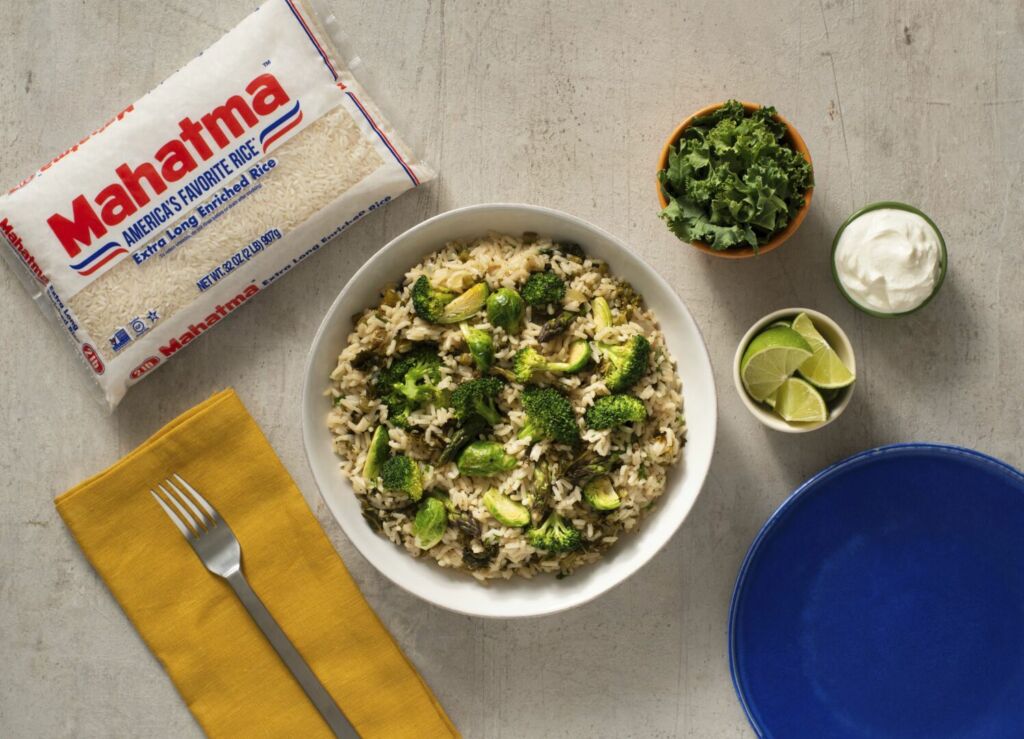 This recipe for a Creamy Arroz Verde is made with a homemade tomatillo sauce and baked until bubbly, created by Vianney Rodriguez (Sweet Life Bake).
For an enhanced version of a classic green rice, add even more roasted vegetables. This recipe for Green Rice with Roasted Vegetables is folded with kale, asparagus, Brussels sprouts and broccoli.
Thermomix Green Rice
Now, you can enjoy all of the amazing taste of your favorite green rice recipe in your preferred cooker at home. If you have a convenient multi-cooker, try this recipe for Thermomix Peruvian Green Arroz Con Pollo complete with homemade green salsa criolla using red onion, lime juice, jalapeño, salt and cilantro.
Tips From Chef Pati Jinich
When making her favorite version with Mahatma® Rice, Mexican chef Pati Jinich offers a few tips:
Pass the purée through a fine sieve into a large measuring cup to avoid any leftover pieces.
To toast the rice, heat the oil in a medium saucepan over medium-high heat until hot but not smoking.
The rice should be cooked and tender when finished, if it is not but all the liquid has been absorbed, add 2 tablespoons of water, cover again, and cook for a couple more minutes.
Finally, let the rice rest, covered, for at least 5 minute to settle the flavor.
For a tasty touch, serve with the crumbled cheese on top such as queso fresco Cotija or mild feta.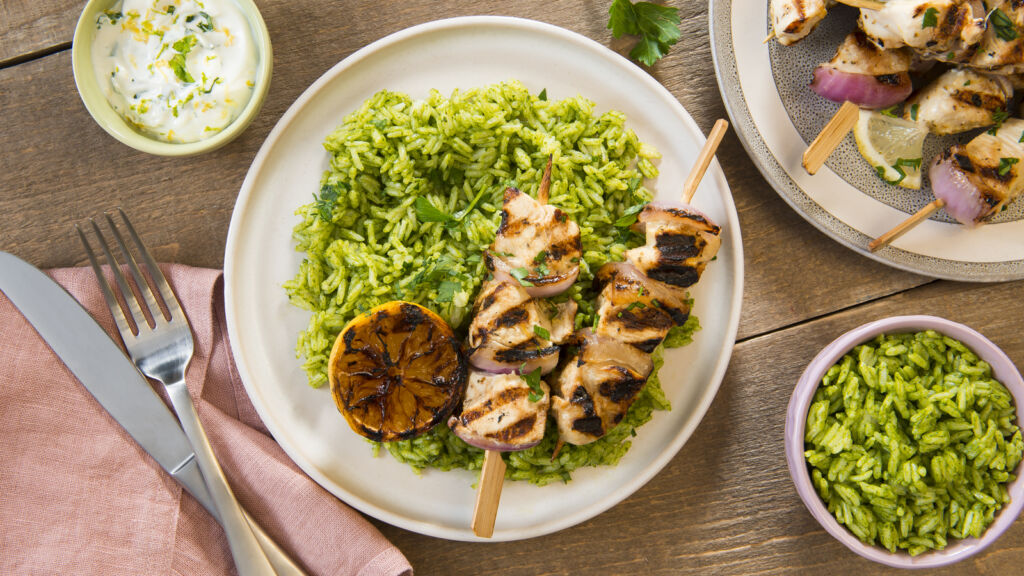 Indian Green Rice
Quite similar to Mexican or other Latin-inspired recipes, Indian Green Rice uses a base of aromatic basmati rice with spinach leaves, garlic, onion, chicken broth, green capsicum (pepper), peas, lemon juice and salt.
How to Use Green Rice
Now that you have a list of wonderful green rice recipes to prepare with all kinds of ingredients, you might be wondering how you can use it. We've put together a list of tasty options that you can make with your green rice.
Make it a:
If you are looking for another type of rice infusion, why not learn how to make coconut rice?
This recipe is only the beginning, get creative with new flavors and ingredients of choice. This dish is a great way to unfollow the recipe and add in delicious ingredients from Korean kimchi all the way to Caribbean Jerk seasoned chicken.  If you are looking for a sweet treat try our arroz con leche.