Do you have a Thermomix at home or are thinking about getting one? This cooking appliance has made its way onto many kitchen counters and for good reason! Take this quick introductory course from Mahatma® Rice and learn what makes this gadget special along with delicious recipe inspiration, and a new method to cook rice perfectly, every time.
If you don't have one, don't worry, this guide is still for you even if you're just learning something new. Amazing home cooked meals can always be created with simple cooking tools like pots, pans, cutting boards and measuring spoons.
What is a Thermomix?
A Thermomix is a kitchen gadget that combines multiple features and can essentially do the job of more than 20 different cooking appliances. With easy settings and step by step guidance throughout the entire process, this blender also functions as a food processor, slow cooker, scale, knife and rice cooker – all in one!
Is There Anything a Thermomix Can't Do?
Of course, no cooking assistant can replace a home cook or chef – however, it does make it simpler. It can help you explore different cooking techniques you haven't tried before, such as fermenting food for homemade kimchi or yogurt, sous-vide for a decadent French dinner, or making perfect hard-boiled eggs for your Bento Box.
Plus, what most users love about it is how everything can be prepared in the same place. Meaning you won't have to dirty as many dishes, making cleanup a breeze. Additionally, with the multi-layered cooking feature, you can prepare different dishes at the same time: cook fluffy jasmine rice in the simmering basket, while fish and vegetables steam in the Varoma accessory.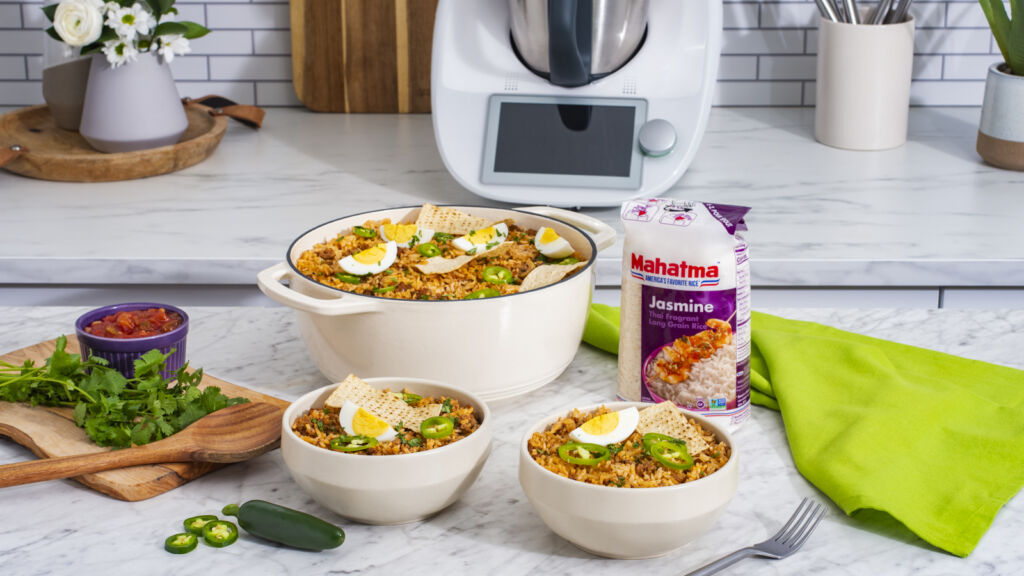 Note, a Thermomix cannot bake or fry foods. It can help you prepare the dough or tempura batter for any baked or deep-fried recipe, but the last step will need to be finalized in an oven, deep fryer or air fryer.
How to Cook Rice in a Thermomix?
Perfectly cooked rice is one of the biggest challenges for many home cooks. Fortunately, getting that fluffy texture that reminds you of your abuelita's dishes is made easier when using high quality rice, and when following the right directions and tips. With Mahatma® Rice, problem solved – and, if you have a Thermomix at home, you won't even have to manually measure grains and water for the perfect ratio, since the built-in-scale will do it for you.
If it's your first time trying the "Rice Cooker Mode", we recommend you start with Parboiled Rice as this variety won't overcook. However, you can make any rice, from basmati rice to whole grain brown rice, and also other grains such as bulgur or millet.
Before this revolutionary feature was introduced, rice was usually cooked in the measuring cup compartment. However, if you are using the rice cooker mode, you should always replace it with the simmering basket. Likewise, remember that the water to rice ratio and cooking times will depend on the grain you are using – check out our full guide to rice varieties and discover all of the different varieties you can try! Before serving, fluff with the spatula or a fork.
Thermomix Recipes
If there's something that rice and this all-in-one kitchen gadget have in common, it's that they are both extremely versatile. Just as you can make delicious rice dishes for every occasion, a Thermomix is helpful for a plethora of recipes. You can use it for isolated steps of a recipe – such as chopping, emulsifying, sautéing or blending – or to make the entire dish from start to finish. Take note of these sweet and salty recipes that you can fully or partially prepare in your multifunctional blender and your favorite rice.
All-in-One Savory Entrées
First, discover how to level up plain white rice with a few simple additions that will bring a lot of flavor to your traditional rice side. Recipes like rice pilaf, risotto or green rice are perfect to add a twist to your meals for a little innovation throughout the week.
Our Thermomix recipe for Green Rice is served on the side of perfectly seasoned and grilled chicken thighs for a true Peruvian experience in an hour or less. Use your kitchen assistant to cook the rice and to make a homemade salsa criolla with jalapeño peppers, cilantro, lime juice and more! Chop until almost smooth and this will be the foundation or your arroz verde recipe. Combine with cooked grains and you are all set.
You can also try the chop feature to prepare the sofrito for any of your preferred recipes – even a Spanish Paella with Seafood – or homemade sauces like a tomato-based salsa roja to smother your Chile Relleno Rice.
Dinner in a Bowl
There's no denying in it – rice bowls have an added layer of deliciousness when you infuse your grains with seasoned water or alternative cooking liquids like broth or creamy coconut milk. Our Thermomix recipe for a drool-worthy Empanada Rice Bowl calls for aromatic jasmine rice cooked along with the savory juices of ground beef, spices, chicken broth, olives and lime juice. The result is nothing short of an irresistible dinner option that is all prepared in the same mixing bowl.
Pro tip: use toppings to customize your dish and switch things up every now and then. Start with hard boiled eggs and crumbled tortilla chips, then later explore other flavors with additional ingredients like sliced avocado and spicy sriracha sauce.
Indulgent Sweet Treats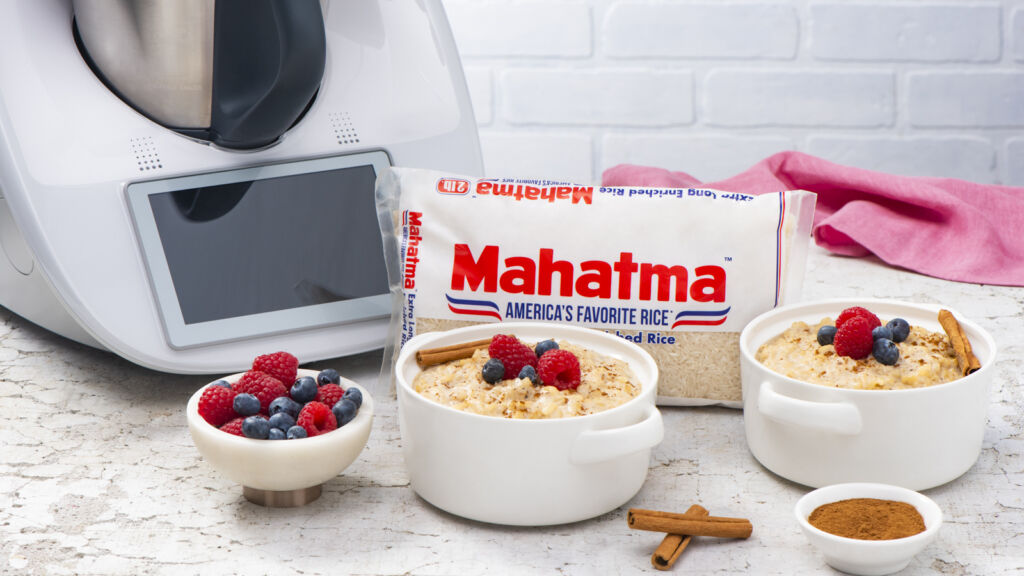 In case you were wondering, you can prepare your favorite dessert recipes in the Thermomix, too. It can be used for almost any type of batter, from brownie to banana bread, or to prepare the creamy filling and dough for a sweet and tangy Key Lime Pie. It is also helpful for whipping up homemade toppings such as caramel or dulce de leche sauce to enhance recipes like this Churros Puffed Rice Cereal.
If know how to make arroz con leche and want to skip the stirring, make your family favorite rice pudding effortless by try this Thermomix Arroz con Leche recipe with long grain white rice. All you need to do is stir the ingredients into the mixing bowl, adjust the settings and let your kitchen assistant do the heavy lifting for you.
Cooking appliances are great tools in the kitchen – so much so that even professional chefs look to gadgets like the Thermomix for certain preparations in many restaurants across the globe. If you have one, try this efficient way of cooking and make the most out of your all-in-one cooker, and if you don't, now you know something new about cooking techniques! Continue exploring delicious rice dishes like this tacos beans and rice recipe by exploring our recipe section. Happy cooking!