A buzz of excitement is in the air as the big day has finally arrived. All those years of late night studying, waking up before dawn, and hours of homework have paid off and your long awaited graduation day is here. A cap and gown have never looked so good and family and friends have gathered from near and far to help celebrate.
Whether you are hosting a small gathering or expecting a larger crowd, Mahatma® Rice can help you get the party started and make it a memorable one, as we provide you with an ample variety of appetizers, finger foods, wraps, and sweet treats to choose from.
Tasty Beginnings
Start your party off on the right foot by offering top notch choices that Mahatma® Rice has to offer.
Seafood Hors d'oeuvres
These Spicy Crab and Avocado Crispy Rice hors d'oeuvres will not last long, your guests won't be able to get enough of these bite-sized cakes with a satisfying crunch! This appetizer becomes a must have when you top it with our enticing hot crab and avocado topping, which has the flavorful punch of a spicy California roll.
Another seafood option is our Seared Tuna Crispy Rice Canapés. Our specialty Short Grain Rice for Sushi is an ideal choice for making these yummy canapés. They will surely be the hit of the party and everyone will be asking you to share the recipe.
You can also offer these Shrimp Ceviche with Crispy Rice. Made with the perfect combo of creamy and crunchy, these amazing appetizers will be gobbled up in minutes.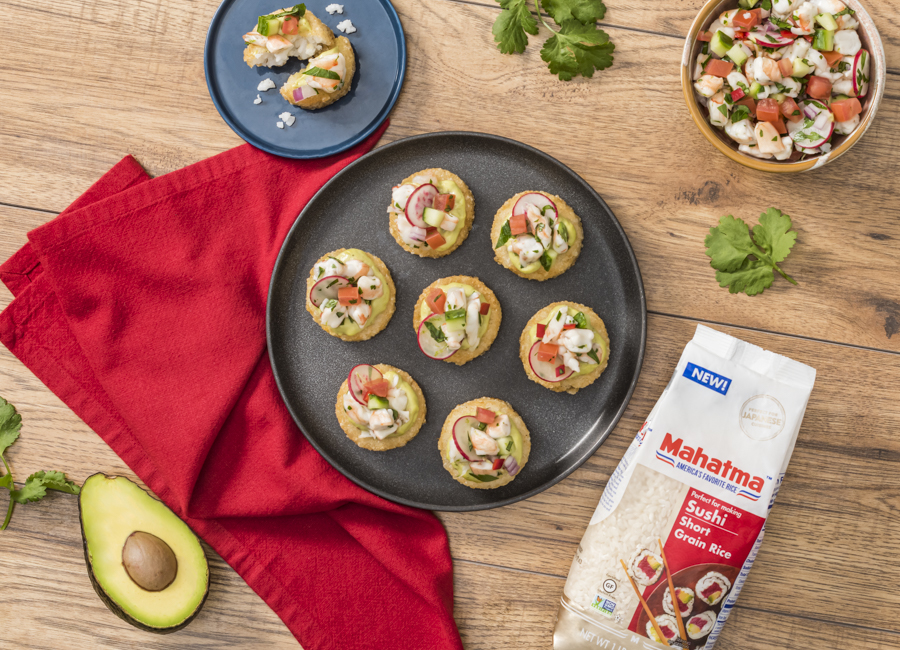 If your party is leaning more towards the casual side feel free to make things quick and easy with the ultimate finger food selection.
Finger Foods

Spend some time with your family in the kitchen and help your mom prepare Empanadas with Turkey and Rice Picadillo. Your guests will sure to have a smile on their faces as they chomp on these delicious mouthwatering small pastries. They are an ideal choice with their irresistible filling made of tomato, a variety of vegetables and spices, capers, raisins, and shredded turkey. These empanadas can be served warm or cold. Serve them with chimichurri sauce as an alternative. Click here to read about more easy empanada recipes.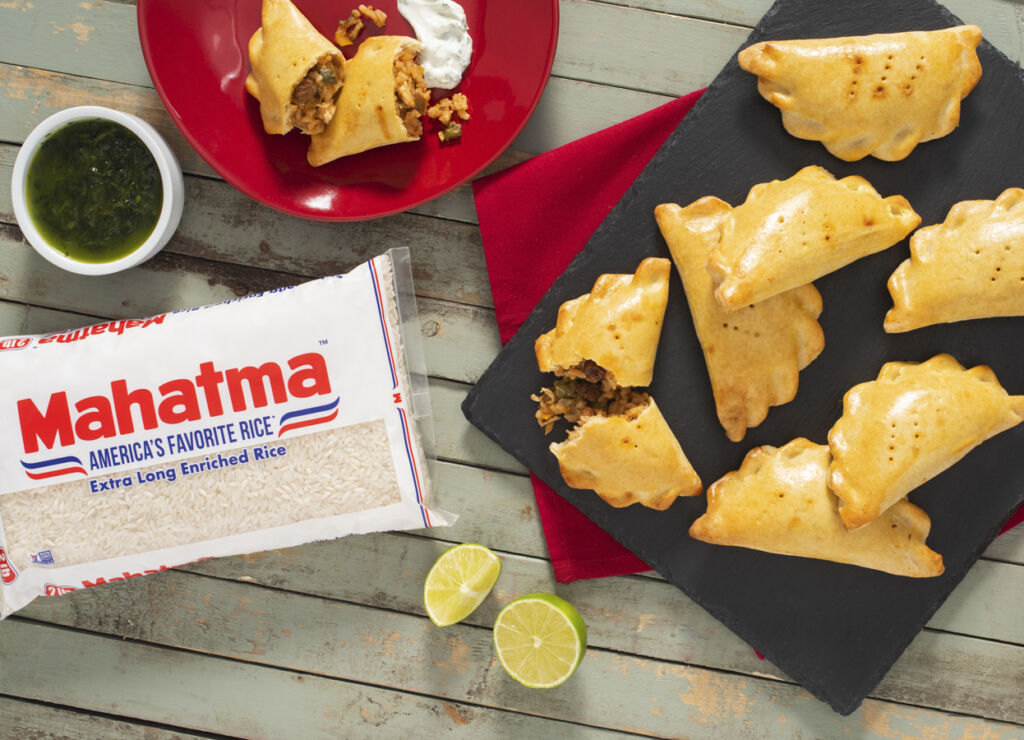 Another party stopper are these Mexican Rice and Cheese Balls.
Stuffed with fresco cheese and covered in panko breadcrumbs, your guests will not be able to get enough. Serve rice balls with salsa roja or warm enchilada sauce.
As they browse the party and check out all of the adorable photos of you as a little kid, they will also be munching on these Mushroom and Cheese Pastelitos, as they reminisce about the good old days.
Vegetarian Options
If your guests are more keen on veggie starters, Mahatma® Rice has options you can offer them. Our Vegetable Rice Fritters are packed with carrots, zucchini, onions and more. You will exceed your veggie intake for the day! Try serving them with warm marinara sauce, guacamole, sour cream, garlic mayo, or chipotle mayo for dipping.
Another vegetarian option to have on hand are these Crispy Veggie Rice Balls. Just because they have to sign your guest book, doesn't mean they can't continue enjoying the yummy snacks. Serve with hot sauce, soy sauce, or if you are feeling extra spicy, wasabi paste.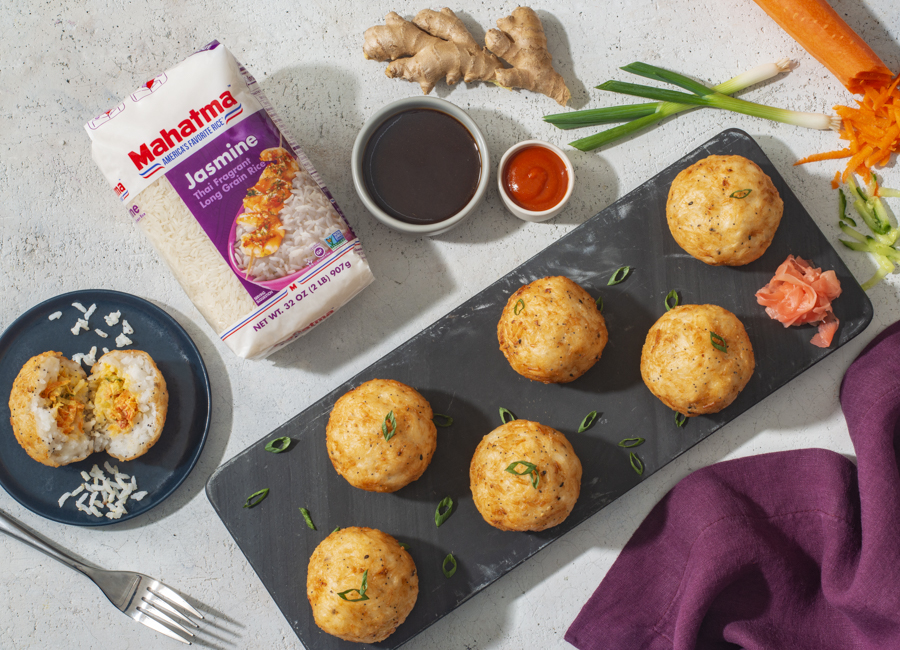 If your guests are still hungry and want something a little filling, offer them a wrap!
Wraps
Your friends and family are having a blast and their appetites are still blazing onwards! No worries. Offer them one of our delicious wrap options like this Rice and Beef Lettuce Wraps.
This spicy Korean inspired wrap will wow your guests and they won't be able to get enough! If they enjoy seafood, have them try this Cajun Blackened Fish and Rice Lettuce Wraps. Or for the perfect sweet and savory combination go for these Wraps with Jerk Shrimp and Pineapple Salsa. The combination of  shrimp and homemade pineapple salsa is pure heaven. You can also try mango as a pineapple substitute.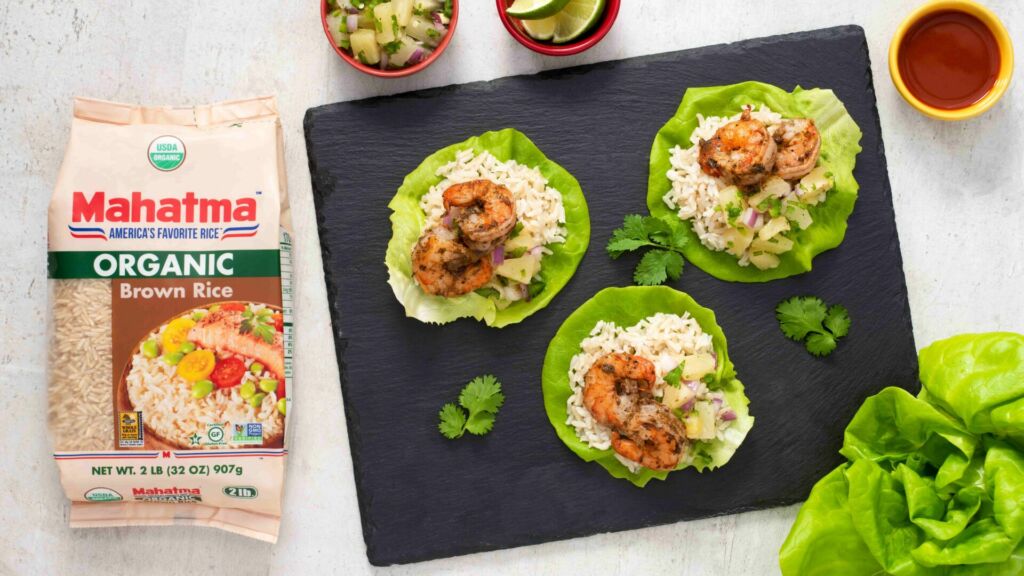 For your wraps make sure you look for larger lettuce leaves so your wraps can hold all that yummy goodness. And try not to overstuff them. Fold in the sides and then the bottom to make sure nothing falls out!
As the party is winding down and family and friends have seen your baby pictures and reminisced about your childhood, they can't leave the party without having had a yummy dessert!
Sweet Treats
This amazing Sweet Arancini Dessert Board will make your aunts, uncles, abuelos and friends want more! Dipped strawberries, pretzels, raspberries and blackberries, enjoying the best fruits in the heart of summer.
If chocolate is on their radar the Matcha Green Tea and White Chocolate Rice Truffles cannot be beat. These tasty truffles are created with smooth matcha green tea, vanilla, and creamy rice, then drenched in rich white chocolate.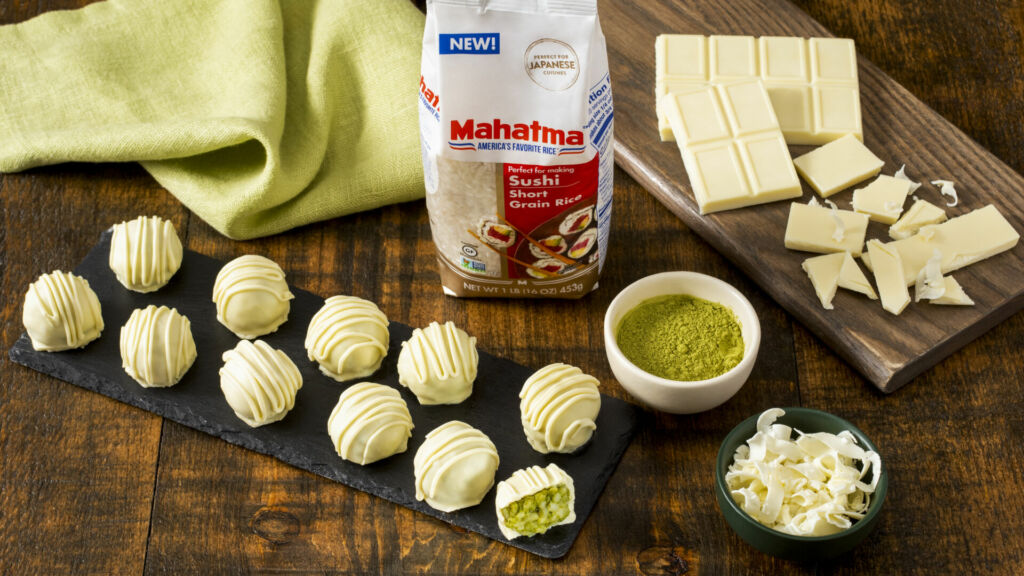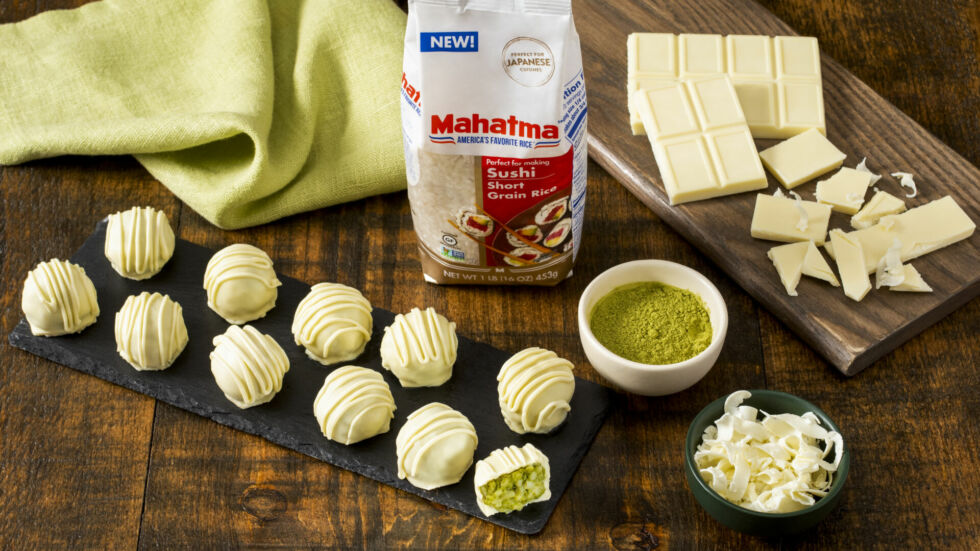 Another perfect end to the party would be to try this Coconut and Almond Rice Tart. For a chilled dairy-free and naturally sweetened pie, a homemade oat and nut crust is filled with a delightful almond rice pudding filling.
For more cooking tips and recipe ideas, stay up to date with Mahatma® Rice.