The holiday season is filled with activity any time of day, including breakfast! So, if you're hosting a family holiday brunch or simply want to enjoy a festive morning meal at home amidst all of the to-do list errands, we've put together some of our favorites from sweet to savory to start your day off on the right foot.
Get in the festive spirit and try these delectable breakfast or brunch ideas to share with family, friends or simply enjoy all to yourself!
Sweet Breakfast Spread
'Tis the season to treat yourself to sweet breakfasts with fruit, chocolate or creamy custard goodness. A tasty dish in the morning can be an incredibly delightful and delicious way to start your day and if that sounds good, these ideas are for you.
Crispy Fritters
Usher in the holiday season with these irresistible Christmas Cake Rice Fritters. Made with Mahatma® Brown Rice, dried fruit, allspice, cinnamon, vanilla, and drizzled in an exquisite, homemade rum simple syrup, you'll find yourself sneaking these tasty morsels in for breakfast well past the holiday season.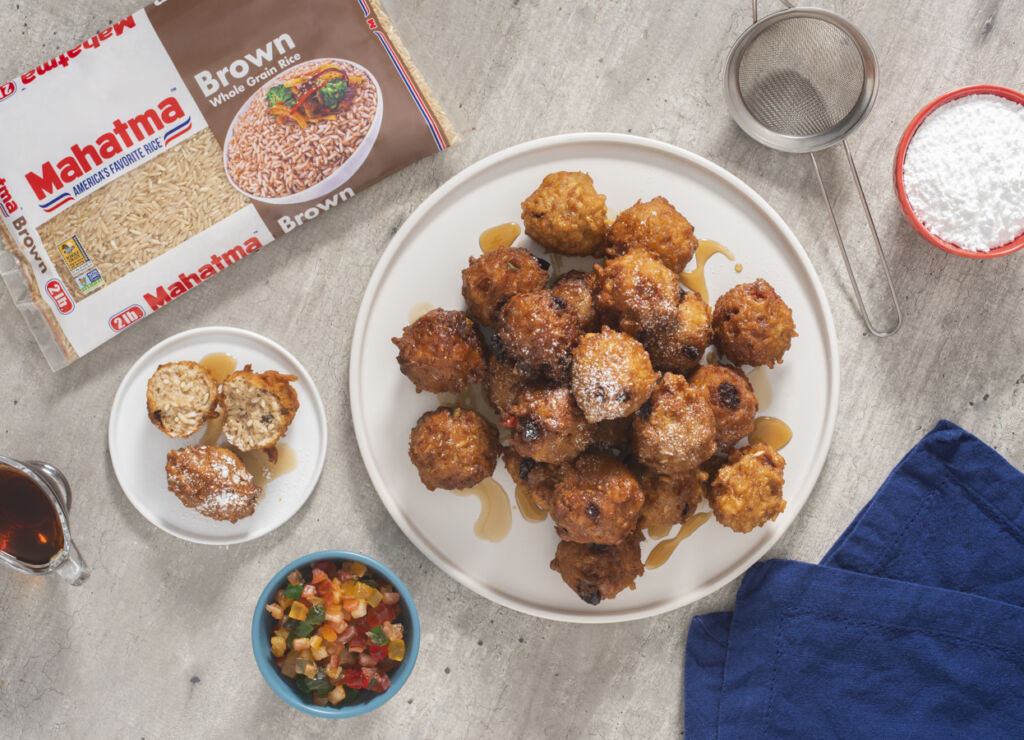 Creamy Custard
Start your day with this creamy and decadent Cuban-Style Natilla Custard. Made with fragrant Mahatma® Jasmine Rice, milk, and egg yolks, you'll quickly fall in love with this sweet and cinnamon breakfast. Whether you're a fan of Latin meals or not, it's always a good time to bring new dishes into your breakfast rotation and this tasty recipe is sure to be a fast favorite.
Rich Rice Pudding
There is no denying that eggnog is a classic holiday drink! This Rompope Rice Pudding, Spanish for eggnog, blends your favorite flavors into a creamy rice pudding. Made with Mahatma® White Rice and the staple eggnog ingredients like milk, vanilla and a dash of rum you can enjoy your favorite drink of the season as a special holiday breakfast.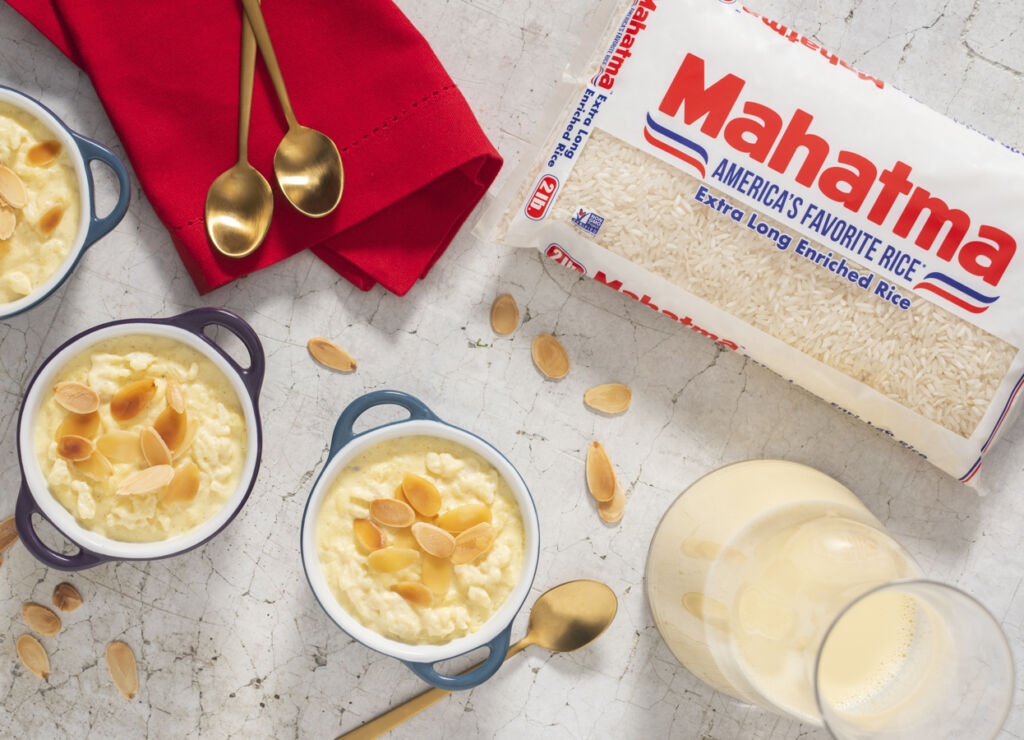 Family-Friendly Version: If you want to make something the entire family can enjoy, make it a rich creamy Tres Leches Rice Pudding topped with fresh fruit!
Fluffy Pancakes
One of the all-time classic breakfasts can be perfectly adapted to the holiday season! And, if you've got younger helpers at home, this is a great opportunity to learn how to make homemade rice flour and try your own baked goods from scratch like waffles or pancakes! And, using your rice flour, you can make them completely Gluten Free.
Got any chocolate lovers at home? These Chocolate Hot Cakes made with brown rice topped with cajeta, chocolate sauce, strawberry jam, and whipped cream are the best way to say 'good morning'!
Savory Recipe Ideas
For those who prefer something a bit more savory in the morning, or for those who like to switch it up, we have some appetizing breakfast recipes that are a must-try this holiday season (or any time of the year), too!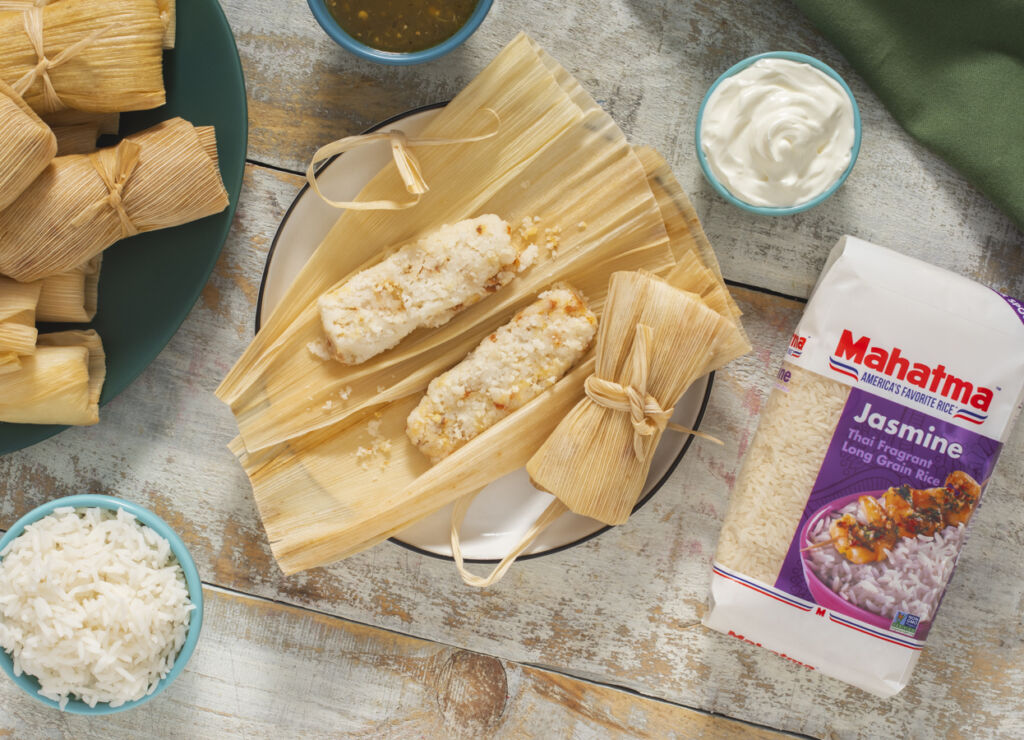 Tamales
First up, Rice Tamales. Made with fragrant Mahatma® Thai Jasmine Rice and filled with turkey, chorizo, and a medley of onion, tomato, and bell pepper all wrapped in corn husks like tiny and delicious little presents, you won't be able to help but feel that holiday spirit first thing in the morning.
Didn't know tamales could be enjoyed for breakfast? They sure can! In Latin culture, the holiday season is also tamale season. Sweet or savory, they are typically made in large batches and enjoyed for the next several days including breakfast time with a nice, warm cup of your favorite "cafecito". If you have some husks left, these Sweet Rice Tamales are a delicious addition to your holiday spread for breakfast or dessert.
Breakfast Ideas with Eggs
One pan meals bring all of your favorite ingredients together into one dish for breakfast too! They're especially easy and delicious to feed as many people as you need without loads of dishes. This Chorizo and Rice Breakfast Scramble is a great go-to option, made with just a few simple ingredients like chorizo, eggs, Cheddar cheese and tomato for a festive and tasty dish. This tasty skillet will be a family favorite well after the holidays are over. You can even make the Mexican Rice in the Instant Pot and turn this recipe into breakfast tacos using your choice of tortillas!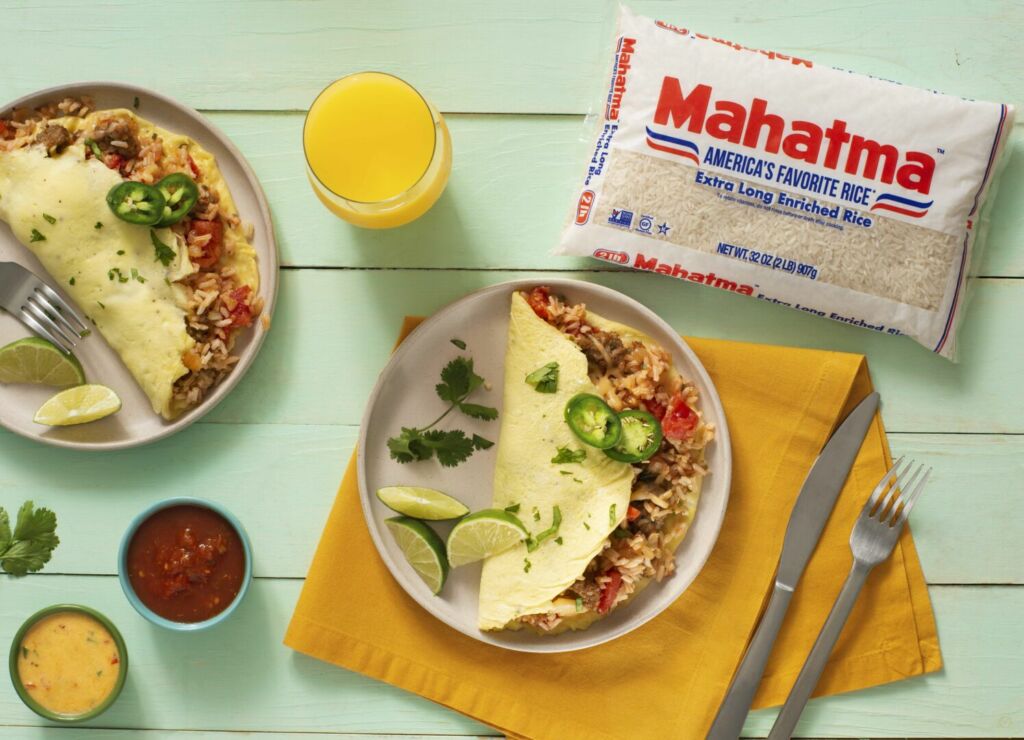 Feeling festive and maybe a little fancy, too? These Omelets Stuffed with Mexican Rice and Chorizo are also made with staples like eggs, chorizo sausage and Cheddar cheese for a dish the whole family can help prepare!
Empanadas
If you need something hearty and loaded with savory ingredients at your brunch table, empanadas are a great handheld and tasty bite-sized pocket!
Follow our recipe for making your own homemade dough and filling for an extra special treat with these Chorizo and Rice filled Empanadas or make use up those leftover ingredients with this Turkey and rice Picadillo option.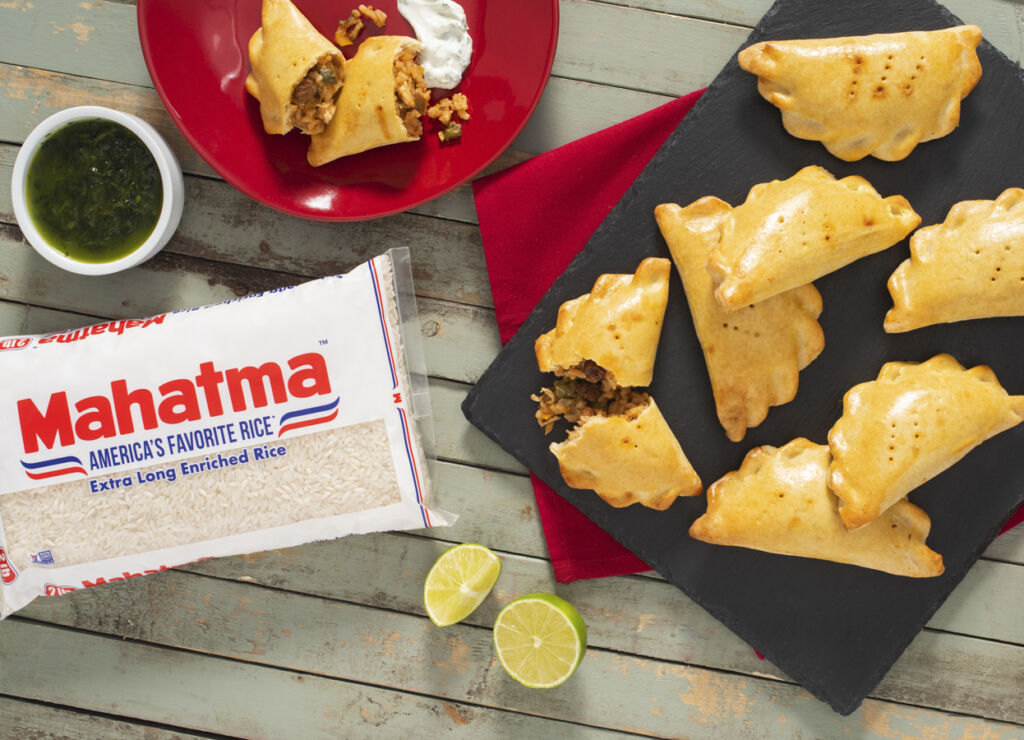 Tasty Tip: If you're planning to make a savory version but have a few eaters that prefer something sweet, save a bit of that rice pudding and cinnamon sugar to make these Sweet Rice Pudding Empanadas.
Bring in the holiday season with Mahatma® Rice for any meal! Explore our recipe selection with confidence or meet us in the cooking section with more holiday meal ideas using red and green ingredients, and amazing cooking hacks, like how to cook jasmine rice or recipes like this coconut milk rice recipe to really get into the festive mood! You can also have your questions answered like, how do you make arroz con leche?