It's never too early to start getting prepared for your Thanksgiving meal. Whether you're a fan of the classic flavors or you're always looking for new and fun ways to switch things up, you can do that with rice! With such a wide variety of types of rice out there, you can make anything from a rice arancini-inspired appetizer to a delicious rich and creamy rice pudding dessert that will please everyone from young to old.
Of course, there will always be the tried and true classics, like a roast turkey and stuffing, but why not spice up your Thanksgiving dinner and surprise your family members, no matter if you have a large or small crowd around the table, with something new and tasty!
Appetizers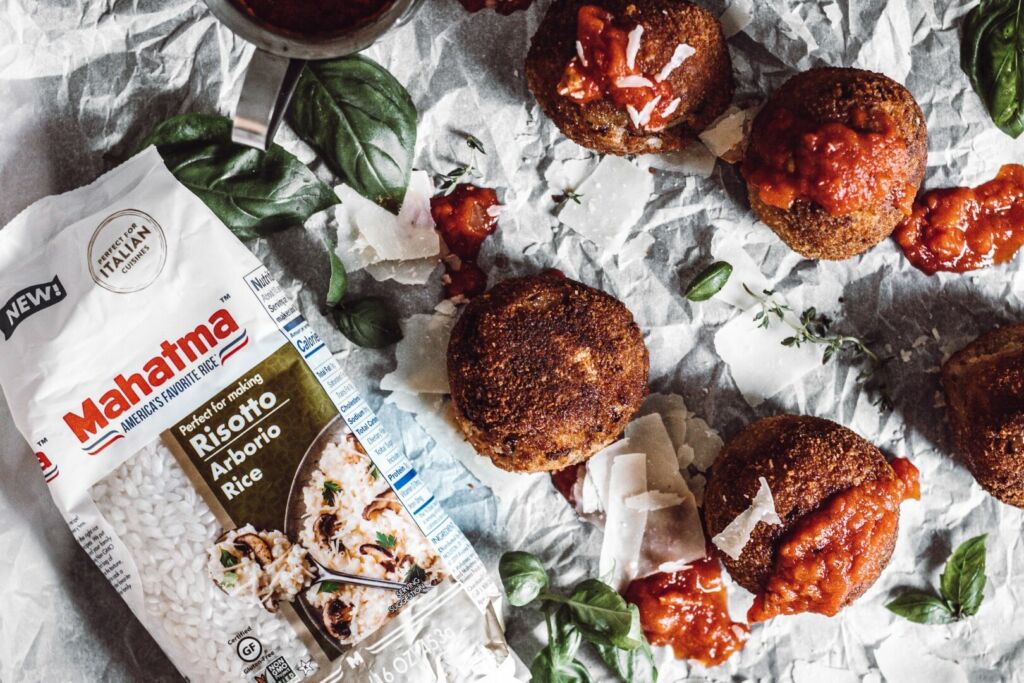 Appetizers and starters are the perfect way to introduce new flavors into the meal without serving alongside the main dishes.
Start off simple with Rice Dip coated in a medium guacamole salsa made with fresh and simple ingredients, perfect for dipping chips and topping with melty cheese.
If you're looking for something crispy on the outside, creamy on the inside, and incredibly delicious all around, these Fried Mushroom and Thyme Risotto bites are what you need. Serve alongside your favorite homemade or store-bought marinara, Parmesan and fresh basil. You don't have to come from an Italian family to enjoy home cooked Italian food.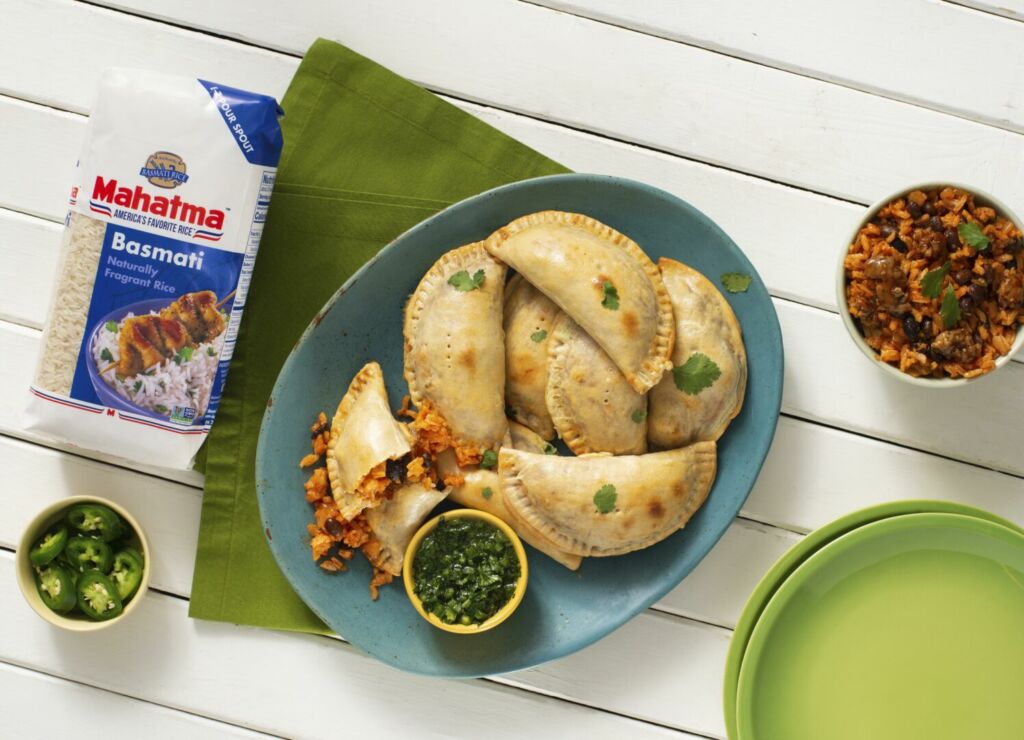 If you want to try a Latin-American inspired finger food, these Savory Empanadas are filled with a seasoned chorizo basmati rice accompanied by a homemade chimichurri dipping sauce! That hardest part will be saving some room for the main course.
Holiday Meal Menu
One of the best parts about celebrating Thanksgiving is sitting down at the table together and taking in all of the different dishes and ingredient combinations! We've put together a few of our top recipes to choose from whether you enjoy more veggie-forward meals or don't stray too far from traditional dishes.
Plant-based Side Dishes
Using autumn harvest vegetables like butternut squash, pumpkin, and leafy greens is more budget-friendly as they are in season and in more abundance. And, they are also more nutrient dense as they don't have to travel as far and can be harvested later in their growth process.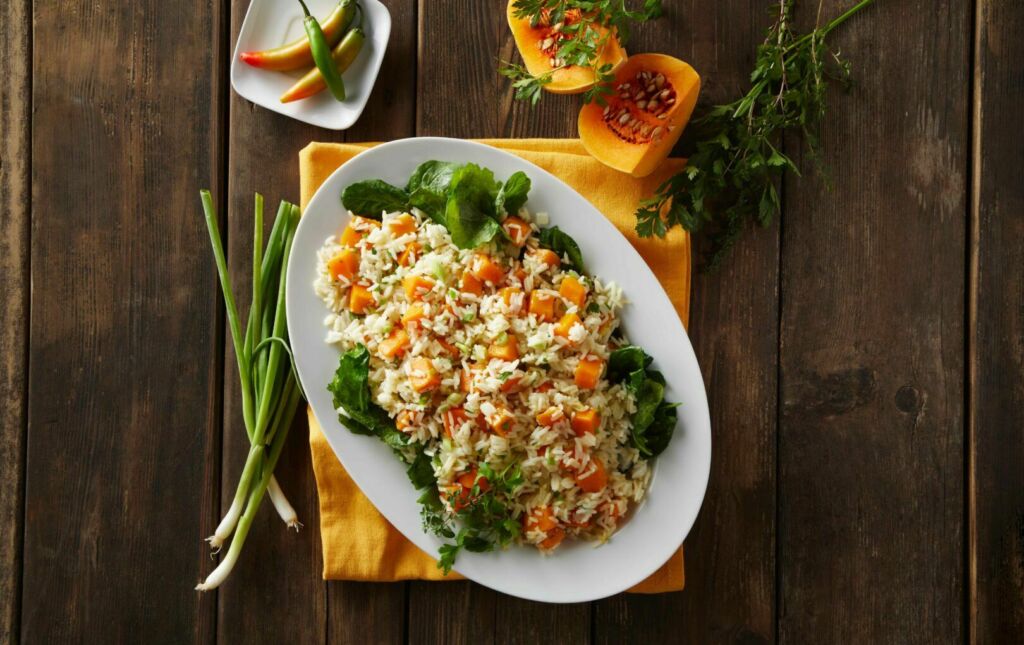 Use fresh, diced pumpkin and ground annatto to give your table vibrant color with this Yellow Rice with Corn and Pumpkin. Filled with all kinds of seasonings and corn, you can enjoy a delicious harvest dish this holiday.
If you don't have any fresh pumpkin, this recipe for Butternut Squash, Green Onion, and Serrano Jasmine Rice uses pre cut and frozen squash with fluffy and aromatic Jasmine Rice or Instant Pot Jasmine Rice mixed with crunchy kale, spinach, serrano chilies and fresh herbs for a blend of color and vegetables.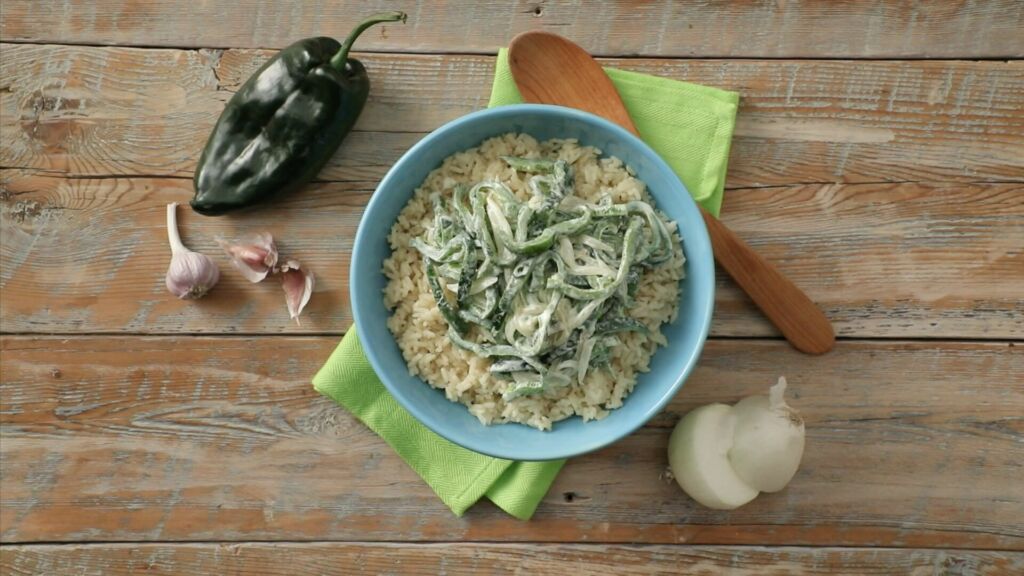 Is your table missing a bit of green? Not to worry, this Green Rice with Roasted Veggies will take care of that with a combination of roasted asparagus, broccoli, Brussels sprouts and fresh herbs with jalapeño for a kick. If you want to add a bit more spice, this Creamy Rice with Poblano Pepper Strips is made with Mahatma® Parboiled Rice and sour cream for a touch of spicy flavor on your table. For something milder that still has a kick, try a Simple Mexican Rice Recipe.
Classics With a Twist
No matter how innovative new dishes are, there is just something special about the traditional flavors of Thanksgiving dinner, that's why we've simply added to them rather than subtracted. This Green Bean Rice Casserole is made with cream of mushroom soup and Oaxaca cheese, sprinkled with pine nuts for the same feel with a few new ingredients.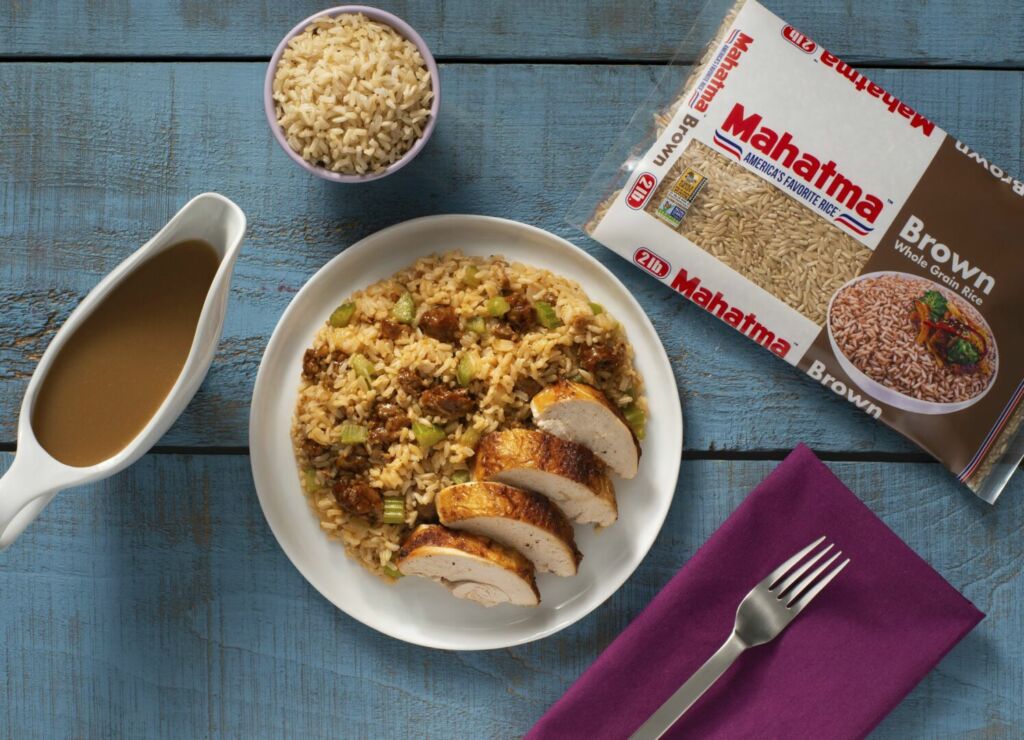 If you're preparing a smaller dinner, you might not want to bake, fry or grill an entire turkey, instead why not try a roast chicken! And, this Chorizo and Mushroom Stuffing Casserole with Mahatma® Brown Rice goes perfectly right alongside it drizzled in a delicious gravy-like pan sauce. If you're missing the turkey, simply swap it in for the chicken, after all, it's your Thanksgiving spread!
Dessert Tray
We hope you've saved a bit of room for these tasty desserts, which are a must and should shoot right to the top of your list of things to make.
With Coffee
If you enjoy a bit of coffee with your dessert this Creamy Homemade Cafe Horchata is served with a shot of espresso for any adults or it can be served alone as horchata for any younger family members.
Or, why not combine your coffee and dessert with a Coffee Mousse Rice Pudding made with Mahatma® Jasmine Rice simmered in milk, sugar, coffee and cream for the ultimate treat to enjoy with family and friends after any meal.
Rich and Creamy
Skip the pumpkin pie, this festive and oh so flavorful Rice Crème Caramel is a flan-like dessert made with fresh ginger, spices and pumpkin puree for a delectable new way to enjoy traditional flavors.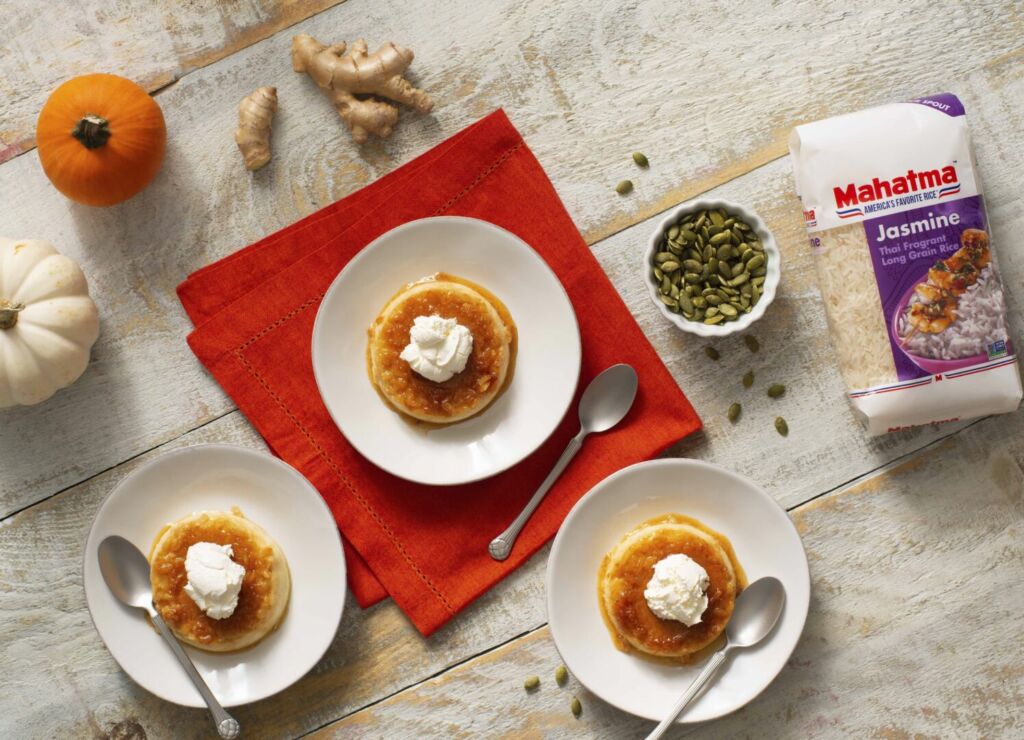 If you've had your pumpkin, but missing a bit of pie on the dessert table, these sweet Cinnamon Raisin & Rice Mini Pies are made with coconut, raisins, applesauce, and cinnamon spice for a delicious finger food dessert that are perfectly portioned for an individual bite of something sweet. If you have any coconut leftover, why not try making a coconut rice recipe?
Try a New Treat
If you're all about trying new desserts, these Sweet Empanadas are filled with a vanilla rice pudding and coated with a crispy layer of cinnamon sugar for a delicious holiday treat with a dulce de leche, apple butter or warm apple sauce dip on the side.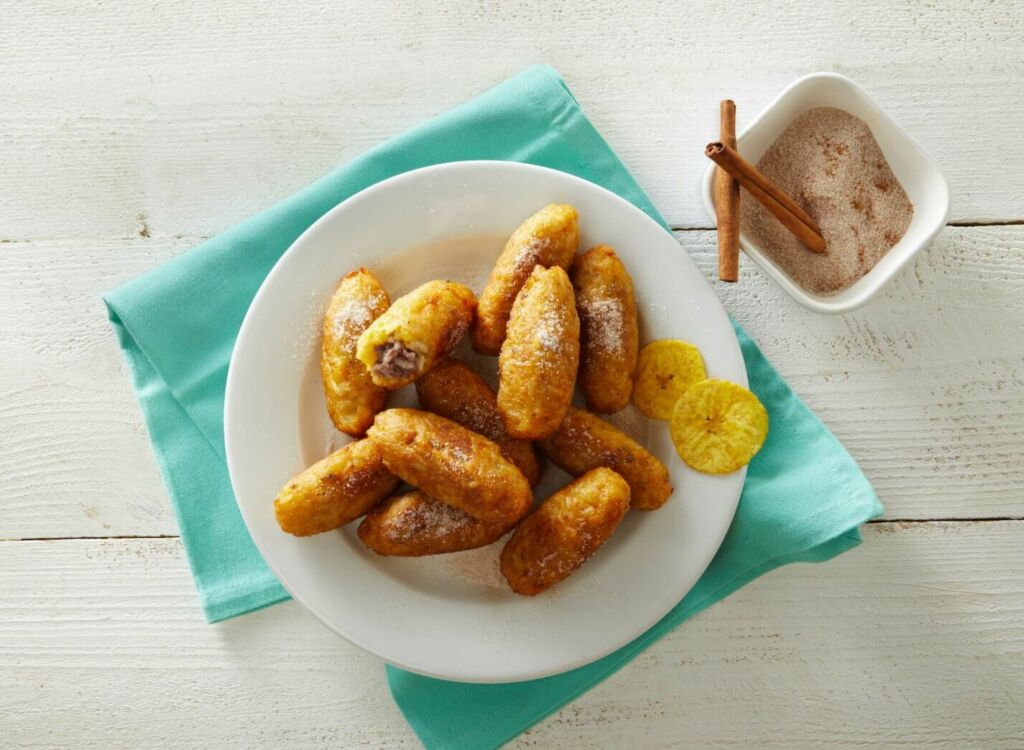 Save a bit of that cinnamon sugar for sprinkling over these Plantain and Rice Rellenitos. Take your taste buds on a new and delicious flavor journey with this recipe combining sweet and salty flavors of beans and plantain with Jasmine Rice.
Explore different Thanksgiving recipes with confidence, whether you're looking for a starter, meal option or even a dessert! Make this Thanksgiving day meal the best yet with the help of Mahatma® Rice.