It is well known that paella is one of the most popular foods of Spanish origin. It consists of a dish made of rice and other various ingredients, from both land and sea. It's easy to see why we are attracted to this colorful and fragrant dish! In addition to the colors and fragrances, spices such as saffron, paprika and oregano enhance the dish's flavor, making it irresistible. Whether it's a joyous festival or a cherished family gathering, paella is suitable for many occasions: you'll be surprised by the remarkable success that you'll achieve when you decide to share it with others!
Tips for Making Paella
Perhaps you or your abuela have already tried your hand at preparing this yummy dish. Are you sure you followed the correct procedure? Making paella takes time, although once you've learned the recipe, it won't be that difficult. However, let's take a look at some tips you can follow to make your paella making as smooth as possible!
First of all, slow and steady: the cooking procedure can be seen as a marathon, not as a sprint; patience and attention to detail will be rewarded, not speed.
Secondly, the choice of rice is extremely important as it is the plate's main focus. Here at Mahatma® Rice we offer a variety extremely suitable to prepare paella: the Valencia (Short Grain) Rice, which becomes tender, compact and moist all at the same time thanks to its ability to absorb the liquid.
Finally, a good chef never overloads the paella with too many ingredients because the real key lies in not overdoing the quantities, allowing every component of the dish to stand out.
Following these tips in the proper way, you'll be able to keep things original by following the #UnfollowLaReceta concept.
Origins of Paella
The homeland of paella is Valencia; this is partly due to the fact that this city has always been one of the major producers of rice on the Iberian Peninsula. This precious carbohydrate was brought by the Arabs, and that's why we are talking about a dish that connects this culture with the Roman one, which introduced the large and shallow pan typically used to prepare paella.
This delight emerged between the 15th and 16th centuries out of the necessity for peasants – a meal composed of the ingredients they already had available. Over time, the dish has evolved and acquired many different variations that we will take a look at now.
Chicken Paella
Contrary to popular belief, paella is not necessarily only made with seafood. In fact, even meat can be a relevant ingredient in this delight, especially chicken.
What's better than a plate full of vegetables and chicken? Well, inside this Jerk Chicken Paella you'll also find our delectable Parboiled Medium Grain Rice, a true specialty! And of course, like any respectable paella, the large high-sided skillet in which it is prepared will be filled with flavorful spices. In this case, what makes this dish particularly flavorful are the jerk paste and curry.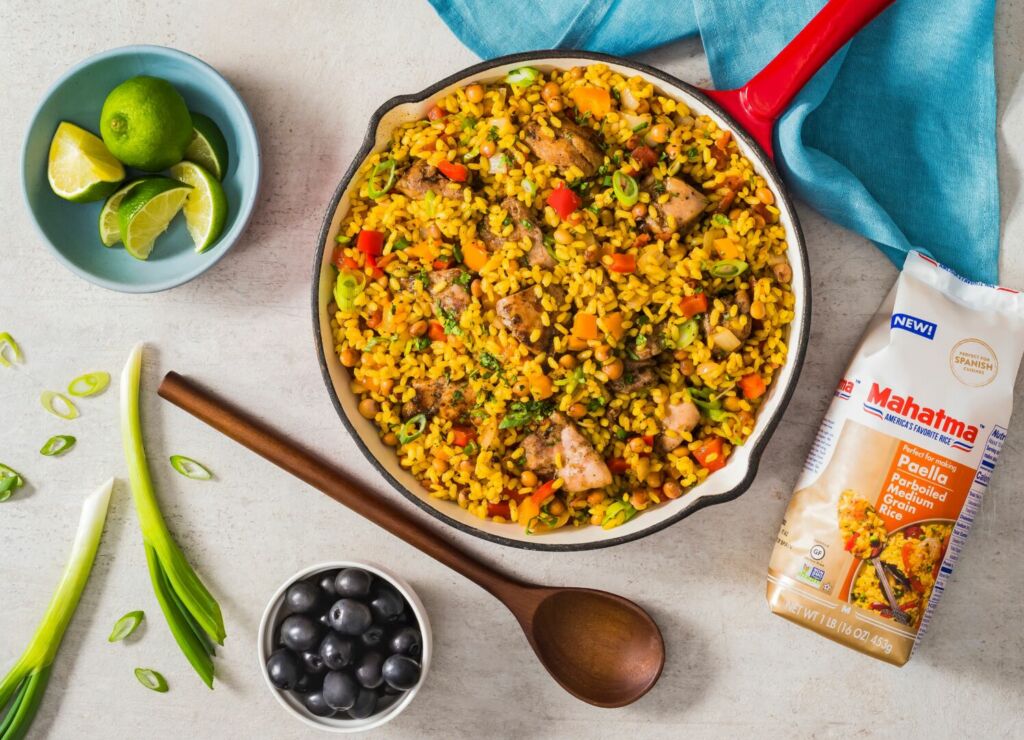 There is a dish that we have often loved since we were children, chicken drumsticks! That's because they are really appetizing, especially when well-seasoned. Furthermore, it would be hard to imagine a life without bacon. If you happen to enjoy both meats, today is your lucky day because with Mahatma® Rice, you can combine them with delicious rice, #unfollowinglareceta and embarking on a culinary adventure by making this Bacon Kimchi Paella with Chicken Thighs.
Seafood Paella
Traditional Style
When we think of paella, the fragrance of seafood always comes to mind. Luckily, you don't have to fly all the way to Spain to try an Authentic Spanish Paella with Seafood. In fact, with us you'll learn how to replicate this unique recipe at home. Just make sure you have everything you need: veggies and spices (red pepper, tomato, garlic, parsley, sweet paprika, saffron) and the Mahatma® Parboiled Medium Grain Rice. Last but not least, don't forget your trip to the fish market so you can pick up some monkfish, mussels, calamari rings and prawns.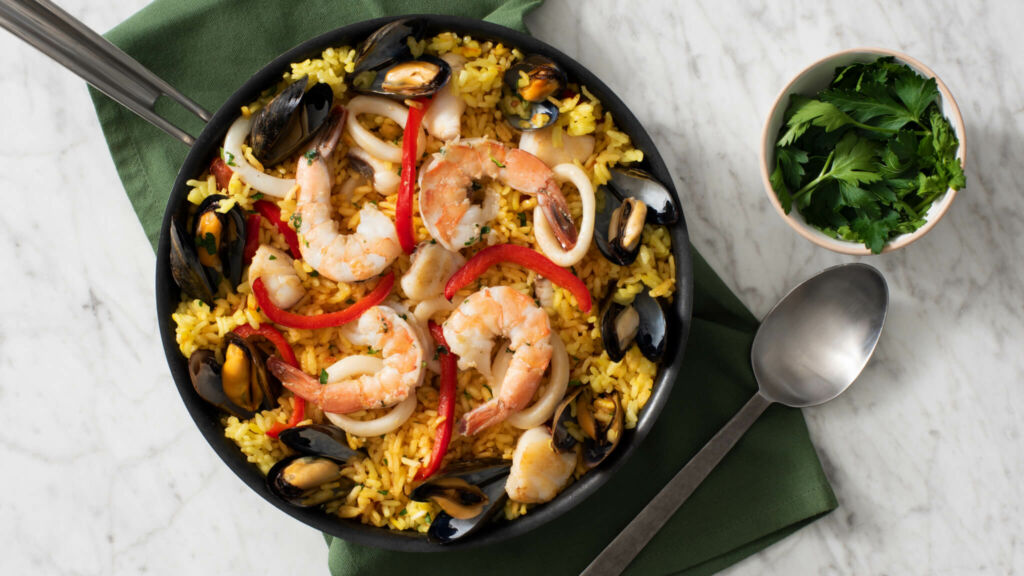 Another version of the authentic Spanish paella is the Traditional Paella with Chorizo & Shrimp. Don't forget to stir as you mix together the chicken broth, smoked paprika, bay leaves, shrimp, chorizo and peas. This paella meets all the requirements of Spanish cooking to create a melody of salty, spicy and savory bites. Note: Toss any mussels that do not open.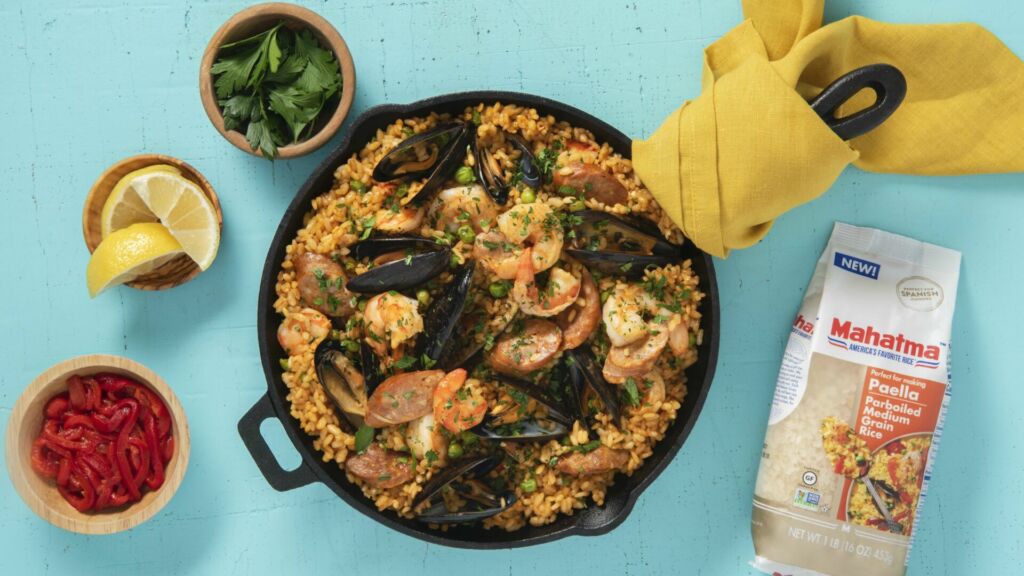 Tuna
If you don't have all day to spend cooking with abuela then this Tuna and Artichoke Paella is an ideal choice. You won't need the extra time to cook fish because you'll use canned tuna instead. For a richer taste, remember to stir in green beans. Also, enjoy an extra punch thanks to the addition of saffron threads, bay leaves, and paprika. Fewer ingredients make it more accessible for a weeknight dinner option.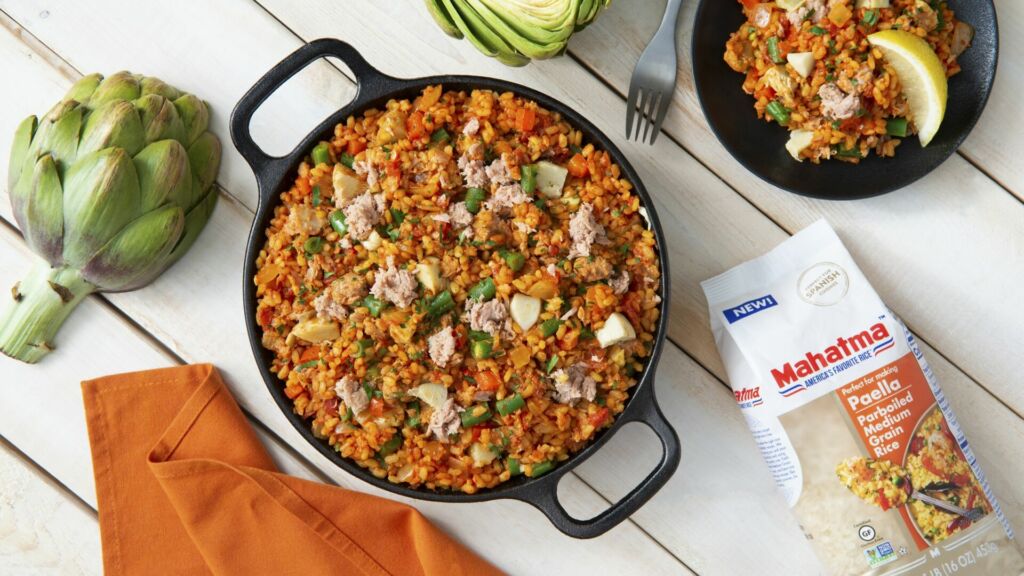 Bold Flavors
If you prefer even stronger flavors, this Mexican-Style Seafood Paella is a fantastic option! Paella meets Tex-Mex in this fun twist on a Spanish classic. By using ingredients more frequently found in Mexican cuisine, such as red peppers, jalapeños, chipotle, cilantro, and lime, this delectable recipe departs from the traditional Spanish paella in a positive way. This paella recipe flawlessly captures the tastes of Tex-Mex and is sure to become a quick favorite.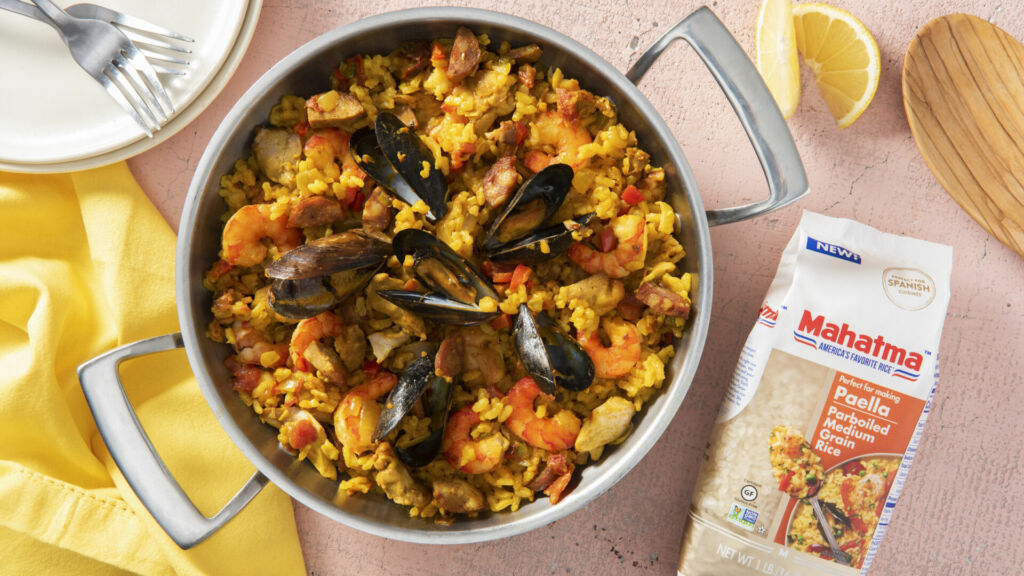 You are not a paella aficionado but you can't resist the temptation of seafood? Here at Mahatma® Rice we are full of meal ideas for everyone! You can easily draw inspiration from these Flavorful Seafood and Rice Dishes. They all contain different varieties of Mahatma® Rice Products, so you'll have the opportunity to try various options until you discover your favorites.
Veggie Paella
After seeing paellas made with land and sea ingredients, prepare to be captivated by our irresistible selection for vegetarians.
This Vegetarian Paella embraces the freshest and most flavorful ingredients of the current time of the year! In fact, you could use our recipe as a guide, but you have the option to choose the ingredients based on the season and your preferences. And remember not to stir in just any type of rice, we highly recommend that you go with the Mahatma® Parboiled Medium Grain Rice. This paella is a perfect Meatless Monday option that will make any vegetarian smile.
This recipe has chickpeas, mushrooms, olives, sun-dried tomatoes, and artichokes. Its intricacy makes it equally as substantial as a genuine Spanish paella with a dash of smoky paprika. There's no need for chorizo here!
If you invited guests and want to introduce them to something new, we suggest this Roasted Harvest Veggie Paella with tempting ingredients. After roasting some brussels sprouts, squash, carrots and parsnips, stir them in a delicious mixture of broth, wine, saffron, onion, garlic and smoked paprika. You can also add some extra magic by sprinkling parsley and lemon juice on top of the plating.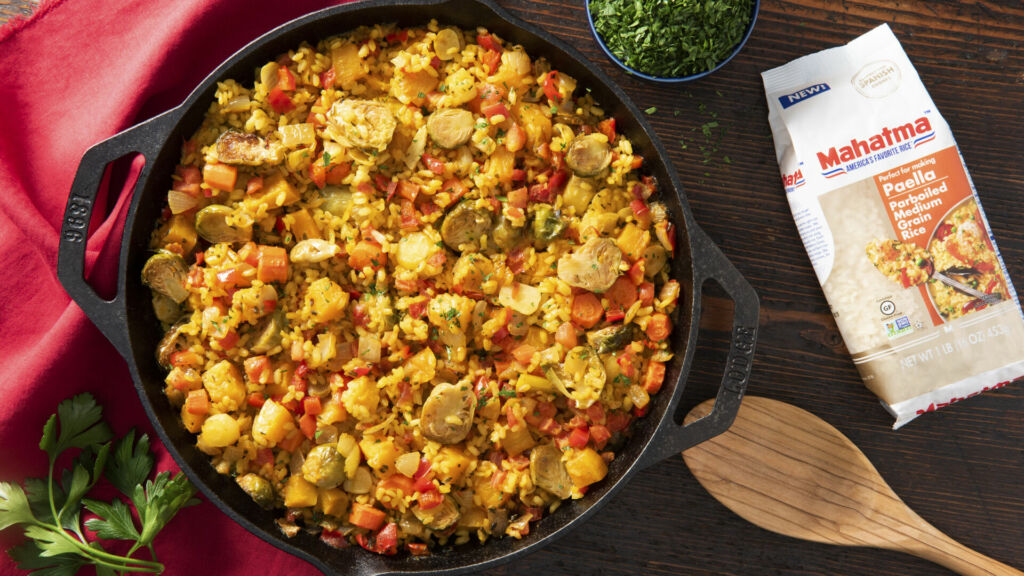 Now that you've learned something about paella, we hope that you'll become a real arrocero! For more tips on how to prepare dishes from diverse cultures, stay tuned to Mahatma® Rice website.