Even though most families enjoy grilling out during the entire summer, there is one day of the year when the coals must be hot!: Fourth of July. Whether the plan is a big neighborhood party or just staying in your own backyard, there is no better way to commemorate America's birthday than by lighting the grill, cracking open a drink, and hanging out with friends and family while listening to patriotic music. Mahatma® Rice has compiled dozens of our best recipes to help you keep those coals burning! Before we dive into those beef and chicken recipes- let's take a look at some quick tips.
Fourth of July Grilling Tips
As you tighten that special apron, make sure you have all the necessary tools like: metal tongs, metal spatulas, grill brush and cooking spray.
If your stove is gas- make sure your propane tank has enough to get you through this busy day!
A neat trick to keep your food from sticking to the grill is to use a raw potato! Cut it in half, poke one end with a fork and rub the exposed potato over the grates. This process releases the starches from the potato and a barrier is created.
Make sure you understand the difference of direct vs. indirect heat and how to cook properly with both.
Summer BBQ Recipes
Your guests will surely be craving meat recipes for this special occasion (and rice of course). Is there really any better combo?
Grilled Chicken Recipes
Prepare your grilled chicken by placing the chicken breast on your preheated grill and close the lid. You should cook each side for around six minutes. Once your chicken is done- try adding it to these Grilled Chicken Tacos with Brown Rice Salsa. These street-style chicken and rice tacos are delectable thanks to a tangy brown rice and tomato salsa. Try serving them with cheese and avocado. Pass them around and get those taste buds flowing! Another fantastic recipe to use up some of that chicken is our Grilled Chicken and Chipotle Rice.
Spice things up with some Chipotle Jasmine Rice. Or #unfollowlareceta with Grilled Chicken Thighs with Arroz Verde. Packed with fresh herbs and veggies, abuela will be beyond impressed! Feel free to change the chicken to grilled steak, tofu or shrimp-if desired.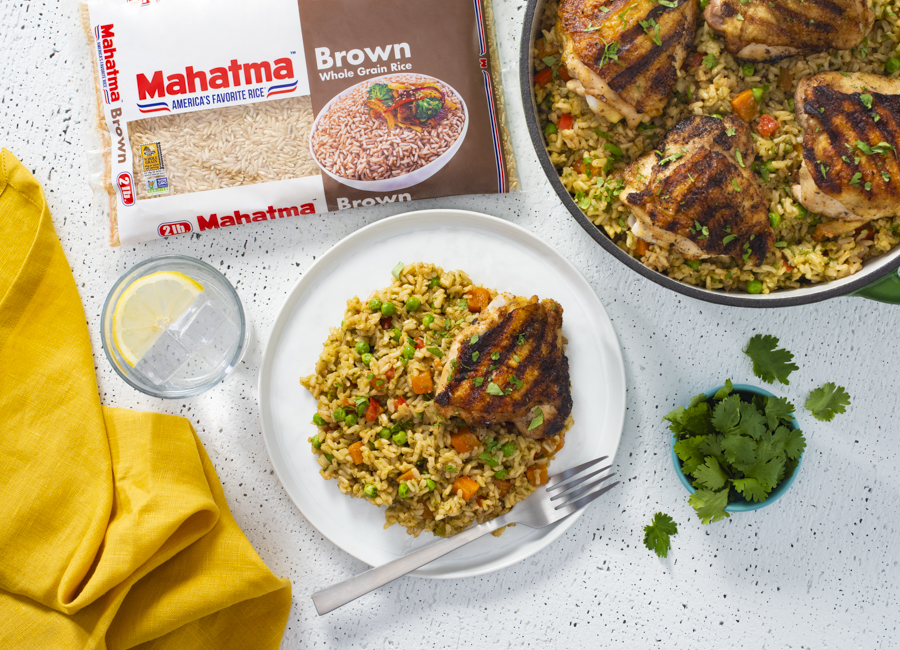 Kebabs
Since the grill is already hot, why not throw on some Kebabs! Garlic Lemon Chicken Kebabs and Green Rice is sure to become your new BBQ go-to! 4th of July is the perfect time to give them a whirl. You should turn your kebabs while chatting with your cousins and continue cooking them for about 12 to 15 minutes or until the chicken is golden brown.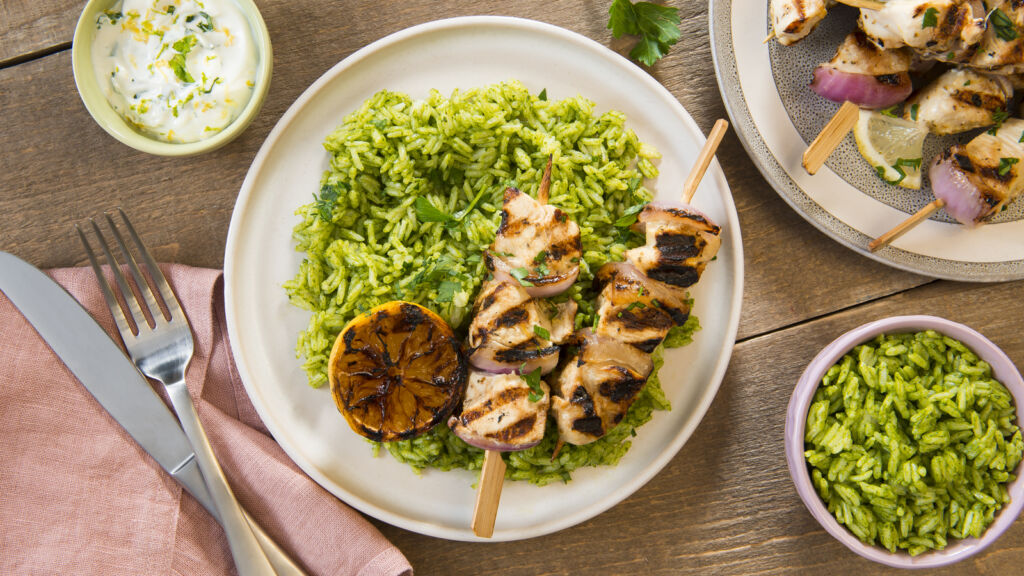 Arroz con Pollo
Enjoy this timeless classic with our Arroz Verde con Pollo or Easy Chipotle Arroz con Pollo.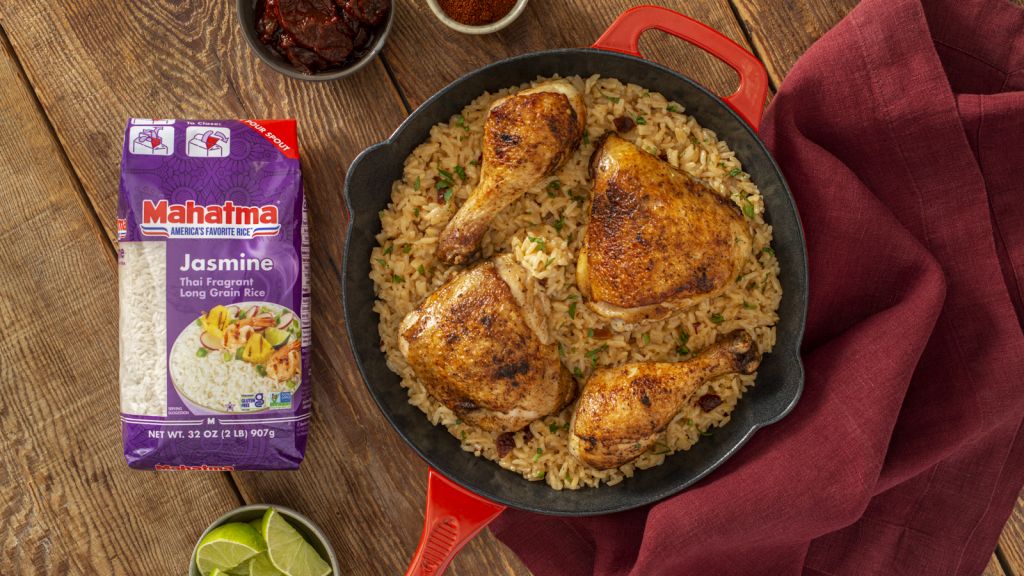 You will not be able to decide between the two and they are both made with our Jasmine Rice.
Some of your guests are meat lovers through and through and chicken does not cut it-they need beef options! No worries- Mahatma®Rice has several to choose from to keep them happy and those flags a wavin.´
Beef-tastic Dishes!
This Mixed Grill with Chimichurri Rice is a perfect choice for those guests that want it all! If they are craving steak then offer them this Mexican Beef Stir Fry. Served over a bed of traditional white rice, this beef flank steak has a juicy and delicious flavor from being cooked in ingredients like cumin, oregano, and garlic.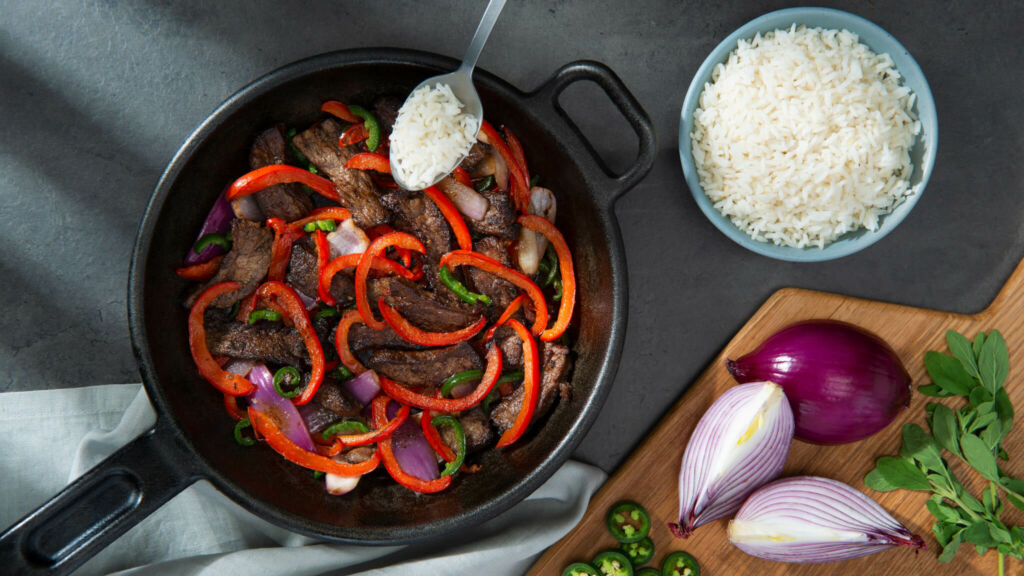 Beef Lettuce Wraps
While they are waiting for the fireworks, give your guests something to talk about. Our Rice and Beef Lettuce Wraps should do the trick. Or these Korean Beef Lettuce Wraps made with bold ingredients are sure to pack on some heat!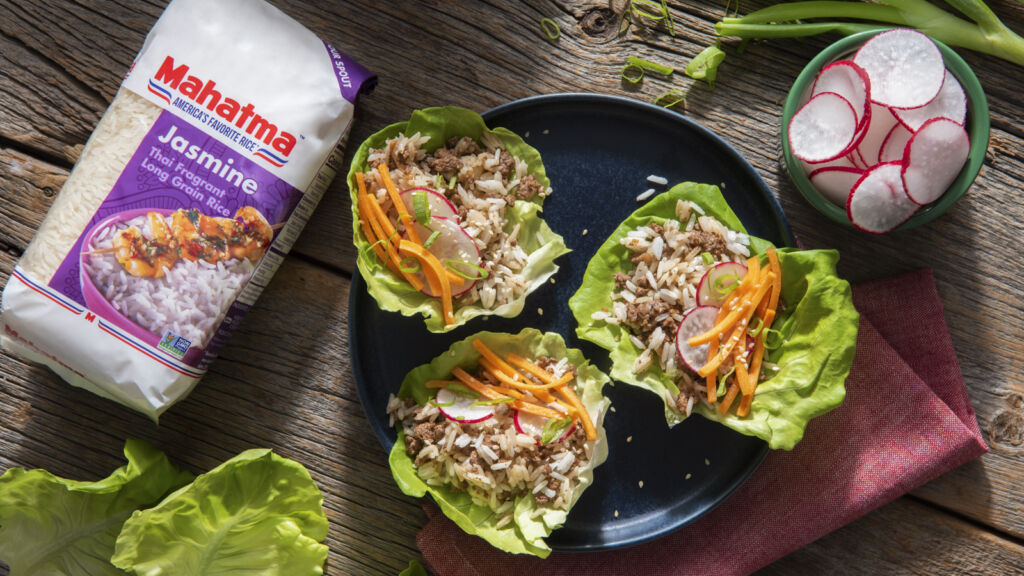 Rice Bowls
Rice bowls are another fantastic way to give your guests what they want. Honey Garlic Beef Rice Bowl is packed with flavor or this Barbacoa and Chipotle Rice Bowl.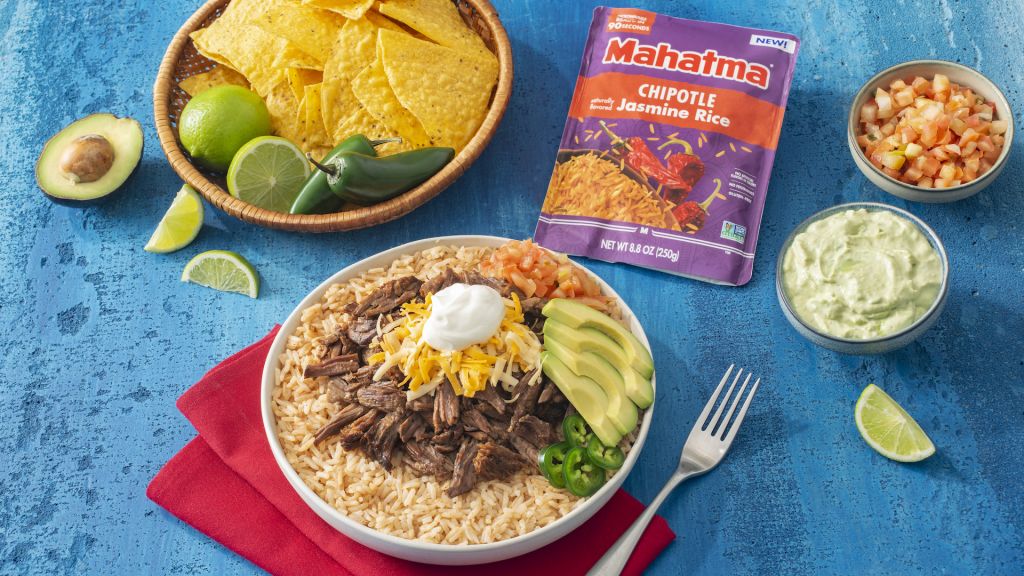 The avocado cream makes it irresistible. Or if you are in the mood for a burger our Beef Curry Rice Burger Bowls are a must! Make the patties and cook them for around 15 minutes-set aside as you assemble the rest of your bowl. With all of these recipes do not forget to try our Refreshing Summer Drinks Made with Rice.
If you have some friends and family at the party that are looking for meatless options-Mahatma® Rice has got you covered.
Vegetarian Friendly
While your cousins take charge of the grill, abuela is inside preparing these Rice and Beans Stuffed Plantains. They are any vegetarian's ideal choice. Plantains are such a fun and yummy way to get that veg in. Discover more interesting ways to prepare plantains.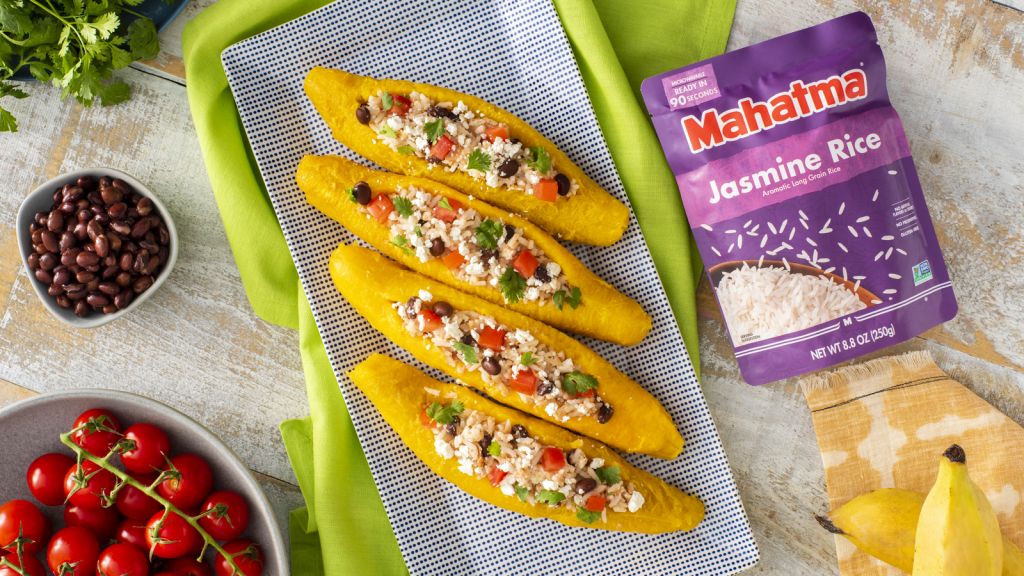 Vegetable Rice Fritters are also a vegetarian's dream. These crispy, irresistible treats can also be topped with the dipping sauce of your choice.
Fourth of July Desserts
The day has been long, you have waved the flag, heard your favorite American tunes, listened to your cousin's jokes and now the fireworks are about to start. Everyone must have a dessert in hand as the fireworks light up the sky. Luckily, Mahatma® Rice has all the right choices.
If you are in the mood for pudding- this Easy Coconut Rice Pudding cannot be any easier to make.
Or why not offer this Coconut Almond Rice Tart that is sure to settle any sweet tooth cravings.

From Mahatma® Rice! – Happy 4th of July!