It doesn't get more classic (or delicious) than one of our all-time favorite meal duos: chicken and rice. No matter what your favorite type of cuisine is whether it be Mexican, Asian, Italian or anything in between, there is likely a chicken and rice dish that is sure to please.
Because rice is so versatile, a seemingly simple combination like chicken and rice can be turned into a delicious and satisfying meal that's full of flavor with any number of seasonings, herbs, sauces, and more. From rich and creamy dishes to cool and fresh salads, we've got some incredibly delicious ideas featuring this classic combo that you're going to want to try!
Make It Mexican
Who doesn't love the typical bold and tangy flavors of Mexican cuisine? If you're like many and you find yourself craving it throughout the week, check out these simple and delicious chicken and rice recipes featuring the Mexican-inspired flavors you love.
Grilled Chicken Tacos with Brown Rice Salsa
Shake things up this Taco Tuesday with these easy and flavor-packed Grilled Chicken Tacos with a Brown Rice Salsa.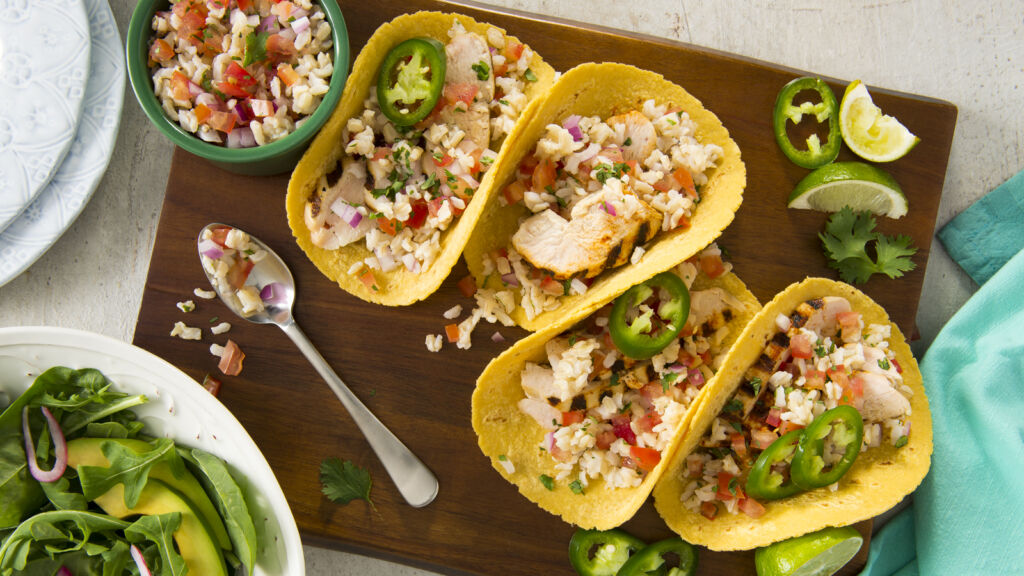 Loaded with chicken breast, whole grain Mahatma® Brown Rice, zesty pico de gallo, and a surprise sweet touch of honey, you might find yourself adding these delicious and easy-to-make tacos into your weekly rotation more often than just on Taco Tuesdays. Another option are these rice and bean tacos. Your whole family will love them!
Chicken Albondigas
These Chicken Albondigas, or meatballs in Spanish, are made from a blend of seasonings, ground chicken, and rice formed into meatballs simmered to perfection in a chicken broth and tomato sauce mix. Serve them with warm tortillas and fresh lime wedges for the full Mexican comfort food experience on a chilly evening.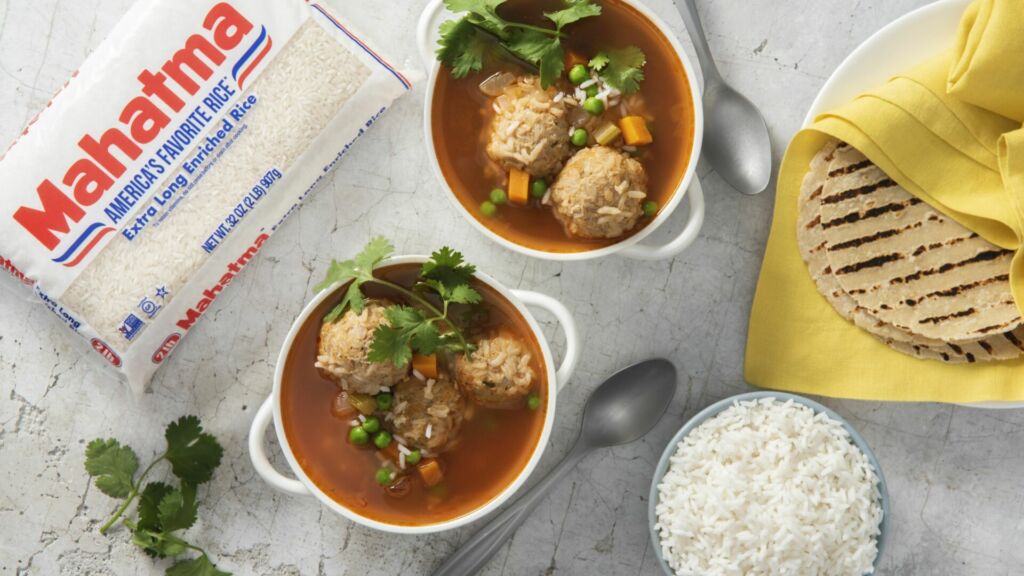 Cheesy BBQ Chicken and Rice Quesadillas
Ever tried chicken and rice in a quesadilla? The combination of fluffy rice with gooey cheese wrapped together is out of this world! And when it comes to Mexican cuisine, if quesadillas happen to be amongst your favorites, this Cheesy BBQ Chicken and Rice Quesadillas recipe is a must-try.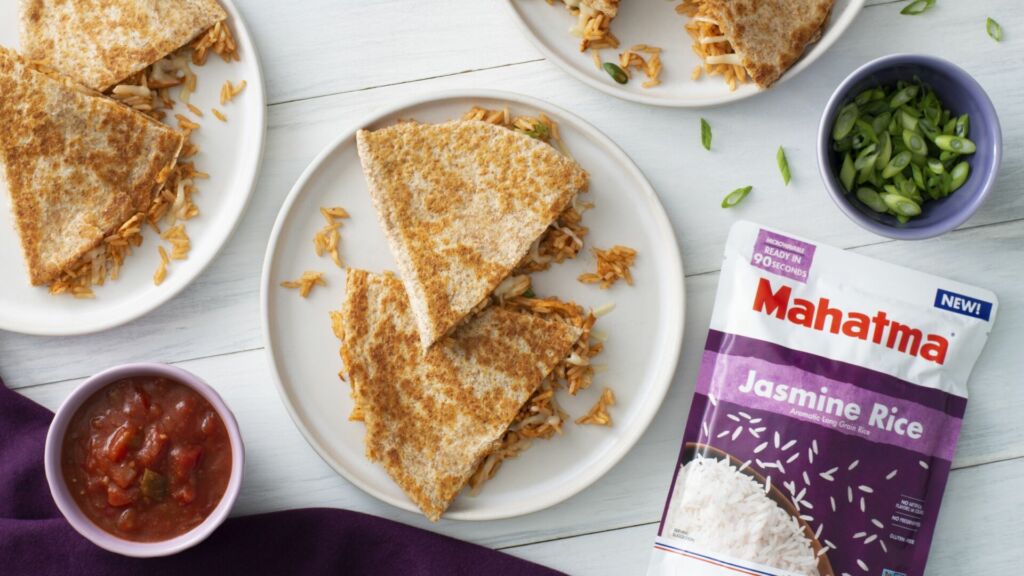 Loaded with Mahatma® Ready to Heat Jasmine Rice, melty Monterey Jack cheese, and tangy BBQ chicken, these easy-to-make quesadillas are perfect as a quick dinner for one or to feed the whole family on game night. Don't forget to set out the guacamole, sour cream, and salsa for dipping!
Southwest Chicken and Rice Soup
For a Mexican-style soup, learn how to make this warm and savory Southwest Chicken and Rice Soup with Mahatma® White Rice and flavored by cilantro.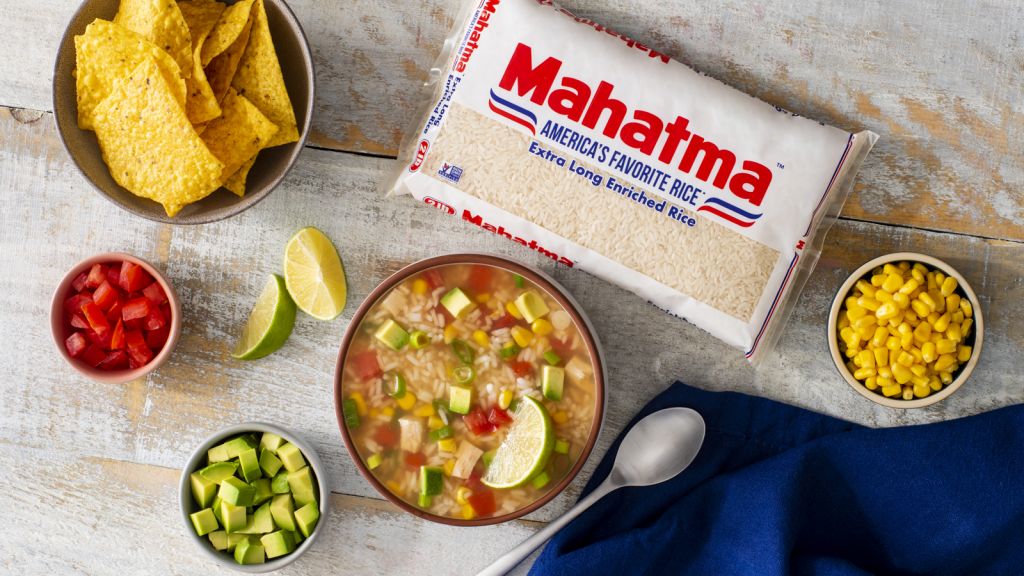 Asian Delicacies
If the exotic flavors of Asian cuisine are what you crave, chicken and rice can be the base for several delicious Asian-style meals too. From fried rice to an Asian chicken salad, we have some great recipes to try when the craving hits.
Chicken Fried Rice
Next time you're in the mood for some chicken fried rice, skip the takeout and make your own! This Chicken Fried Rice is made with eggs, soy sauce, veggies and Mahatma® Long Grain & Jasmine Rice Blend which has been perfectly crafted for making all kinds of fried rice dishes.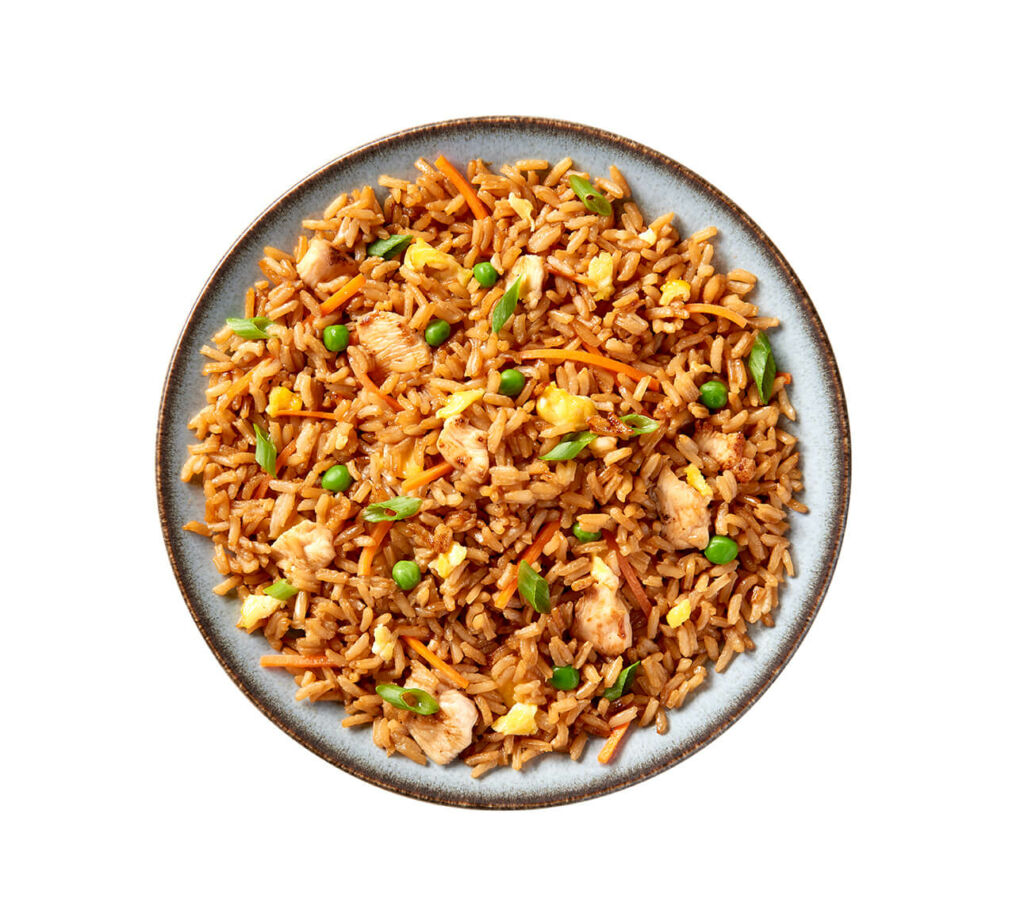 Never made fried rice at home? We've got a few tips that will help you out to get you cooking like a pro in no time!
Asian Chicken Salad with a Spicy Peanut Sauce
Did you know that chicken and rice even go together perfectly in delicious salads?
This tender Asian Chicken Salad made with Mahatma® Whole Grain Brown Rice and a blend of vegetables like bean sprouts, mushrooms, and jicama is brought together with a delicious Asian-inspired spicy peanut sauce dressing. This recipe is loaded with bold flavors for a perfect lunch on-the-go or quick and light dinner side.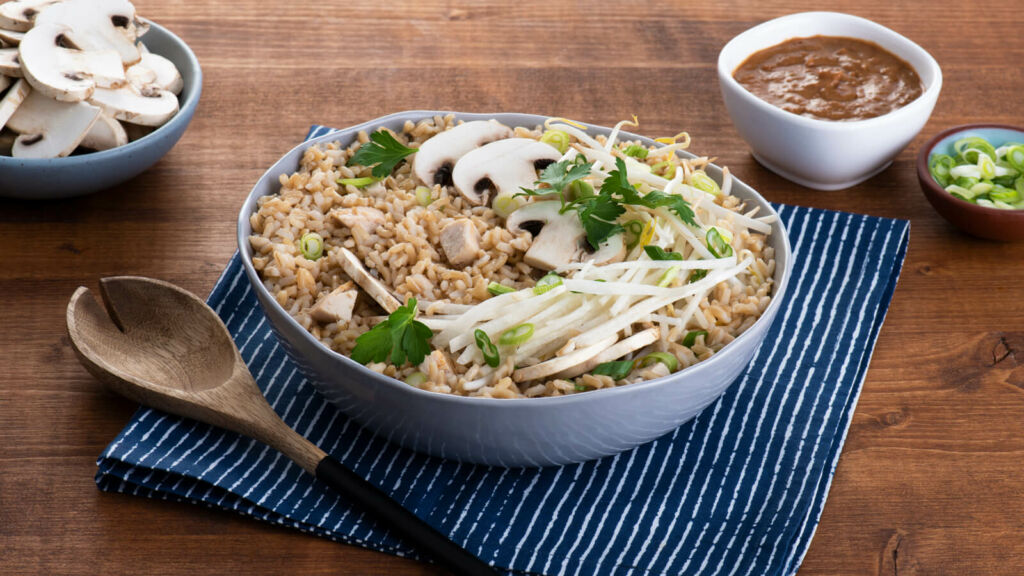 Pad Thai Fried Rice and a Japanese Omelet
Talk about a power combination! Use a base of chicken and rice to create this fusion of Thai and Japanese flavors in a plate of Pad Thai Fried Rice topped with a Japanese-style omelet.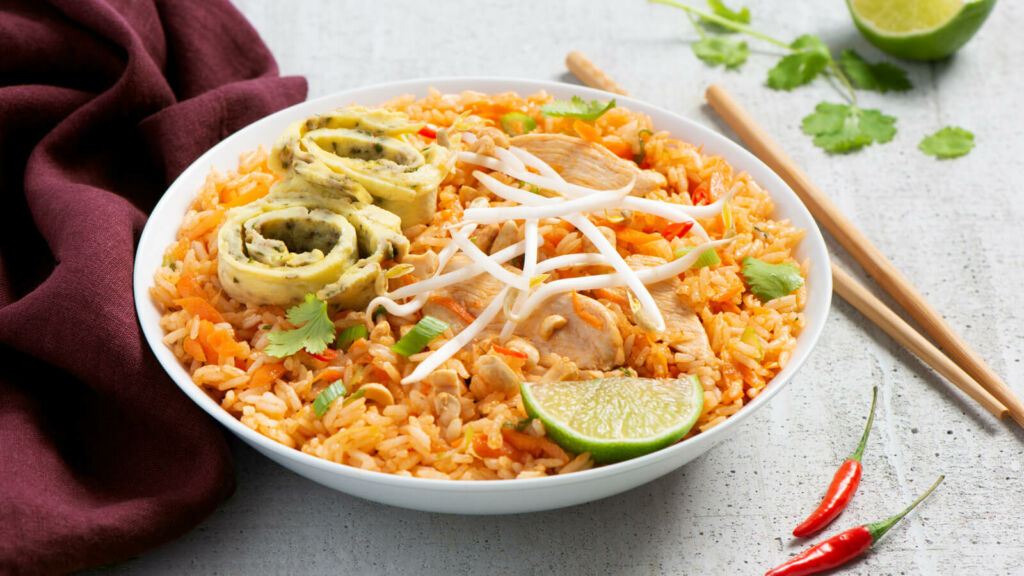 While Pad Thai is traditionally made with noodles, this version is made with a Long Grain and Jasmine Rice Blend stir fried with chicken, eggs, veggies and a sweet and savory blend of lime juice, ketchup, oyster sauce, fish sauce, garlic, sriracha and brown sugar. You'll impress your guests with a dish that's as stunning as it is delicious!
Global Cuisine
Like we said before, the classic chicken and rice combo is used in cuisines all around the world. If an international trip isn't coming up for you in the near future, treat yourself to one in your kitchen! These international chicken and rice dishes are sure to take you on a tasty journey.
Garlic Lemon Chicken Kebabs and Green Rice
Originating in the Middle East, shish kebabs are a delicious and fun way to cook and eat meat. These Garlic Lemon Chicken Kebabs and Green Rice are not only delicious but incredibly vibrant with the bright green hue from a blend of spinach and fresh herbs. For a bit of contrast, you can also use half Coconut Jasmine Rice. Impress your friends and family with a delicious and fun dinner!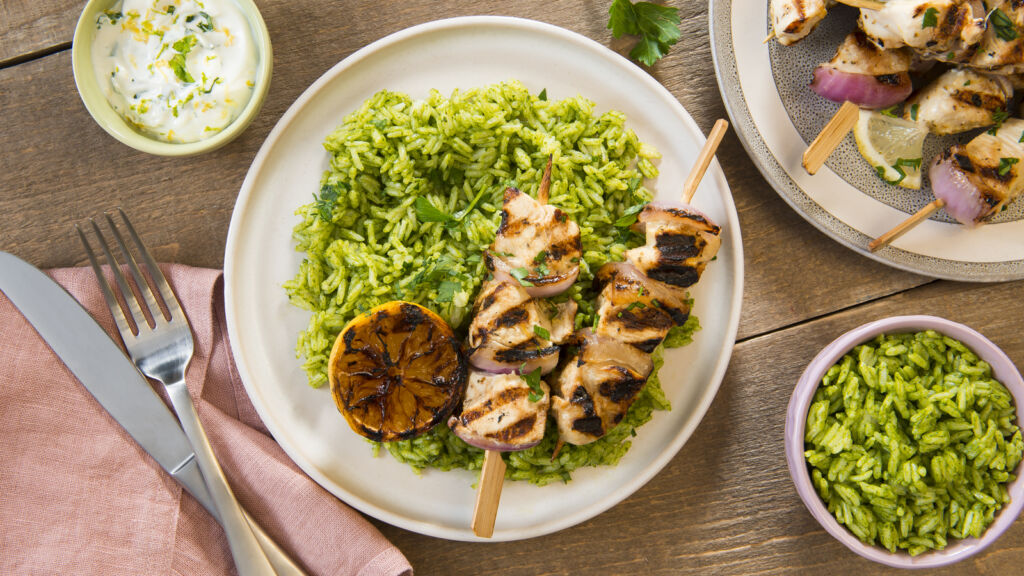 Jasmine Rice Greek Power Bowl
Enjoy Mediterranean vibes and flavors with this simple, yet tasty Greek Power Bowl with Jasmine Rice and Quinoa. This colorful and flavorful chicken and rice salad is made with chickpeas, fresh tomato, cucumber, and black olives, then dressed with an avocado tzatziki sauce and topped with fresh feta cheese. So much Greek flavor in one easy salad.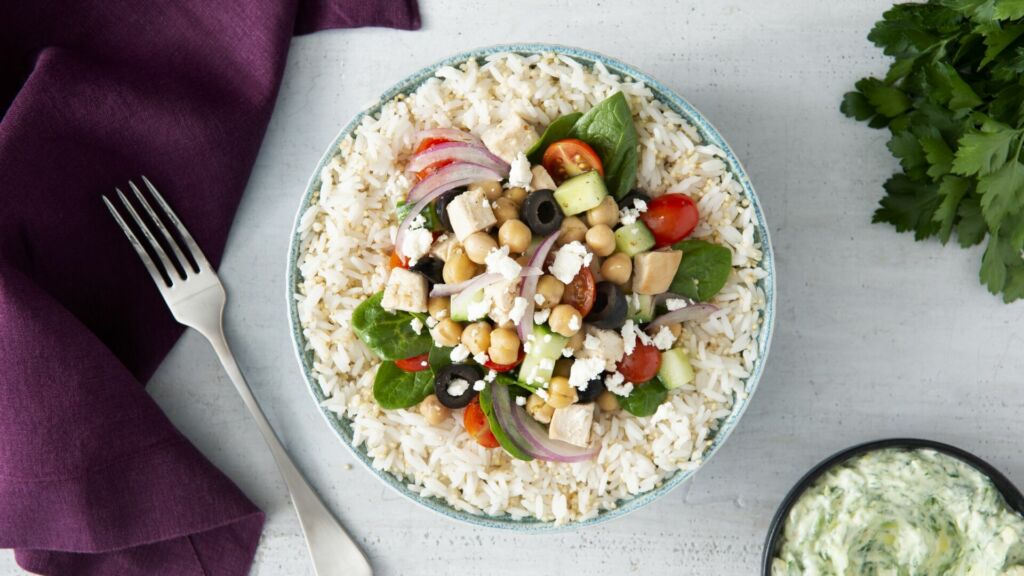 Moroccan Style Chicken and Basmati Rice
If you love bold and fragrant meals, you'll love this delicious Moroccan Style Chicken and Basmati Rice. This tasty one-pan chicken and rice dish is seasoned with all-spice and saffron threads (or turmeric) and features the bold flavors of onion, garlic, lime juice, cilantro, and fresh ginger root. The delicious smells that will fill your kitchen will make it hard to wait to eat!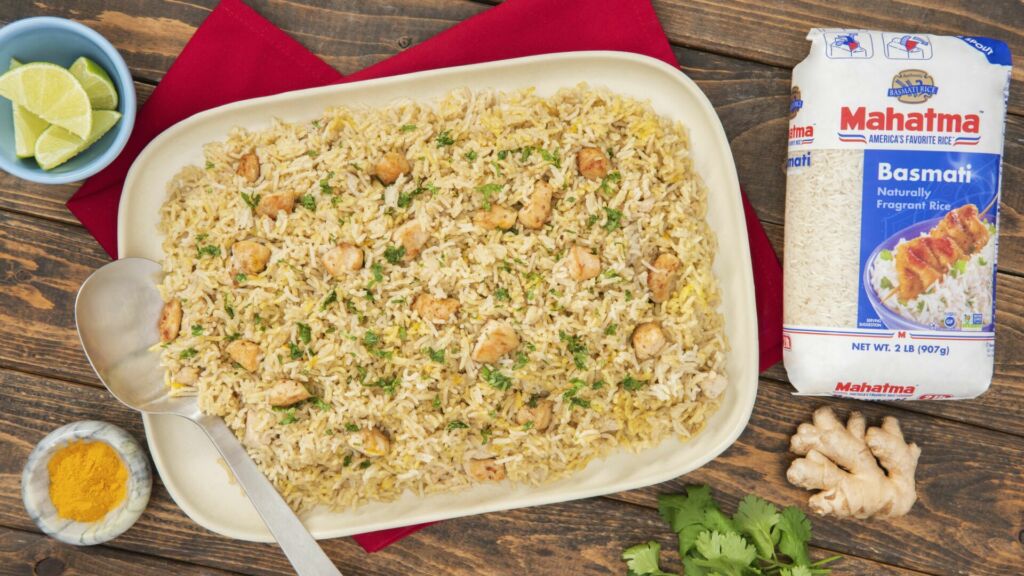 Right at Home
We couldn't talk about chicken and rice dishes without mentioning some homestyle favorites. For some American-style comfort foods, try this warm and cozy Homemade Chicken and Rice Soup just like grandma likes to make, or this buttery and delicious Baked Chicken and Rice at your next family dinner.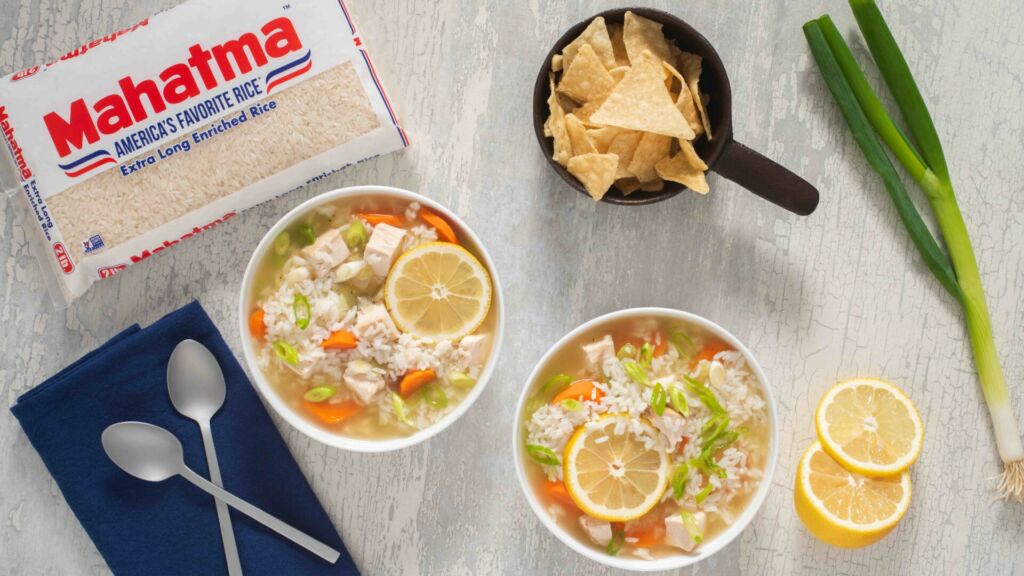 For a simple tasty crockpot dinner, check out this Crockpot Chicken and Rice made with Mahatma® Jasmine Rice and Red Wild Rice along with Greek yogurt. For best results use fresh herbs in this dish.
Snacks
If you are looking for a quick chicken and rice snack the whole family can enjoy, take a look at these Chicken and Rice Lunchbox Cups made with Mahatma® Brown Rice. These lunchbox cups are perfect for a school or work packed lunch and can be stored in the fridge for up to 3 days.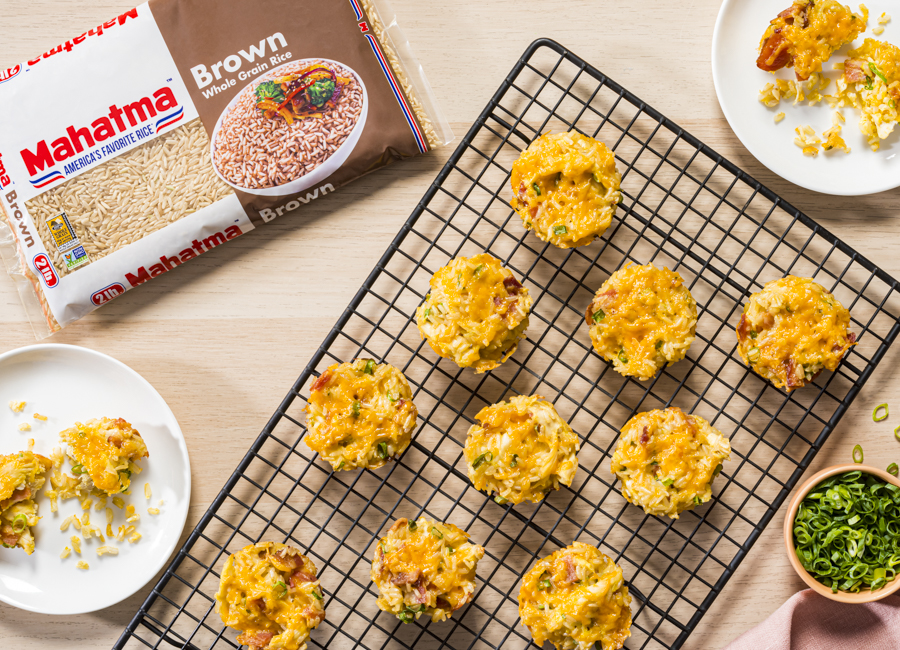 Whichever way you choose to serve it, don't ever settle for a bland chicken and rice meal again. How will you prepare your next dish?