Nowadays, with all of the products labeled as plant-based, flexitarian, Gluten Free or any other category, the term organic might just get confusing or fall onto a long list of things that might be considered unnecessary. However, organic isn't just a trend, for a lot of people it's a way of life! And, we're here to shine a light on what organic means exactly and some delicious recipes you can make using organic rice no matter what foods you enjoy most.
What Does Organic Rice Mean?
At Mahatma® Rice, our traditional rice varieties are all Non-GMO Project Verified. So, no matter which you choose, you'll be enjoying quality rice for you and your family. However, our Organic White and Brown Rice is additionally USDA Organic Certified. But, what does that mean exactly? This is a term used for products that have been produced using cultural, biological, and mechanical practices that support great farming, promote ecological balance, and conserve biodiversity.
Essentially, organic products are made using above and beyond practices that not only help the environment but also what goes on your plate. So, using organic rice is a simple way to do our part in sustainable actions and, not to mention, it's ideal for adding into any meal from vegan and plant-based to grass-fed beef lovers! So what are you waiting for to try it? Take a look at some of our top recipe picks.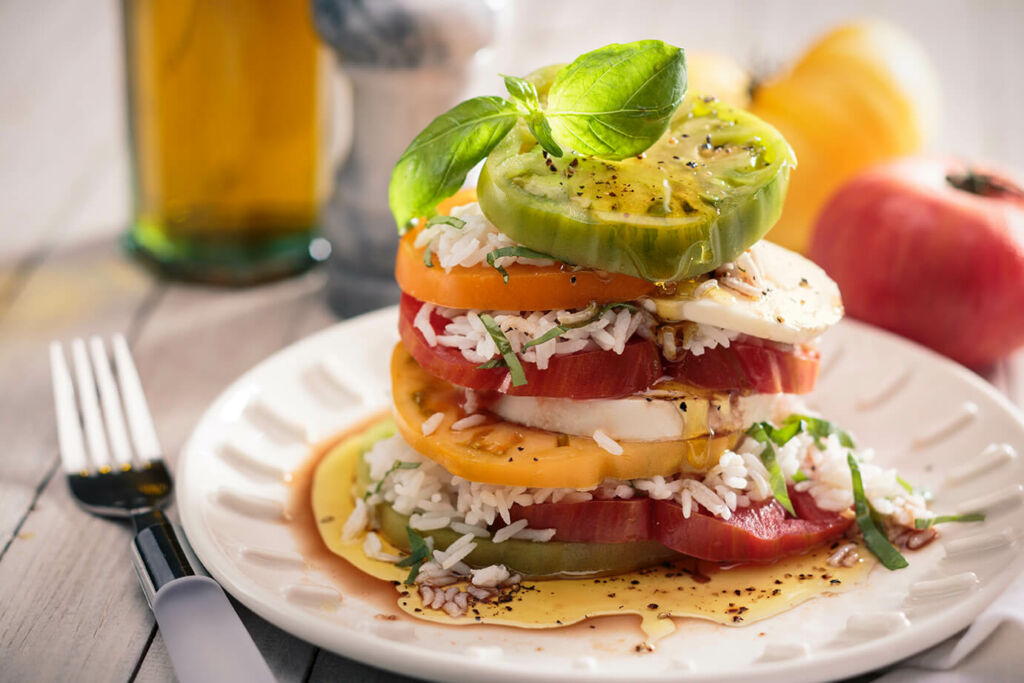 Organic Rice Recipe Ideas
Organic is a method of farming, and not a type of rice so that means you can use Organic White Rice and Organic Brown Rice in whichever recipe you choose!
Vegetarian Plant-Based Dishes
Rice Salad
A simple way to make any meat free meal heartier is to add rice to make a rice salad, a rice filling and much more! This Mediterranean Layered Rice Salad uses Mahatma® Organic Brown Rice packed with whole grains, broccoli, peppers, mushrooms all drizzled in Italian dressing.
Or try a simpler Layered Caprese Salad with hearty Mahatma® Organic White Rice for something fresh, simple and filling!
Rice Bowl
It's a common misconception that eating vegetarian or vegan will leave you feeling hungry, when in fact, combining rice and beans together creates a complete protein packed with plant-based vitamins and minerals like in this spicy Vegan Tinga Rice Bowl made with hearts of palm, loads of vegetables, chickpeas and organic rice.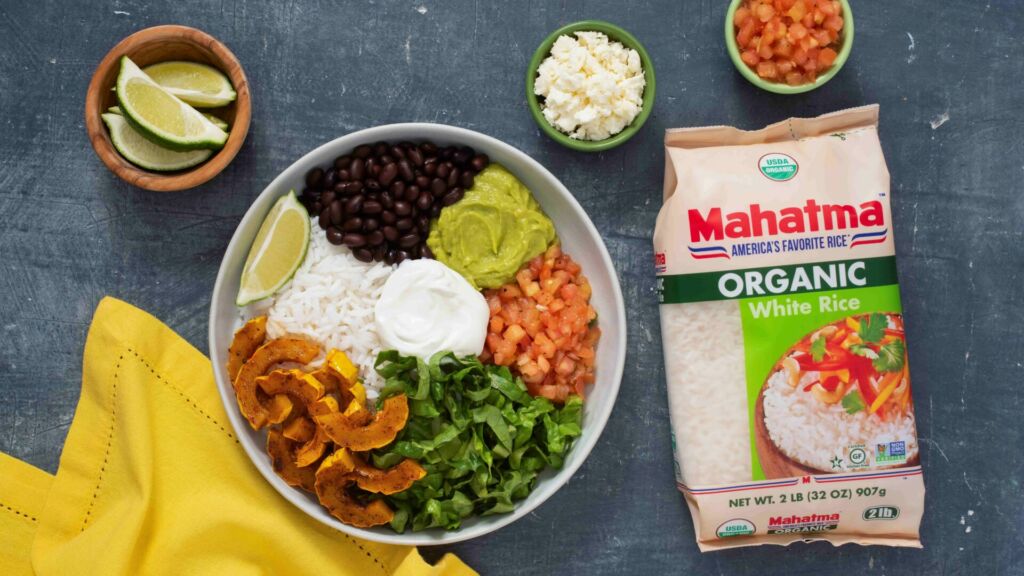 Or, try a vegetarian Taco Rice Bowl loaded with black beans and organic white rice, roasted delicata squash, and every delicious topping like fresh shredded lettuce, guacamole, pico de gallo and a dollop of sour cream.
Meat-Based Rice Meals
Did you know? If you're a meat lover, you can still eat organic! Make sure to choose options like organic rice and vegetables along with meat products that have been either grass-fed or that are also Certified Organic.
Bacon
For a hearty meal with less meat added, try this savory Cuban-style Arroz Congri made with white rice and beans flavored with seasonings and crispy bacon! If you're looking for organic alternatives, try organic bacon or even a vegetarian plant-based version.
Chicken
Eating organic can be incredibly tasty even using free range chicken, eggs or turkey which are often fed with organic ingredients. This Caribbean Chicken and Rice Salad is the perfect example made with grilled chicken thighs marinated in jerk BBQ sauce alongside red peppers, beans, pineapple and avocados.
Fish and Shrimp
Jerk seasoning can be added to other ingredients like vegetables or shrimp! Share an organic meal with friends at your next outdoor barbecue or get-together with these Rice Lettuce Wraps filled with jerk shrimp and a fresh pineapple salsa. Or, simple grilled skewers of Shrimp and Rice served in bowls made with organic white rice, corn, shredded cheese and tomatoes!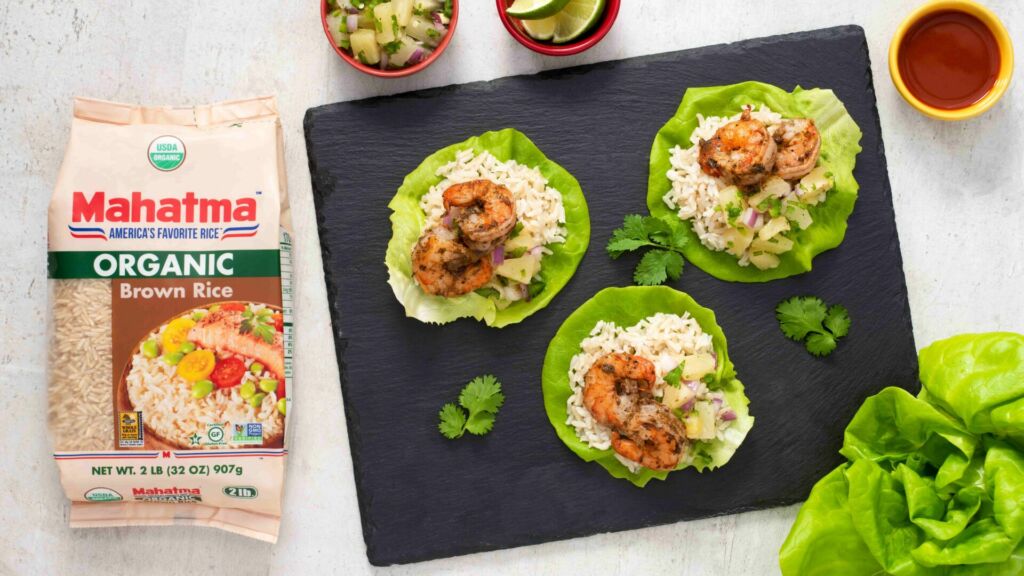 If you're more a fan of fish, use quality white fish to make these Cajun Blackened Fish and Rice Lettuce Wraps using your own homemade Cajun seasoning.
Rice For the Whole Family!
As organic rice has been farmed with the highest quality soil, it can be a wonderful idea for making your own homemade food for any small family members just beginning to eat and digest solid foods. If you've never tried making them before, check out our guide to making homemade purees for the whole family!
If you're just beginning, feel free to start with simpler varieties such as Organic White Rice Puree or an Organic Brown Rice Puree and then try adding in vegetables or fruits!
Organically Sweet
You can also enjoy sweet treats made with organic rice like Traditional Arroz Con Leche, also known as rice pudding, or spice things up with an Eggnog Rice Pudding to enjoy around the holidays using the best quality ingredients.
No matter what you enjoy eating, Mahatma® Rice is there to help you choose what is best for you and your family! For more cooking tips, recipe ideas like these bean and rice tacos, inspiration, or even discovering alternative cooking methods for your preferred rice varieties, like Jasmine Rice Instant Pot, make sure to stop by our Cooking Blog.