Many people might believe that eating a vegan or vegetarian diet may be restrictive and less exciting. Nevertheless, that idea couldn´t be further from the truth. While there are many fantastic dishes created with meat, you can discover a whole world of flavor when you experiment with cooking using plant-based components. Using ingredients such as nuts, seeds, legumes, and soy-based foods like tempeh, will allow you to create a number of delicious vegan meals.
Whether you choose to eat vegan, vegetarian or normally eat everything and are looking for more Meatless Fridays Made Easy, at Mahatma® Rice, we invite you to try some of these tips and recipe ideas. Using our rice and quinoa, you can enjoy meals made with a new combination of ingredients that are loaded with all kinds of benefits. Before we dive into those recipes, let's recap what vegans can and cannot eat.
What Vegans Can/Cannot Eat
Being a vegan means adopting a plant-based diet and avoiding all foods that come from animals. Here are some examples of what you can and can't eat.
What You Can Eat:
Fruits and Vegetables
Legumes such as peas, beans, and lentils
Nuts and seeds
Bread, rice, and pasta
Dairy alternatives such as soymilk, coconut milk, and almond milk
Vegetable oils
What You Cannot Eat:
Beef, pork, lamb, and other red meat
Chicken, duck, and other poultry
Fish or shellfish such as crabs, clams, and mussels
Eggs
Cheese, butter
Milk, cream, ice cream, and other dairy products
Mayonnaise (because it includes egg yolks)
Honey
Before we move on, let's take a look at the main differences between Vegetarianism and Veganism.
Differences Between Vegetarianism and Veganism
Vegetarianism and veganism are becoming more and more popular. Yet, some people might find it a little confusing to compare these two diets because of their variances. To be clear, a vegetarian is someone who doesn't consume meat or fish. A vegan does not eat meat or fish, as well as any products that are derived from animals.
So now we know a bit more about what being a vegan entails, here are some recipe ideas.
Meat Free Appetizers and Satisfying Sides
If you're looking for vegan appetizers and sides that will make everyone ask for seconds, you've come to the right place! Mahatma® Rice has got you covered. Our vegan appetizers and sides are sure to please.
Our Rice and Turkey Stuffed Peppers are a perfect place to start for a yummy appetizer. Made with Mahatma® Whole Grain Brown Rice, bell peppers, onions, garlic, thyme, basil, oregano, and more. Make them vegan by substituting the ground turkey for black beans, quinoa, chickpeas, or whatever meat substitute you like. You can skip the cheese and melt a vegan cheese on top.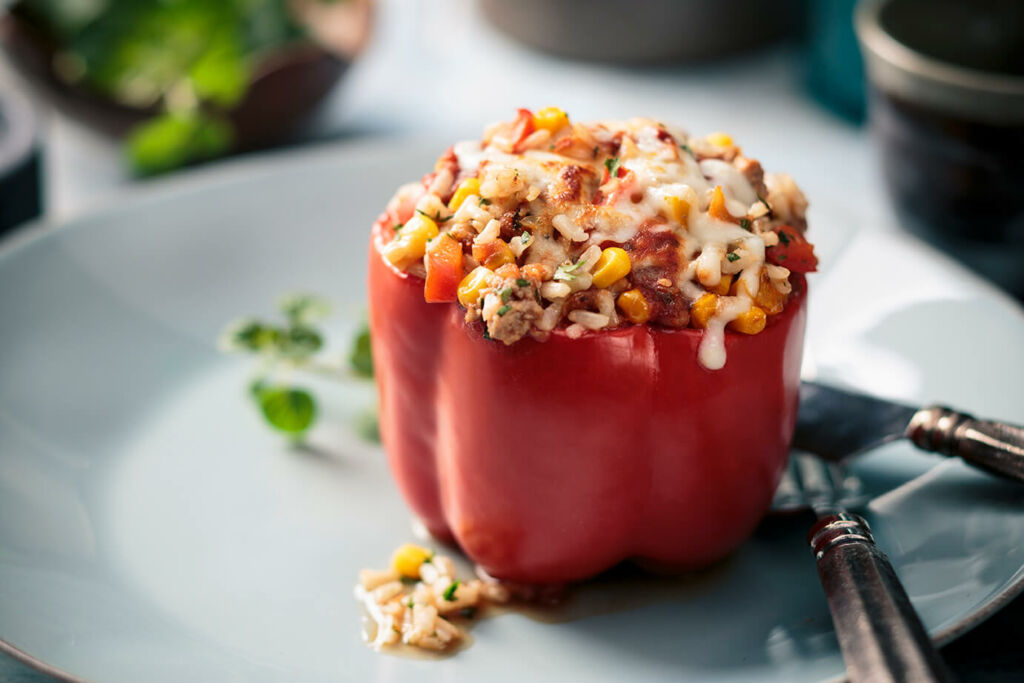 A side that everyone loves is our Coconut Rice. Made with Mahatma® Jasmine Rice, coconut milk, a pinch of salt and cilantro to garnish, it really doesn't get much easier than that! Tip:Try washing your rice before cooking it if it comes out mushy. When cooking coconut rice, rinse it to remove any excess starch because coconut milk is thicker than water. This side dish will be a welcomed addition to whatever main dish you decide to prepare.
Mouthwatering Mains
Rice Bowls
From the hearty rice base to the bright and tasty toppings, our Easy Rice Bowl Recipes for Any Meal Bowl Recipes are too good to resist. Let's take a look at some of our easy-to-make rice bowl recipes for a perfect midweek lunch or dinner idea.
Vegan Tinga Rice Bowl– This Vegan Tinga Rice Bowl is the perfect addition to your vegan recipe repertoire. Full of flavor and made with hearty ingredients like chickpeas, hearts of palm, and avocado all atop fluffy Mahatma® White Rice, this full-flavored and nutrient-dense rice bowl will be a fast favorite. Enjoy it as a lunch on the go, or as a family dinner. 
Spicy Salmon Rice Bowl– For a vegan version, recreate this dish with plant-based ingredients. For instance, did you know that combining soy milk with oil to create vegan mayonnaise is possible? Of course, replace that salmon as well and you are on your way to deliciousness.
Asian Tofu Rice Bowl– In less than 30 minutes, you can have this flavorful rice bowl with fried rice on top, made with crispy marinated tofu, sliced zucchini, carrots, and creamy avocado. This tasty dish is packed with flavor.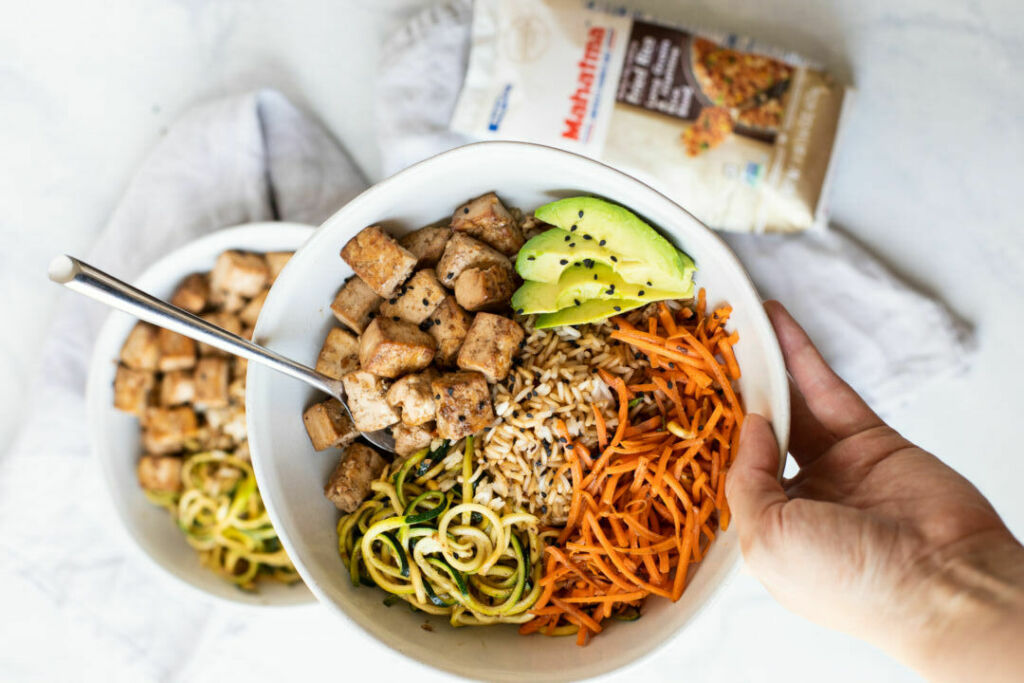 Fried Rice
Mexican Rice, or arroz rojo, is a staple in Mexican cuisine! It is a red rice that is cooked in chicken stock and tomato juice, which gives it that beautiful red color. This authentic version was created by Stella Navarro-Kim at @stellanspice with Mahatma® White Rice. Try our recipe Stella and Spice Mexican Rice tonight.
Don´t forget to make this recipe vegan, you can change the chicken stock to tomato bouillon. Wash your meal down with our delicious Horchata. Substitute any nut milk of your choice instead of animal-based milk, we suggest coconut milk or almond milk.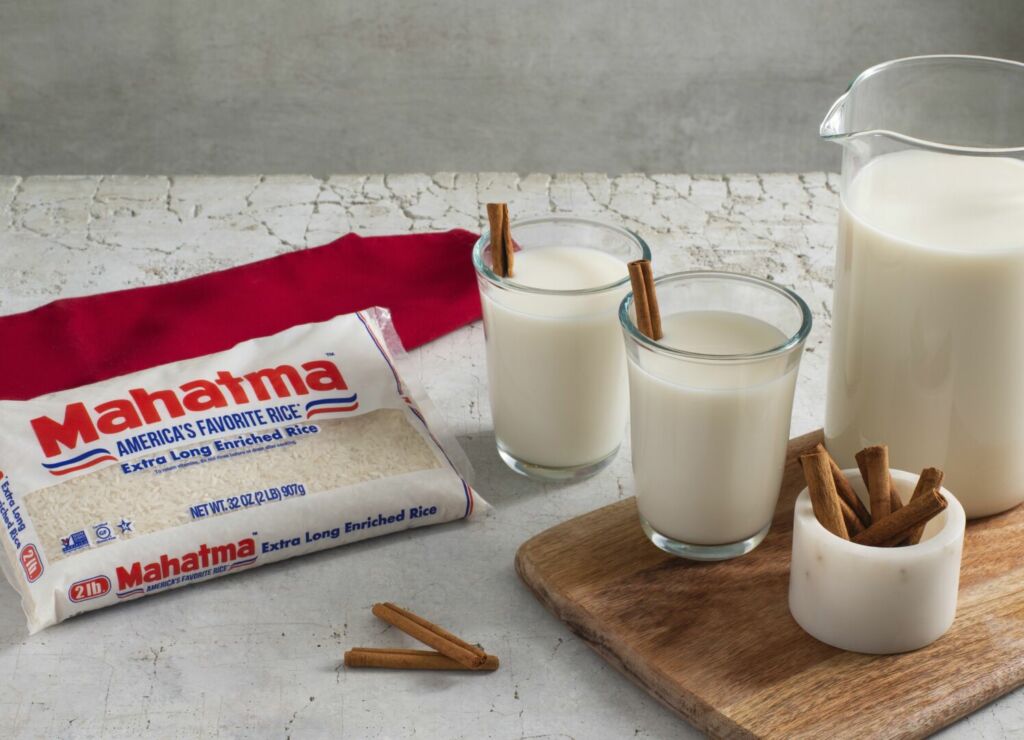 Meat Substitutes
Nowadays, there are always new and delicious meat-free alternatives to include on your plate made with increasingly more beneficial plant-based ingredients. Supplementing animal-proteins is not only simple, it can sometimes be even tastier. Try any of these options: tempeh, seitan, canned or fresh jackfruit, tofu or other sausage/burger/meatball/chicken alternatives made with quality ingredients.
Delicious Desserts
After trying our vegan Mahatma® Rice recipes, don't forget to indulge in a delectable dessert. These luscious, sweet, and creamy vegan desserts speak for themselves in that you don't need butter, eggs, or cream to make them taste better. Get started with our Coconut and Almond Rice Tart. Toppings for this dessert tart include fresh fruit or vegan whipped cream if desired. Or try our Coconut Rice Pudding Milkshake.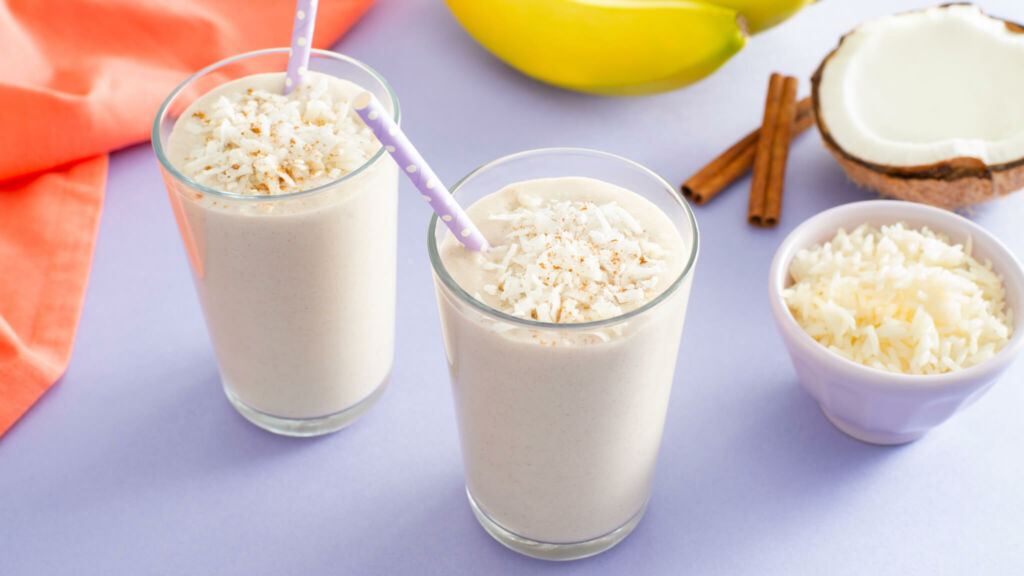 Tip: If you have a few basic ingredients in your kitchen, creating delectable vegan sweets is a breeze. Get a bottle of pure maple syrup, start using powdered flaxseed in place of eggs, and keep coconut oil on hand to replace butter in recipes. You might be shocked to learn that you don't even notice missing the dairy or the eggs.
For more delicious recipes check out the Mahatma® Rice website.