As we settle into the fall season, our cravings for fall-inspired comfort foods begin to set in. Whether you have particular dishes you love and make every season, or you have certain seasonal veggies and flavors you enjoy and would like to try in new recipes, we have vibrant and delicious comfort food rice recipes that are sure to keep you warm and full all season long.
Are you a lover of all things pumpkin spice? How about the ever classic apple and cinnamon combination? Love a good rice dish that is loaded with fall veggies like squash or pumpkin? Maybe a warm, comforting soup on a chilly day is what sounds nice. If all of these sound like things you enjoy in your fall meals, check out our fall-inspired comfort food recipes made with different varieties of rice for some tasty dishes!
Fall Flavor Combos
There are certain flavors that just jump out when you imagine the fall season, especially when you pair two together to make a stunning combination. Keep these pantry ingredient combos on hand for the perfect addition to any meal throughout the day from breakfast to dessert or even a complimentary drink.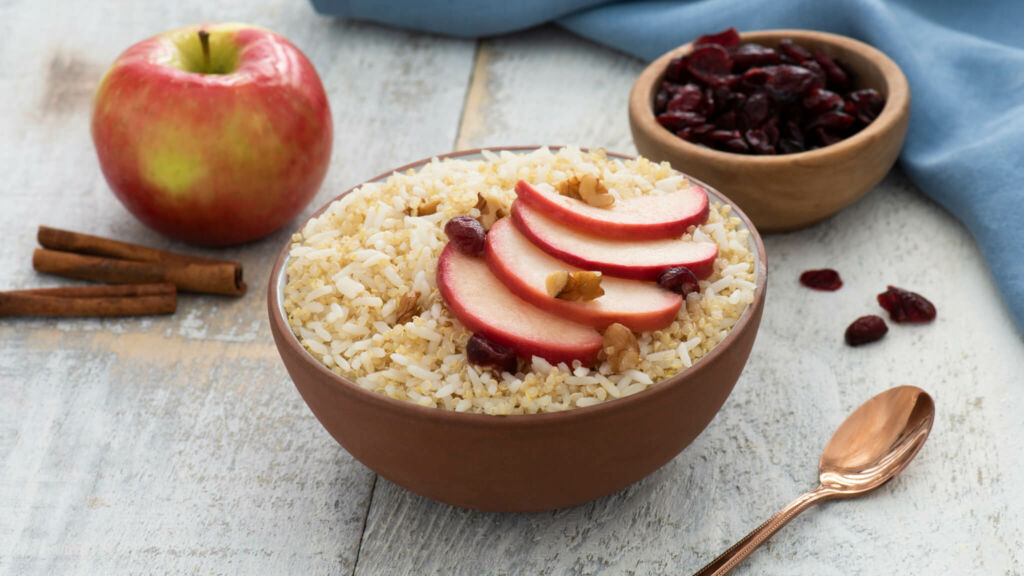 Apple and Cinnamon
Freshly picked fall apples and cinnamon are a must in the fall season to enjoy apple cider, apple cinnamon donuts or even a savory plate of pork with applesauce. Whatever you enjoy, it's hard to beat the warm and familiar taste of apple pie like in this easy-to-make Apple Cinnamon Bowl made with just a few simple ingredients and Mahatma® Jasmine Rice with Quinoa. This simple and flavorful recipe is great as a breakfast or even as a snack anytime!
Pumpkin Spice Blend
This popular spice blend commonly consisting of cinnamon, ginger, nutmeg and allspice is now synonymous with the fall season and it's a delicious and simple way to add those beloved flavors to anything from sweet snacks to breakfast, drinks and desserts. Upgrade the classic fall drink and make this creamy Pumpkin Spice Latte Rice Pudding using vanilla, a pumpkin pie spice blend, milk, coffee and pumpkin puree simmered with Mahatma® White Rice to absorb all of those tasty flavors.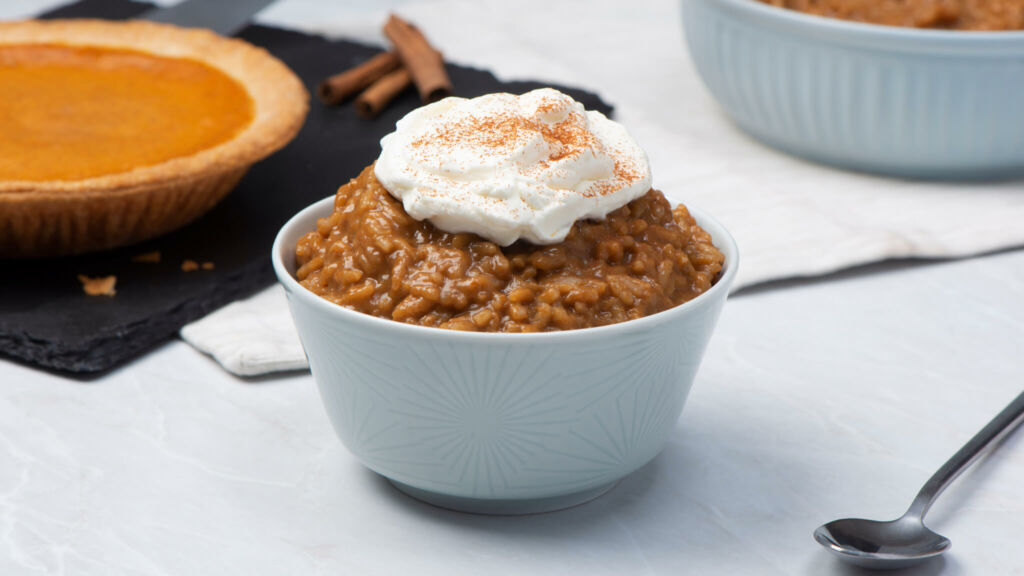 Maple Syrup and Spices
We all know that maple syrup is perfect for drizzling over pancakes and waffles, but it can be used to flavor so much more! In fact, by simmering maple syrup and butter together and mixing with a blend of spices and brown sugar like nutmeg, allspice, cloves, cardamom, cinnamon you can make something truly incredible. Check out this Easy Spiced Rice Bowl using aromatic jasmine rice to see how you can use all of those flavors to make the perfect breakfast and get your day started on the right food for those chilly fall mornings.
Cooking tip: click here and learn how to cook jasmine rice if you've never tried your hand at this rice variety before.
Ginger and Caramel
One combination you might not have expected is ginger and caramel! As a root vegetable, the peak season for ginger is autumn, and can be used both fresh or ground for both sweet or savory dishes. When paired with sweet caramel it creates an explosion of flavor that you'll be wanting to make again and again. Try it out in this delectable Rice Crème Caramel with Ginger and Pumpkin for a tasty sweet treat that you might just want to add to your Thanksgiving dessert table.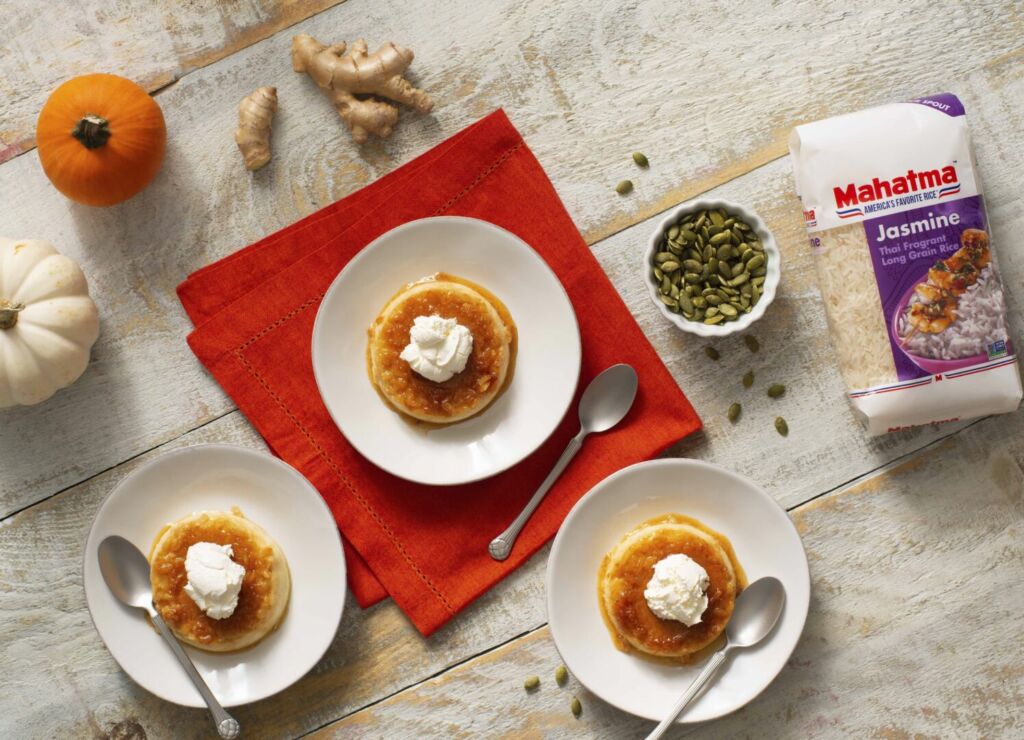 Fall Vegetables in Season
While it's possible to find most vegetables year-round at grocery stores, there are certain vegetables that are best during the autumn harvest. And, nothing says fall flavors like pumpkin, squash, root vegetables, and Brussels sprouts, just to name a few. These colorful and delicious ingredients are great for making an array of tasty comfort food rice dishes.
Pumpkin
While pumpkin carving makes for a lot of fun and when cooked can be enjoyed in sweet treats like drinks and desserts like pie, there is actually more to pumpkin than meets the eye. First, even though it's not technically a vegetable but rather a fruit because of its seeds, it is cooked as one and can be used in a variety of savory dishes, too! This dish of Yellow Rice with Corn and Pumpkin is a vibrant addition to any table made with seasoned white rice and tender vegetables for a tasty side.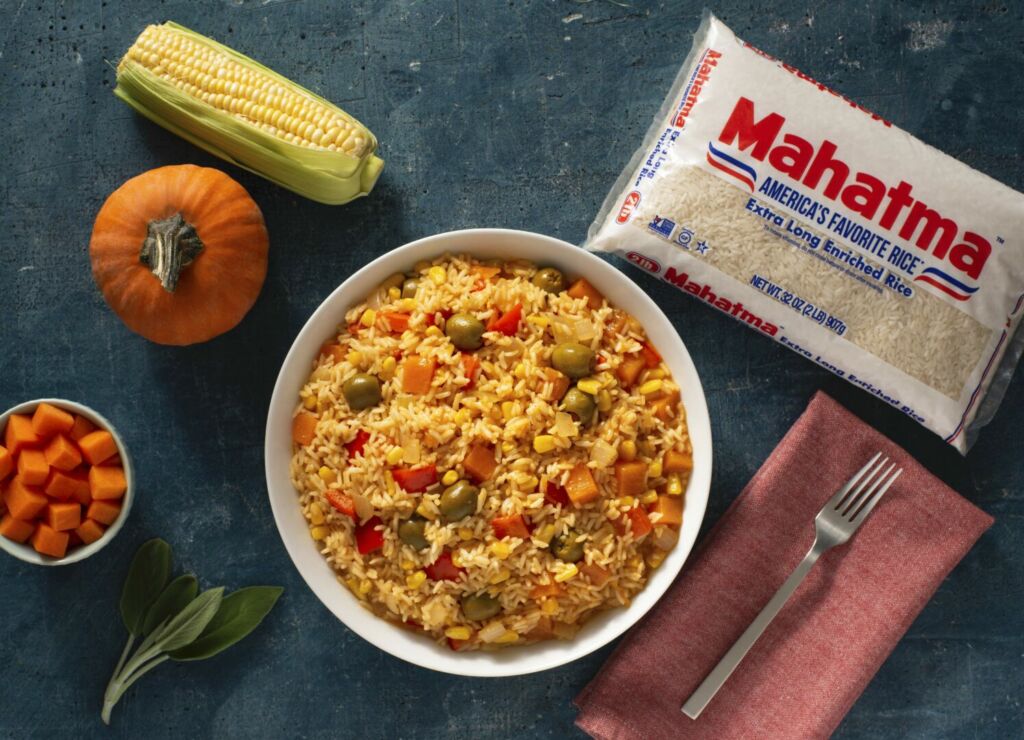 Looking for something to cozy up with? This Pumpkin Coconut Rice Soup is what you need to warm you up from the inside out made with broth, curry, creamy coconut milk and homemade or canned pumpkin puree. If you have any leftover ingredients, you can also make this coconut rice recipe.
Squash
With its buttery flavor and bright orange hue, squash such as butternut squash are the epitome of fall flavor. Because of its large size and wide, curved shape, it is perfect to fill with all kinds of tasty ingredients like in this dish of Stuffed Butternut Squash with Pork, Jasmine Rice and Apple. Featuring sweet and savory flavors, this delicious dish is sure to be a crowd favorite at your next dinner party or holiday get together.
This versatile veggie doesn't stop there. If you need an autumn-inspired side dish or lunch, try any of these other tasty and colorful dishes:

Root Veggies
As their name suggests, root vegetables grow underground. And, because of the precipitation in the fall, they absorb a great amount of nutrients from the soil making them the perfect addition to meals. Carrots, onions, garlic, potatoes, and radishes are all considered root vegetables and are easy and delicious to cook with.
When in doubt, use a whole blend of them like in this Roasted Harvest Veggie Paella made with Mahatma® Parboiled Medium Grain Rice for Paella at your next fall gathering or as a tasty addition to your Thanksgiving dinner.
Brussels Sprouts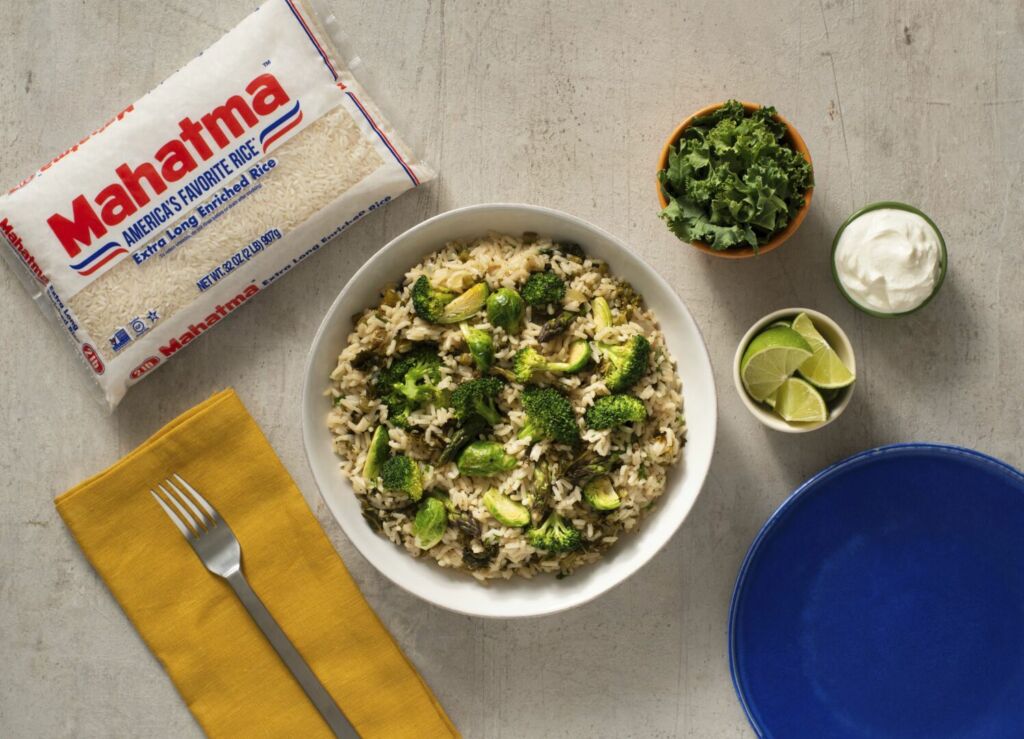 Often overlooked as a fall vegetable, Brussels sprouts do indeed reach their peak in the fall, making them a great green addition to your meals. Not only are these vegetables delicious, but they are also great for adding an incredible pop of color to any meal. This Green Rice with Roasted Veggies is loaded with all kinds of leafy and heart vegetables, which makes eating your greens easier than ever!
Whatever your meal needs this fall season, Mahatma® Rice has got it! Explore all of our Thanksgiving day meal menu ideas using seasonal ingredients and other tasty additions. And, don't miss out on our meal inspiration for using up those holiday leftovers long after the cleanup is over, or if you're looking for a tasty dessert stock up on some arroz con leche ingredients!