Whether you enjoy exploring new foods or you're a creature of habit and like to stick to your tried and true favorites, dining out is a fun and delicious experience. Whatever type of cuisine is your favorite, you likely have some favorite restaurants and try to visit often, but dining out can quickly start to weigh heavily on your budget and sometimes you just don't have the time.
We're here to show how easy, not to mention delicious, it is to bring the dining-out experience right to your home kitchen. Regardless of what meal it is or what your favorite type of cuisine is, we have delicious recipes and helpful tips so you can continue to enjoy those restaurant-style meals you love so much, without breaking the bank and in the comfort of your own home.
Put on that chef hat, real or imaginary, get ready to get creative, and let your family know that restaurant Home Kitchen is ready for business!
The Prep Before the Prep
Before you start chopping, measuring, or turning any burners on, we've got some tips for you to keep in mind for the best results possible. If you're like many of us, there's a chance you've attempted to replicate one of your favorite restaurant dishes and ended up with something that tasted nothing like the restaurant version, which can be incredibly frustrating.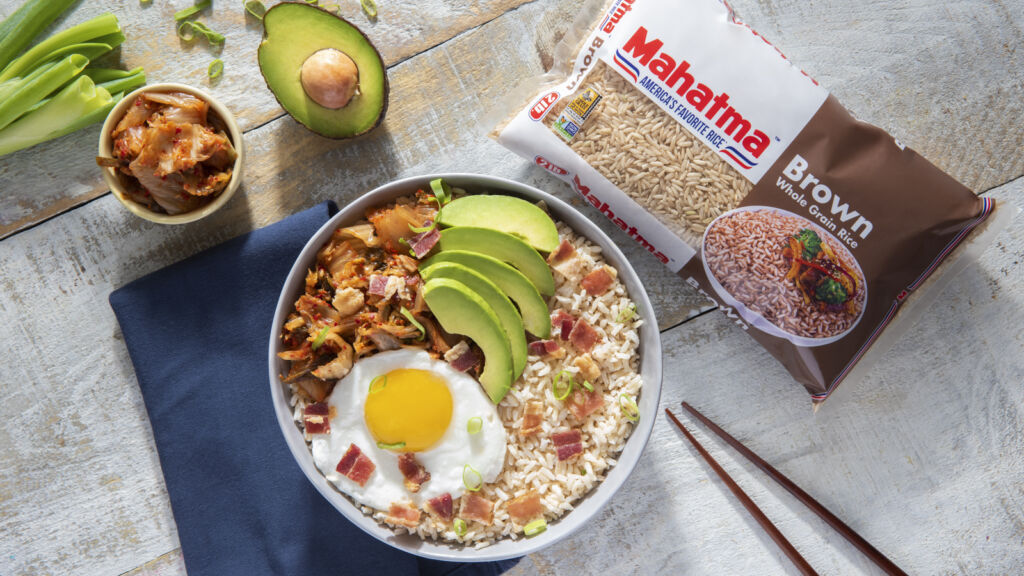 Here are some chef tips to help you get that restaurant-style dish you love just right:
Quality ingredients matter. There's a reason that even the simplest ingredients come in different price points: the better the quality, the better the flavor and texture. Simple as that. Invest a portion of the money you save on dining out in quality products and see the difference they make in your dishes. These simple upgrades will take your recipes from just ok to delicious!
Advanced planning and organizing. Reading through a recipe and knowing what you'll need and what the steps will be will make all the difference in executing a successful recipe. Prep your ingredients by measuring, chopping, defrosting, etc. ahead of time and have a general idea of what you'll be doing with them so that there are no surprises that could cause problems.
Doing some research. Sometimes it's helpful to do a little bit of research if you are cooking types of cuisine that you are not as familiar with so you can get an idea of what types of seasonings or ingredients are typically used. Using authentic products in these recipes may make all of the difference in your dish's flavor.
Your New Favorite Breakfast and Brunch Joint
It's hard to beat breakfast or brunch from your favorite diner or trendy new brunch spot, but it's possible! Jot down these recipes and start your day with a restaurant-style meal of the day first thing in the morning.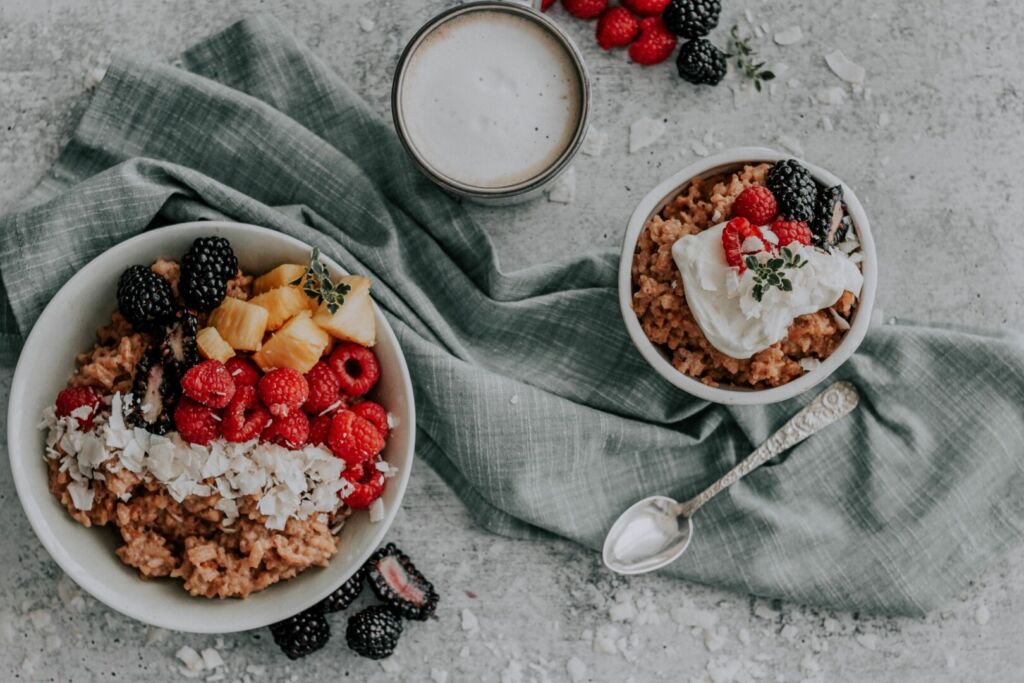 Morning Sweet Tooth
Breakfast bowls and smoothies are all the rage these days and for good reason. These easy-to-make breakfasts are not only tasty because they can be loaded with your favorite ingredients but when loaded with things like fruits and rice, they can be good for you and a great way to get your day started off right.
Mimic your favorite breakfast restaurant's breakfast bowls by using a hearty base of your favorite Mahatma® Rice and your favorite fruits, nuts, or any other toppings you love. One of our favorites is this Easy Spiced Breakfast Rice Bowl with instant pot jasmine rice.
Savory Breakfast Craving
It's hard to beat a good old fashioned breakfast scramble like those at your favorite diner. The magic of these tasty skillets is that all of your favorite ingredients are mixed in one skillet for all of your favorite breakfast flavors in each bite. It's about impossible to go wrong making a restaurant-worthy breakfast scramble at home.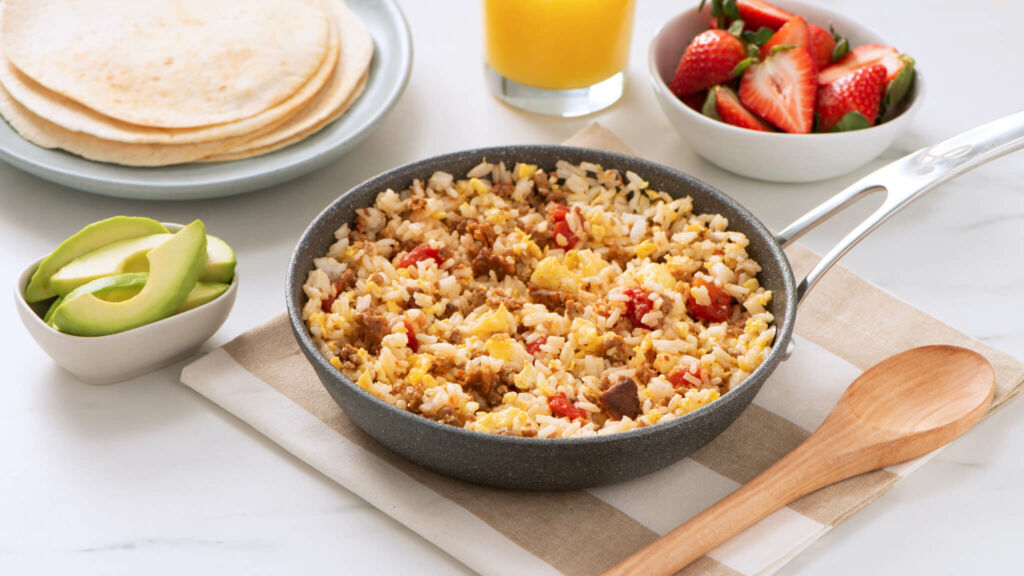 Try your hand at this Chorizo and Rice Breakfast Scramble, or choose your favorite breakfast ingredients and mix them up with some fluffy rice for the ultimate restaurant-style breakfast skillet.
Lunchtime? We Know a Place…
Home! Eating out for lunch can be as fun as trying some of your favorite restaurant lunches at home. Just because they are made in a restaurant doesn't mean they are difficult or time-consuming, we promise!
Whether your favorite go-to for lunch is Mexican, Chinese, Korean, Hawaiian, or just some fresh salads, you can enjoy a dine-in quality lunch any time right from your kitchen.
Time-saving Tip: To save time, make a large batch of rice in advance and store it in the fridge for the week. Simply reheat when you're making your favorite recipes for even faster and easier meal prep.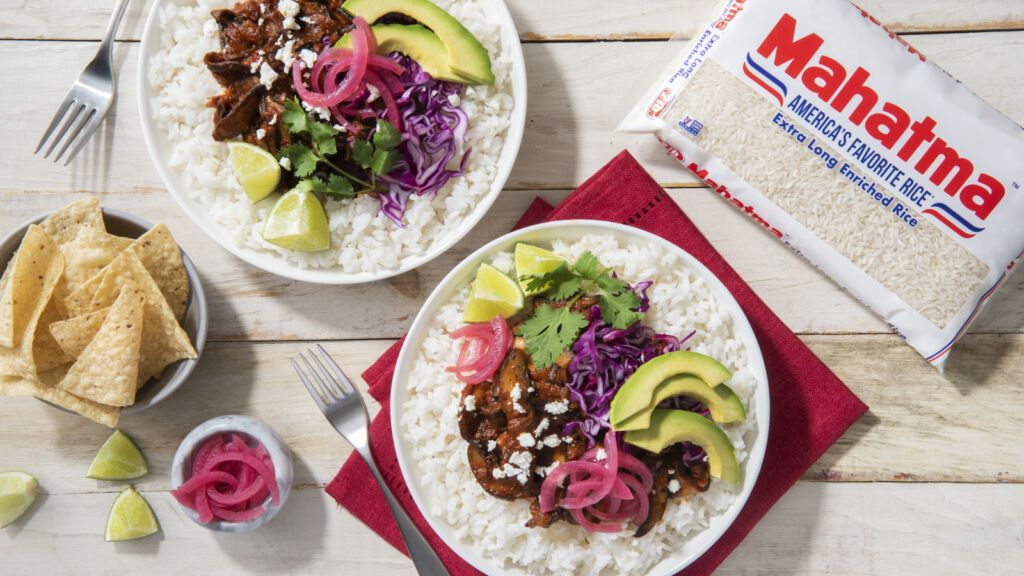 Burrito Bowl
When you use a rice base for a meal, you can create just about any dish you crave, in no time. If you're craving your favorite Mexican place for lunch, try these Grilled Veggie Burrito Rice Bowls instead. Not only are they delicious and easy to make, but they are loaded with veggies, beans, and guacamole for a tasty and nutritious lunch.
Fried Rice
Craving some takeout fried rice? Skip the restaurant and make your own at home in no time!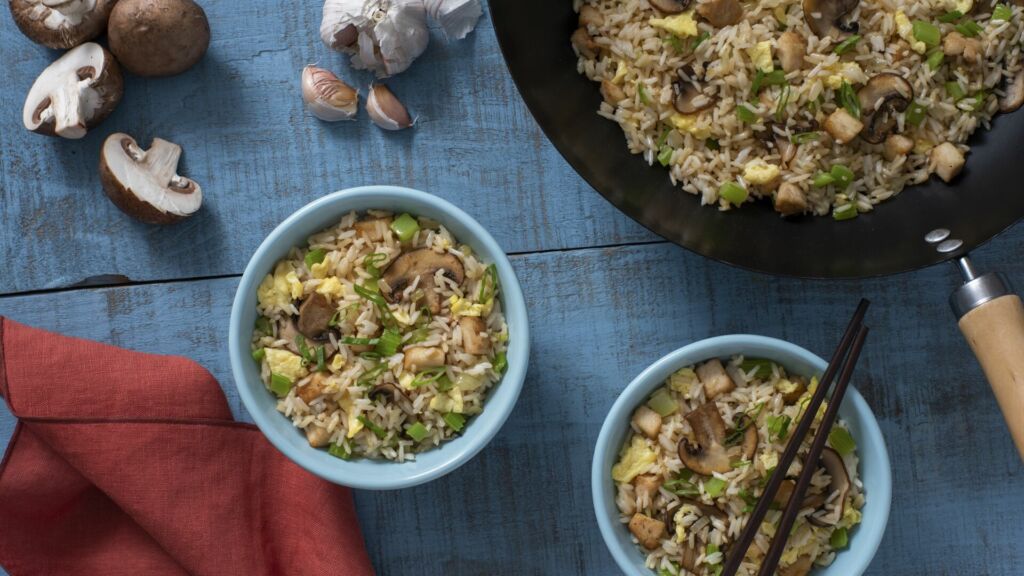 This is one dish that is even better when made with leftover rice. Take some of that rice batch you made over the weekend out of the fridge and toss it in a frying pan with some veggies, an egg, and your favorite protein for a freshly made dish that's sure to rival any restaurant's version at a fraction of the cost without sacrificing taste. Wing it and make it with what you have at home, or try this quick and easy Chow Fan Fried Rice with Chicken.
Food Court Favorites
When you're in a cooking slump, finding inspiration on your favorite restaurant meals can be a lifesaver. If meals in a bowl are your thing, take inspiration from the food court and satisfy your ethnic food craving by whipping this Bacon and Egg Kimchi Bowl or a Chipotle Mushroom Burrito Bowl.
Fresh and Tasty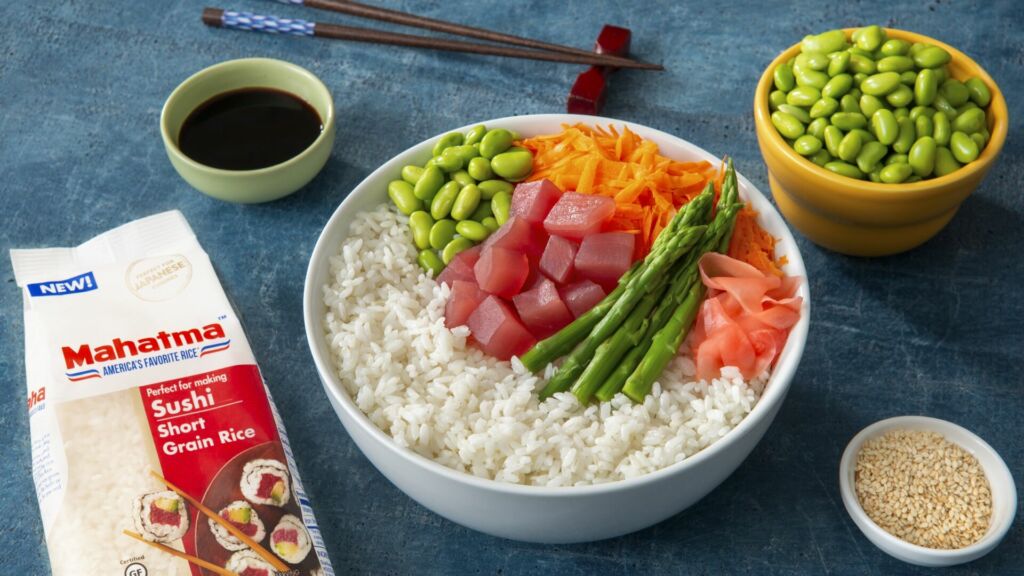 In the mood something cool and fresh? You can't go wrong with a delicious poke bowl or rice salad – you could even try satisfying your Korean food craving by replicating those tasty Lettuce Wraps from your favorite place! A cool, fresh meal doesn't have to be expensive, make your own copycat tuna poke bowl or salad right at home with your preferred Mahatma® Rice variety and your favorite add-ins.
Dinner Reservations at Home
It's easy to choose dining out after a long day and tiring day, but if sticking to a budget is important to you, it can be a hard decision. Dining out can get pricey quickly. With Mahatma® Rice and our vast array of simple and delicious recipes, you can have your cake and eat it, too. Really! Make your own restaurant-style dinner right at home with family without missing any of the flavor or fun.
If you think about what makes dining out so fun, you probably think of the service, the quality of the food, and the fun of sharing the dining experience with loved ones. Try replicating this at home by getting the family in on the experience and letting everyone one pitch in on creating those restaurant vibes you love.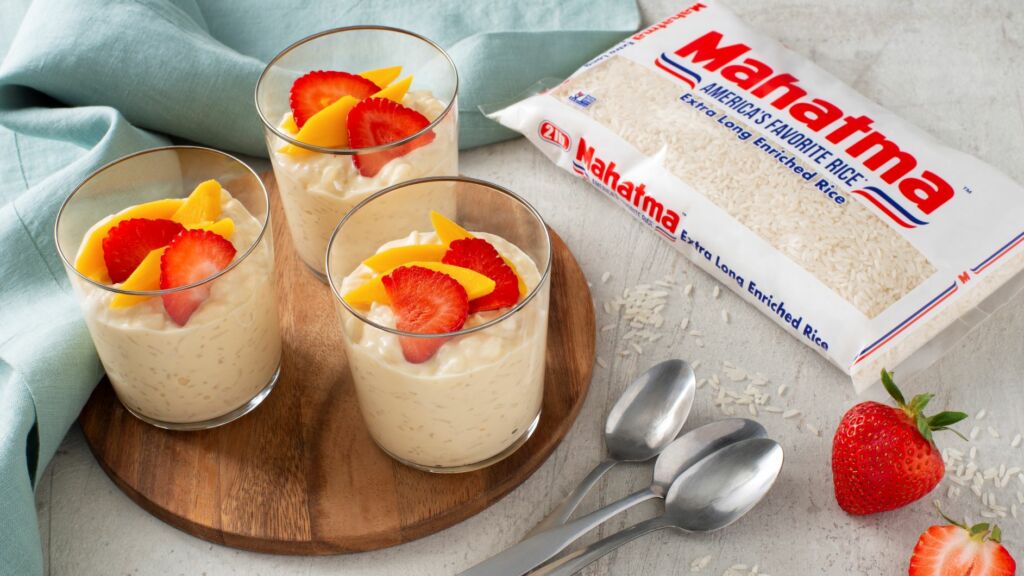 Set the table and enjoy a full dine-out dinner experience right at home with an appetizer like these Cheesy Rice Stuffed Jalapeños, Mexican Jambalaya for the main course, and some Tres Leches Rice Pudding, a Puerto Rican arroz con leche or a coconut rice pudding for a sweet bite at the end to bring it all together. All of these delicious flavors at just a fraction of the cost and right from your kitchen!