With Hispanic Heritage Month upon us, it's a great time to take a step back and remember what it truly means to be of Hispanic heritage. From the history to the literature, music, traditions, holidays, art, and of course, the food, there are so many wonderful elements that make up Hispanic culture.
In order to celebrate and show the younger generations what it's all about, we have some ideas for fun activities you can do at home with your family while incorporating some of the delicious Hispanic cuisines that are loved around the world for an even more authentic, not to mention delicious, experience. Let's celebrate Hispanic Heritage Month!
Hispanic Poetry and Literature
Embracing the festive experience is to read poetry and literature written by Hispanic authors. One simple and fun way to do this as a family is to each choose a poem or short story that they like and then taking turns reading aloud to share with everyone. Make this activity even more engaging by serving a cold pitcher of Homemade Horchata, a popular sweet rice drink common to several Central American countries, to enjoy while others read aloud.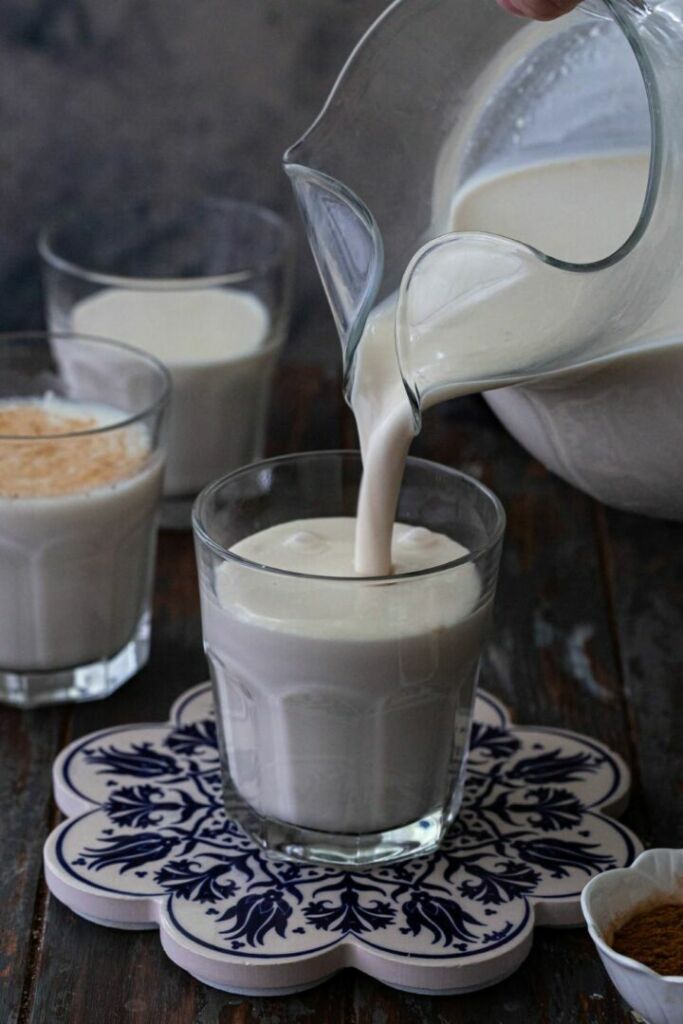 Another typical sweet treat you could have is this Tres Leches Rice Pudding based on the popular Tres Leches or Milk Cake – a sponge cake that is soaked in three kinds of milk (condensed milk, evaporated milk and whole milk) which is very popular in many Central and South American countries – not to mention delicious!
Spark the fun by offering an extra piece of cake to those who try reading their texts in Spanish.
Practice Spanish
You can also get into the Hispanic culture spirit with your family by cooking together, of course! And what better opportunity to taste Hispanic cuisine and also learn or practice some Spanish words than to choose some traditional dishes and saying the ingredients in Spanish, as you make them. After all, "Hispanic" is related to Spain or Spanish-speaking countries.
A great dish to start with is Arroz Con Pollo. Not only is this colorful and flavorful dish eaten throughout all of Latin America and in Spain, but most of the ingredients are also straightforward and easy to translate. Once you've mastered the main course, it's time for dessert! Keep up the momentum by learning how to make arroz con leche using a recipe en español.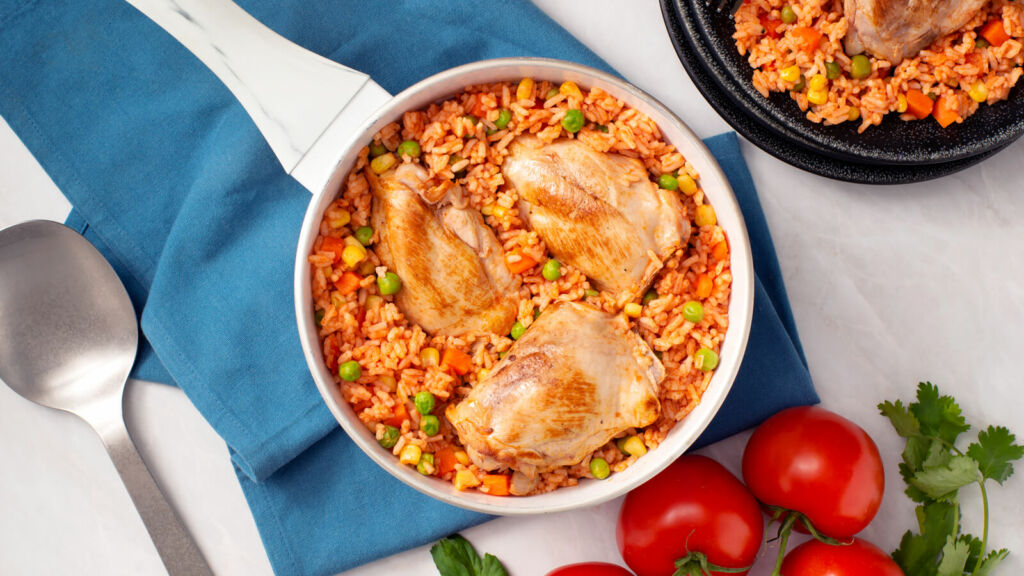 While each country has its own variations, in general, Arroz Con Pollo is a traditional cuisine chicken and rice staple. Typically made with rice (arroz), chicken (pollo), vegetables (vegetales), and spices (especias), this classic dish is as vibrant as it is delicious. Do the same with this tasty Spain-inspired Traditional Paella with Chorizo & Shrimp and this Cuban classic, Ropa Vieja with Rice. And what are tacos dorados? Check out the full recipe and try it tonight!
Arroz Con Pollo with Mahatma® White Rice
Holiday Spirit, Hispanic Edition
Enjoy the fun of Hispanic holidays and festivals by having everyone in the family choose a different country and a festival or holiday its people celebrate, learn some facts about it, and then share with the rest of the family! Play the music, share the customs, and naturally, try making some of the typical dishes made for those celebrations.
A couple of examples of holidays to learn about are Cinco de Mayo and Dia de Los Muertos (Day of the Dead). Some of the foods you would find at Cinco de Mayo festivals are tacos and Mexican street corn so you could give these tasty recipes a try: Grilled Chicken Tacos with Brown Rice Salsa or Grilled Street Corn and Rice. Or alternatively, you could also try making this classic authentic-tasting Arroz Rojo recipe with Mahatma® White Rice.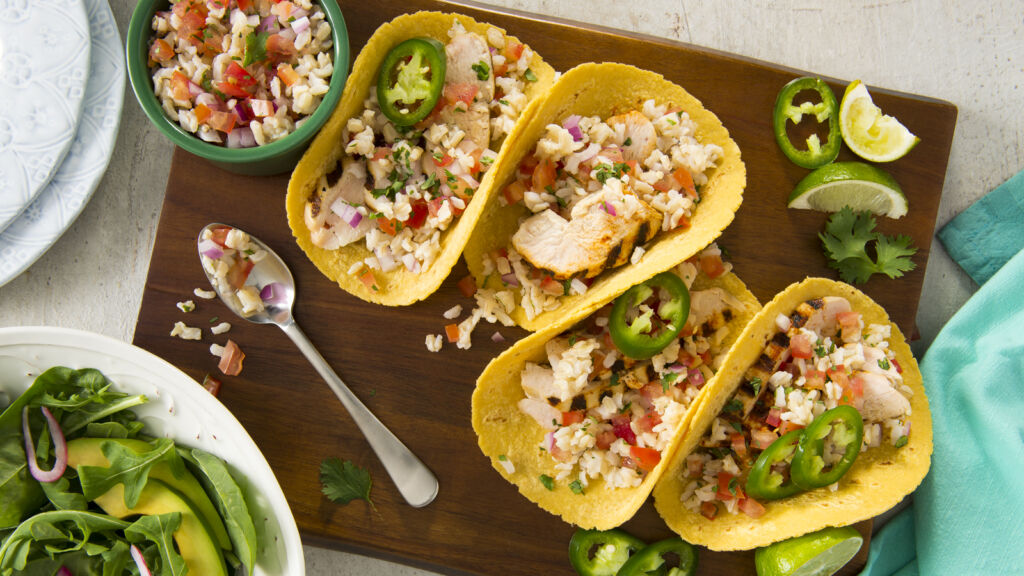 Mexican Grilled Street Corn and Rice
Although it is a more elaborate recipe, a popular dish served at traditional Dia de Los Muertos celebrations is mole so if you're ready to challenge your cooking skills, give this Green Mole with Grouper a try.
Plant a Heritage Garden
Hispanic heritage is synonymous with its cuisine and something that is still very much a part of this culture is creating dishes with ingredients straight from the land. As a family, learn about Hispanic traditional dishes and what types of fruits, veggies, and herbs are used to make them. This is a great way to see how this ethnic cuisine came to be and to learn about how some traditional dishes change from country to country based on the ingredients grown in their lands. Interesting, right?
If you have space in your yard or a community garden, plant some staple crops common in many Spanish-speaking countries such as beans, squash, corn, peppers, tomatoes, cilantro and onion. When they are ready to be picked, choose a recipe, like this Tortilla Rice Soup, Mexican Rice easy version, these Brown Rice Enchiladas, or this Cuban Black Bean Rice recipe and include your homegrown veggies. As you enjoy the delicious taste of fresh and natural ingredients, you'll also have the satisfaction of knowing you grew them yourself!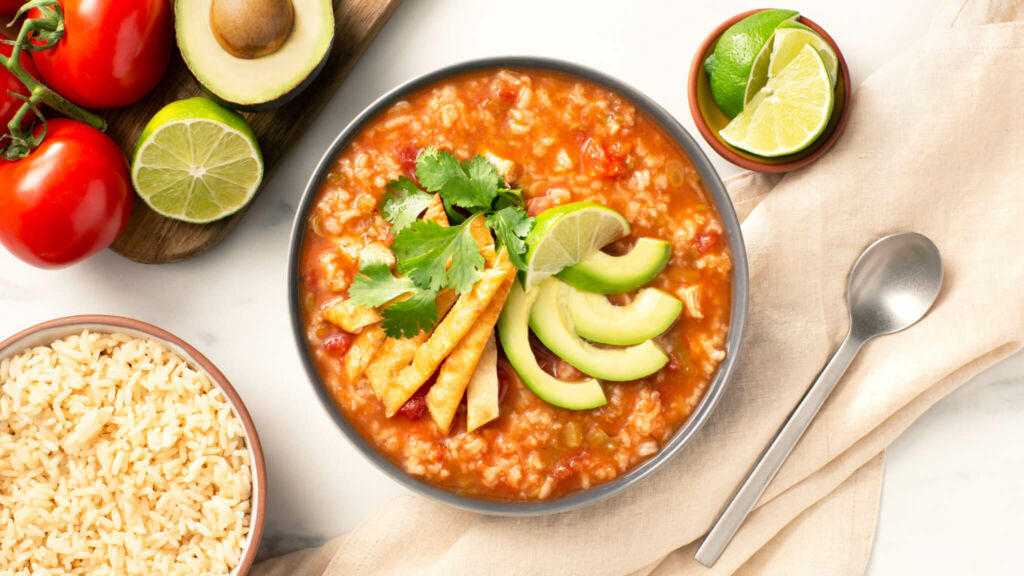 Quick Tip: if you are a fan of aromatic rice varieties, try all of these recipes with them! Visit and learn how to cook jasmine rice for all your favorite Latin-inspired dishes.
Celebrate the Influence of Latin American Food
Another interesting way to celebrate hispanic heritage day, is to take a look at some of the ways that Latin American cuisine has influenced dishes found in the USA. Perhaps the best example of the mixture of these two cultures is Tex-Mex food like this Tex-Mex Rice Bowl served with Mahatma® Cilantro Limon Jasmine Rice along with tortilla chips.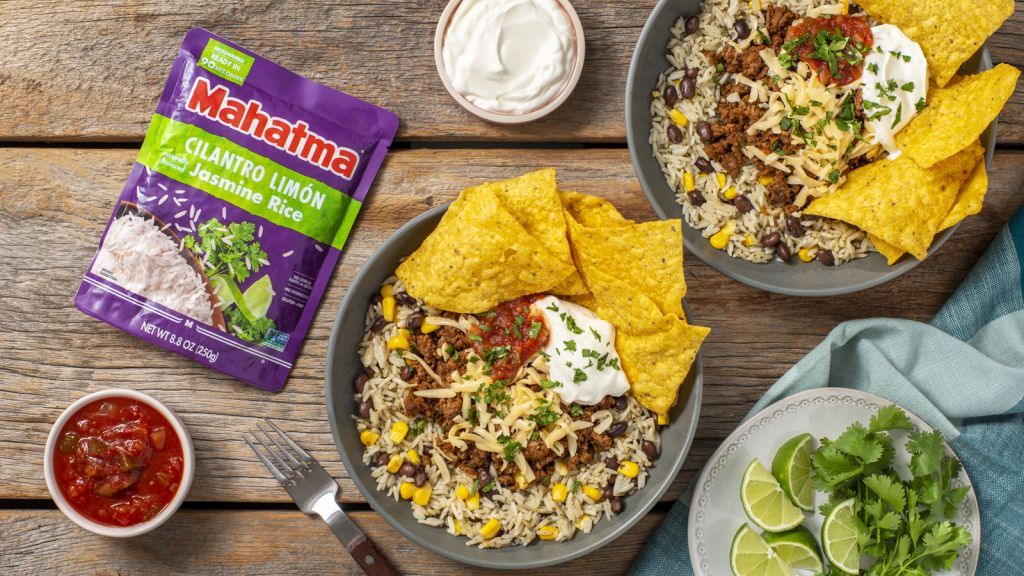 While these are just a few ways to learn about and celebrate Hispanic Heritage, there is so much to know, celebrate, and love about Hispanic culture and endless ways to do it. Food isn't the only thing to celebrate, but it sure is a fun and delicious place to start. Happy Hispanic Heritage Month!