Rice is a fantastic ingredient that can be used in a wide variety of recipes, but there is one dish where it really shines, paella. This traditional Spanish dish is well-known throughout the world with different names and traditions surrounding it. However, there is only one Authentic Spanish Paella that you too can make from the comfort of your own kitchen. Using the right proportions of rice, broth and cook time you can impress everyone with your show-stopping skills. Want to know the magic numbers? Start taking notes!
What Should I Know Before Making Paella?
You may have heard that cooking is not an exact science and that there are many factors that influence your final product. One thing is clear, it is essential to choose the right type of rice to make a great paella.
You'll also need to know how to calculate the amount of broth and respect the cooking time, which will be the deciding factor for making a paella dish just right with loose granules and without excess liquid. Now comes the million-dollar question: How much broth should I use and how long should I let it cook? Unfortunately, there is no single answer because it all depends on the size of your pan or skillet and the type of heat you're using.
You'll get a different result if you use gas or electric stovetops. Don't panic! We want to give you the right tools so you can prepare a winning paella and for that reason, we put our special made paella rice to the test to offer you the perfect proportions. Use our guide below to adapt it to your cooking and you'll see just how easy it is to cook a paella that is always on point.
Perfect Paella Proportions
To get the proportions just right, we cooked with Mahatma® Parboiled Medium Grain Rice, which is specially made for paella, using the kitchen heat that you would normally use at home. The Spanish use a special pan called a paella pan, but since we're not in Spain, we used a skillet that was 30 cm across that serves four people. Remember that based on these measurements we are referring to approximate times.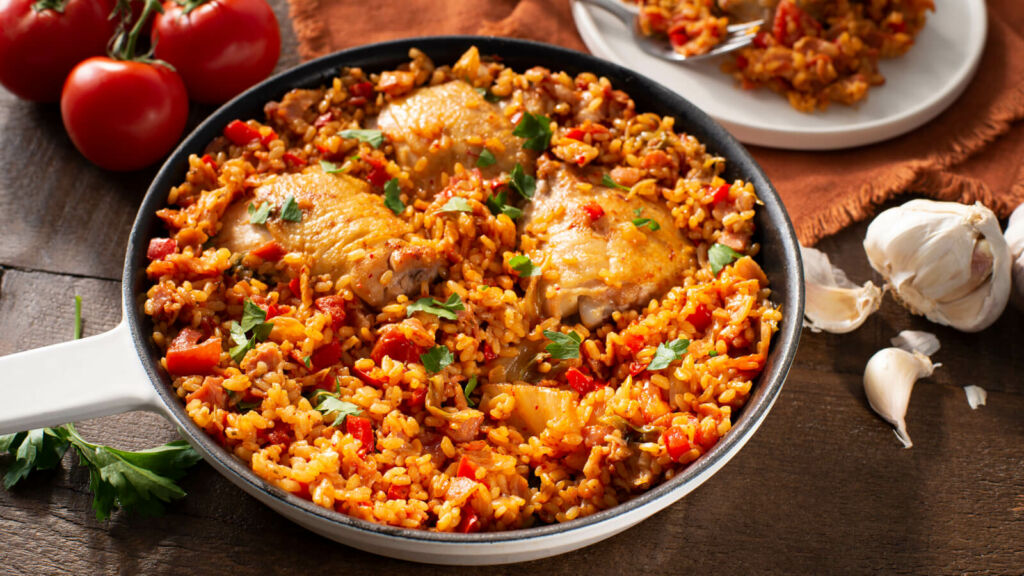 The capacity of the heat you're using, the location and the type of water used can all influence whether you may need a minute or two more or less and in the end, what really matters, is how you like your rice. The average proportion of rice to broth is approximately 1 part rice to 3.5 parts liquid with an average cook time of 22 minutes.
Want to make a paella for two? Then, you'll need 1 cup of rice and 3 ½ cups of broth, it's that simple! Now that you know the basic proportions, you can play around with the amounts, whether you want more or less rice and adjust the cooking time to get the rice just how you like it.
The best part about all of this is the reheated leftovers the next day if there is any rice left! Continue browsing our website to discover more delicious recipes with rice, or alternative cooking methods to your preferred grains like jasmine rice instant pot.