Rice is a fantastically versatile ingredient found in many shapes and sizes throughout global gastronomy. But, there is one phenomenal dish where it really shines — paella. This traditional Spanish dish is well-known throughout the world and often sparks a bit of controversy regarding the ingredients added in and cooking styles. However, when it comes to flavor and quality, even most Spaniards will all agree that the very best are homemade.
For that reason, at Mahatma® Rice, we've put together a definitive guide to making an authentic Spanish Paella at home to truly impress everyone with your show-stopping skills and knowledge of this iconic dish. So, are you ready to learn the secrets to making the best paella recipe? Start taking notes!
Origin of Spanish Paella
Much like other Mediterranean dishes such as risotto or arroz con leche, rice was first brought over by Arab cultures and the people living in those areas quickly developed recipes using local ingredients.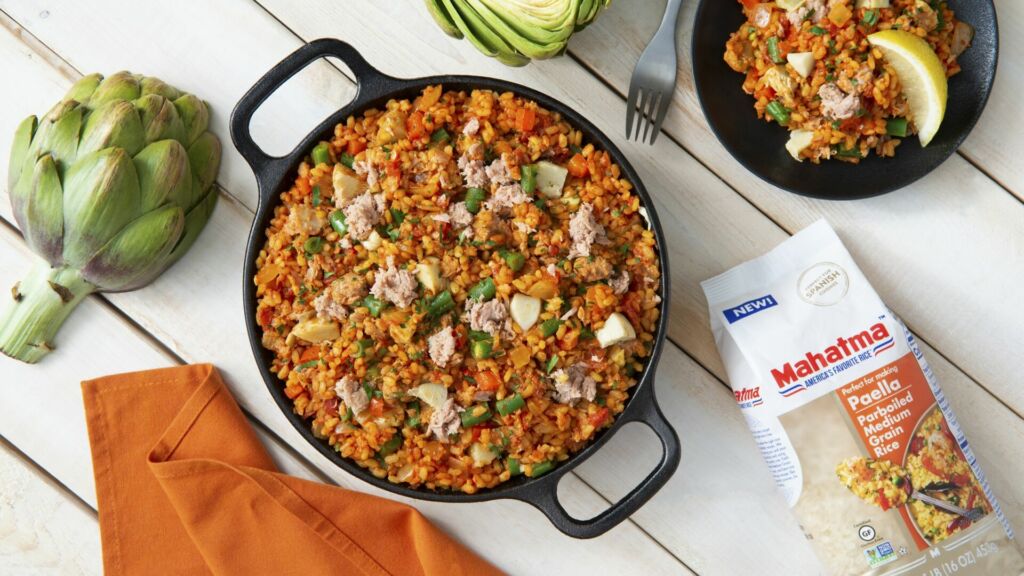 Moving forward in history, Paella Valenciana is often considered the most authentic version, given that this rice dish is said to have originated in the region of Valencia, Spain. With its humble beginnings, this dish made with arroz bomba, or Short Grain Valencia Rice, was meant to be a compilation of items to use up leftovers such as beans, tomatoes, artichoke, peas and meat from rabbit, snails, duck or chicken.
What Goes Into a Paella?
While the original version may include a mix of many ingredients, nowadays, to make a wonderful paella, you'll need three things: patience, practice and quality ingredients. Even though recipes may vary, there are certain staples to almost every paella:
Oil: Use Spanish olive oil, or another high quality option.
Fresh vegetables: For the best taste, use local and fresh vegetables (with the exception of frozen peas). It starts with a sofrito including red pepper, tomato, garlic and olive oil.
Seasonings: The characteristic color and taste come from the spices and seasonings added in such as bay leaf, smoked paprika, saffron and salt.
Rice: see below for the best paella rice available
Broth: While truly authentic recipes are made with fish stock using the discarded shells of seafood, chicken broth can also be added in.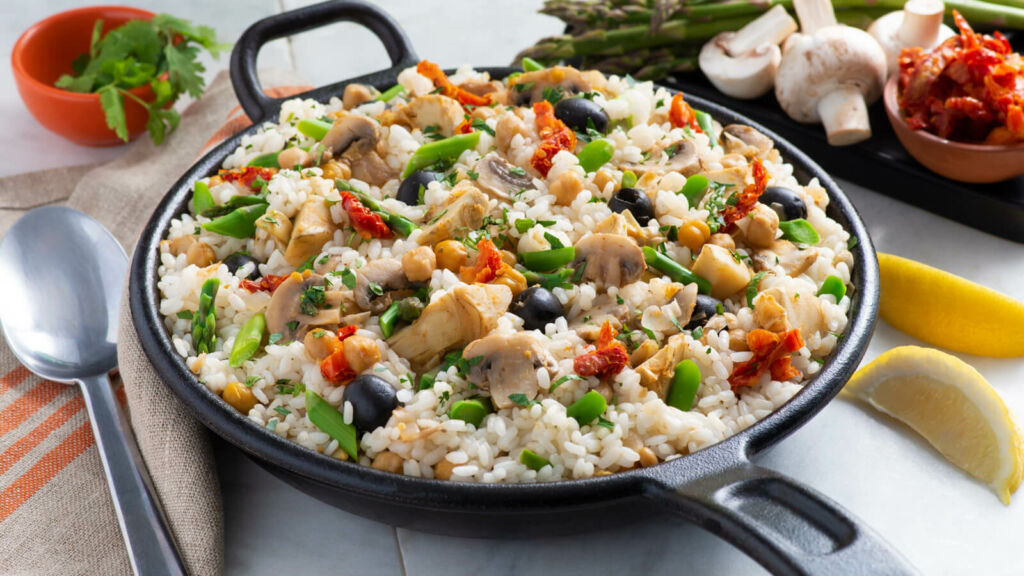 The Perfect Paella Rice
Keeping in mind that the quality and grain length of the rice have a direct impact on the taste and texture, our top pick when it comes to making paella is Parboiled Medium Grain Rice.
At Mahatma® Rice, we've created the ideal paella rice that perfectly absorbs flavors and, as it is medium grain, it has the perfect starchy consistency to create the creamy texture without resulting overly dense or sticky.
Note: If you're craving paella with only long grain rice on hand and make your paella with White Rice or Jasmine Rice, your results may be different and the water to rice ratio should be adjusted!
Perfect Paella Proportions
Now that you have the right rice, it is also important to consider how many people you will be feeding. Traditionally, paella consists of a thin layer of rice cooked in a large paella pan that may have that characteristic socarrat, or crispy rice bottom. However, nowadays it is more common to prepare more rice in a smaller pan.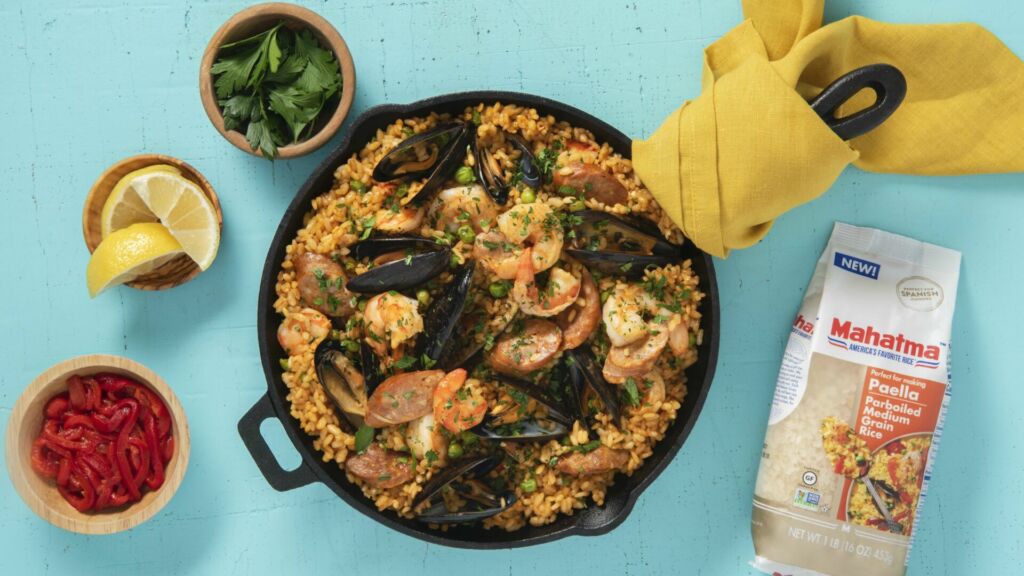 The average proportion of rice to broth for paella is approximately 1 part rice to 3.5 parts liquid and we would suggest that you use 80-100 grams of rice per person (that's about ½ cup uncooked rice).
Essential Cooking Utensils
In Spain, this dish is usually made with a paella pan that may differ in size depending on how much rice is being made. However, if you don't have one, use a copper pan, a stainless steel skillet or a cast iron skillet that is 11-12 inches across and serves four people. Remember that based on these measurements we are referring to approximate times.
Did you know? Historically, a paellera was a special gas-fueled round stove, while paella referred to the stereotypical cooking pan and the meal was un arroz, or rice. Nowadays, the term paella is often used to refer to the rice meal as well as the pan.
Paella Recipes
While Valencian Paella may have been the starting point, it has become a staple dish served in many parts of Spain and worldwide with a variety of ingredients.
Chicken Paella
Not to be confused with arroz con pollo, a chicken paella may include chicken thighs, breast or other more flavor pieces. Many chefs say that browning the bone-in chicken thighs or other pieces in the oil before beginning the sofrito adds a delicious savory base.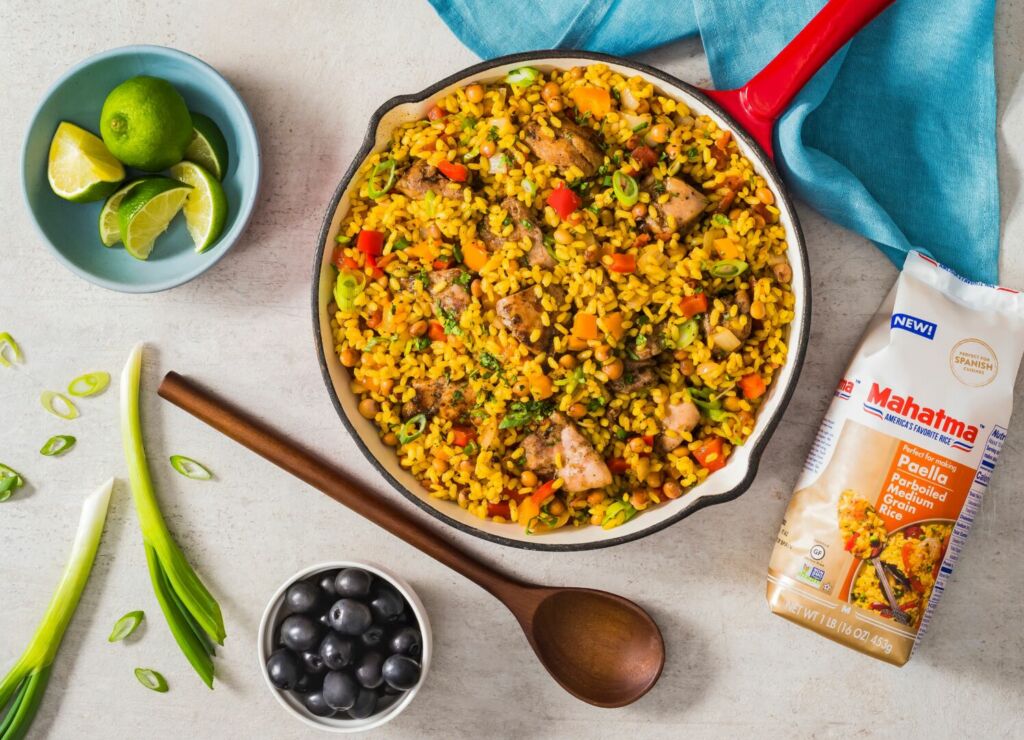 Many varieties that include both chicken, beef or pork and seafood are considered to be paella mixta, or mixed paella.
Seafood Paella
While the original may not have included seafood, paella de marisco, or Authentic Spanish Paella is quickly becoming the most popular form of paella. Made with a base of seafood broth along with monkfish, calamari, mussels and prawns, this recipe is seafood paella par excellence.
For something a bit simpler to start, try a Tuna and Artichoke Paella using a combination of vegetables and precooked seafood. If you're looking for a mix of flavors, try a Paella with Chorizo and Shrimp.
Vegetarian Paella
If you prefer to leave out the meat and seafood, why not try a vegetable focused paella? This Vegetarian Paella includes artichoke hearts, mushrooms, garlic, sun-dried tomatoes and chickpeas for a bit of added protein.
Or, use seasonal produce like in this Roasted Harvest Veggie Paella with butternut squash, carrots, parsnips, and Brussels sprouts.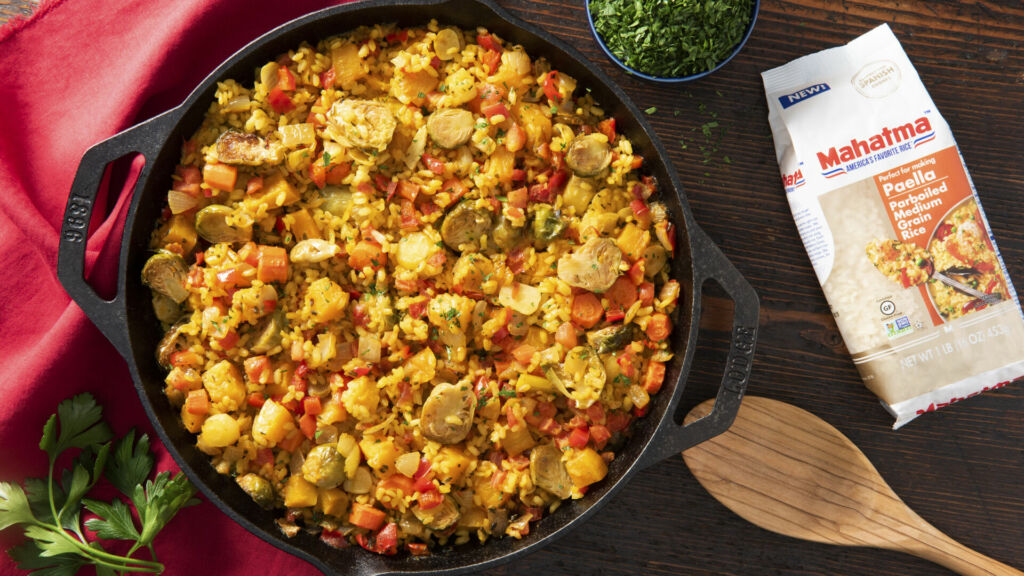 Fusion Paella
While there might be a bit of controversy when it comes to fusion flavors among paella enthusiasts, we can all agree these incredible recipe ideas are downright delicious!
If you're looking to expand the classic recipe to include other tasty flavors, try any of these below. We encourage you to unfollow the recipe and get creative in the kitchen.
The best part about all of this is the reheated leftovers the next day, if there is any rice left! Continue browsing our website to discover more delicious recipes with rice like this coconut milk rice pudding, or alternative cooking methods with your preferred grains like a jasmine rice Instant Pot recipe.