Get ready to embark on a flavorful journey as we dive into the world of island flavors. When we think of these flavors, images of juicy pineapples, creamy coconuts, and zesty citrus fruits instantly come to mind. These tropical delights add a refreshing twist to any dish, whether it's a fruity dressing or a rich parfait. Aside from fruits, you can also indulge in the vibrant spices and unique ingredients that define island cuisine. So sit back, relax, and let your taste buds take a trip to paradise as we explore the mouthwatering world of island flavors.
Coconut Takes Recipe to Next Level
This incredibly adaptable fruit can be prepared in a variety of delectable ways to balance the flavors of sweet, sour, spicy, and even salty foods. For example, Coconut Rice is a staple dish of Southeast Asia.
Depending on where it's prepared it can be considered a savory dish or sweet treat. This recipe is versatile, so it's easy to add whatever you and your family are in the mood for.
These enticing Thai Coconut Curry Chicken Burritos are the perfect choice for any sit-down weeknight meal with the family. Kids love to help make the burrito filling by stirring delicious coconut milk and curry paste to simmer the diced chicken and chopped fresh veggies. Recipe Tip: If preferred, swap out the Thai red curry paste with green or yellow curry paste.
You can never go wrong with a classic Coconut Rice Pudding.
The entire family will love this simple yet delicious dessert. Use the fruits you already have at home like pineapple, mango or banana. Try your pudding either warm or chilled.
There are so many delicious tropical fruits to choose from and pineapple is a beloved favorite all across the board.
Cooking with Pineapple
Pineapple has a particularly vivid and vibrant tropical fruit flavor that is sweet and tart. When you think of it, your mind will surely take you right to some tropical island sipping a piña colada on the beach. It is one of the most versatile fruits as it's used in drinks, savory foods, salads, and desserts. While some recipes require pineapple slices, others only use the juice. Although prepared versions of both are available, fresh pineapple has a distinctive flavor. Once you taste these Mahatma® Rice recipes, we can help to get to that tropical paradise (albeit if it's only in your imagination) in no time.
Shrimp Options
If shrimp is on the radar for dinner tonight this Shrimp Fried Rice with Pineapple and Egg is a must! The whole family will swoon over this yummy recipe. With the help of a sweet pineapple, the savory rice in this meal is elevated to new umami heights. This recipe is loaded with fresh sautéed shrimp, toasted peanuts, soy sauce, and a touch of hot sriracha. Our Naturally Flavored Ready-to-Heat Jasmine Rice also takes center stage with a hint of cilantro and lime, making it just as precious as those beloved pineapple morsels. Another shrimp option is our Rice Lettuce Wraps with Jerk Shrimp and Pineapple Salsa. In addition to the succulent jerk-seasoned shrimp, the handmade pineapple salsa with red onion, jalapeños, lime juice, and cilantro really makes this dish stand out. It gives the shrimp and rice a rush of flavor in every bite.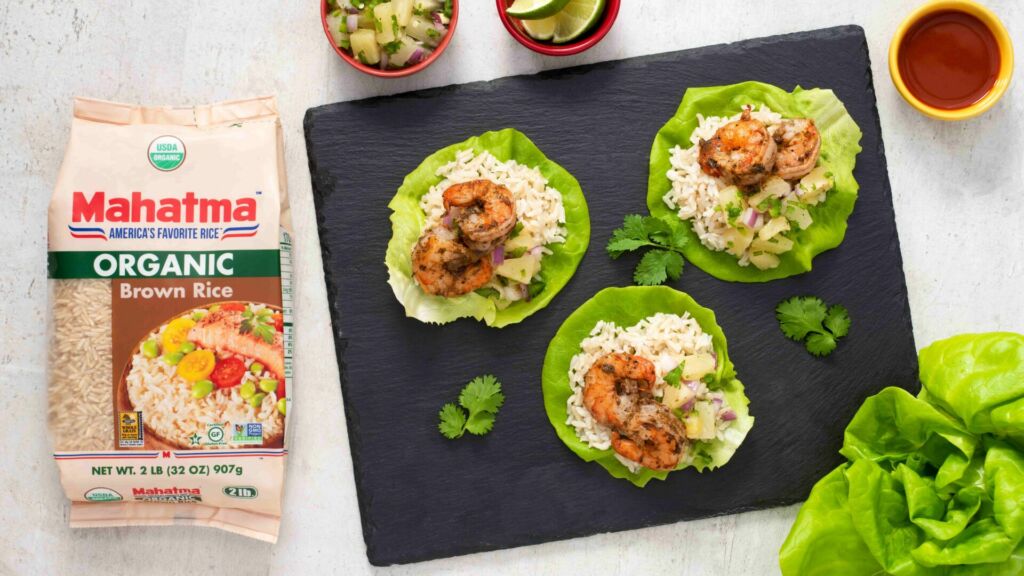 Fried Rice
With a little bit of spice and everything nice this Thai Pineapple Fried Rice will check off everyone's boxes! We guarantee you after one sitting, this recipe will become a new family favorite all around.
Just add your preferred ingredients to make your favorite fried rice, whether it's cooked with kimchi, bacon, or pineapple. This flexible recipe is wonderful since it contains vegetables, proteins, and even fruit. You're sure to adore the sweet and salty mix created by the addition of sweet and acidic pineapple and a small amount of honey.
Using Mango in Island Flavor Recipes
There's nothing that a mango can't do! This delicious fruit comes across as the hero for these insta-worthy recipes. #Unfollowlareceta with this Tuna Ceviche with Avocados and Mango. It's the perfect refreshing summer dish packed with fresh ingredients like tuna, mango and avocado. All those delicious summer cravings packed into one. Another summer go-to is our Mango Rice Salad with Ginger Vinaigrette. This sweet and delicious Salad is an ideal lunch for one or serve it at your next BBQ or family gathering. Skip the trouble but not the pleasure. End the day on a perfect note and savor these Pineapple and Mango Rice Pudding Parfaits. They are easy to make and just the right amount of sweet and tangy. Packed with all your island favorites, the whole family will be asking for more!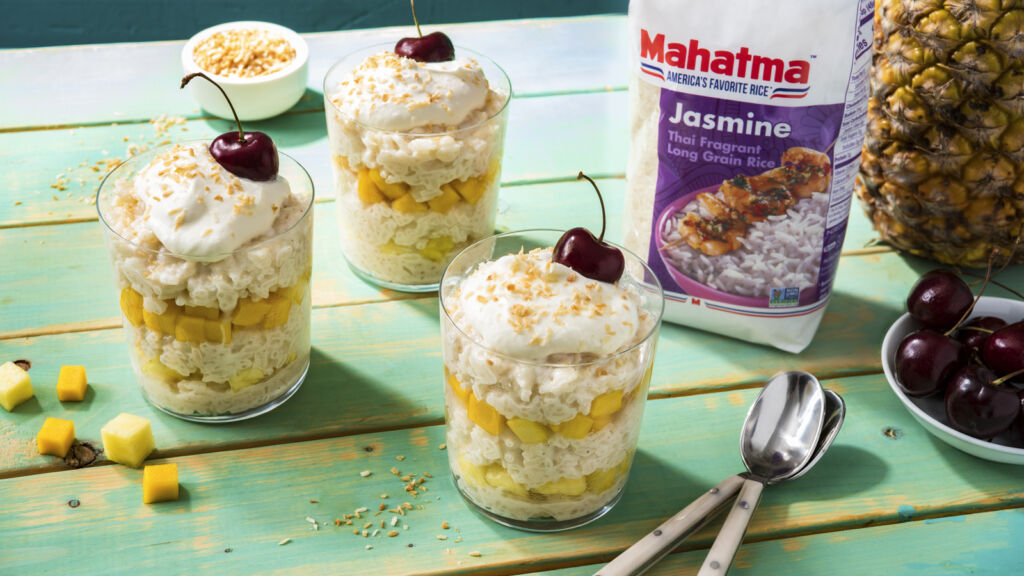 Poke Bowls and More
Island flavors also showcase the use of aromatic herbs and spices like jerk seasoning, lemongrass, ginger, and turmeric. These ingredients add depth and complexity to dishes, creating a symphony of flavors that transport you to a tropical paradise. Don't forget to add poke bowls to that list! This Hawaiian inspired Orange Miso Sesame Tuna Poke Bowl with Sticky Rice contains all those exotic island flavors that you've been craving. This dish is customizable so if you need to stray from the recipe, no worries! Feel free to use whatever you have in the pantry or in the kitchen. Not in the mood for Tuna? Try the salmon version tonight.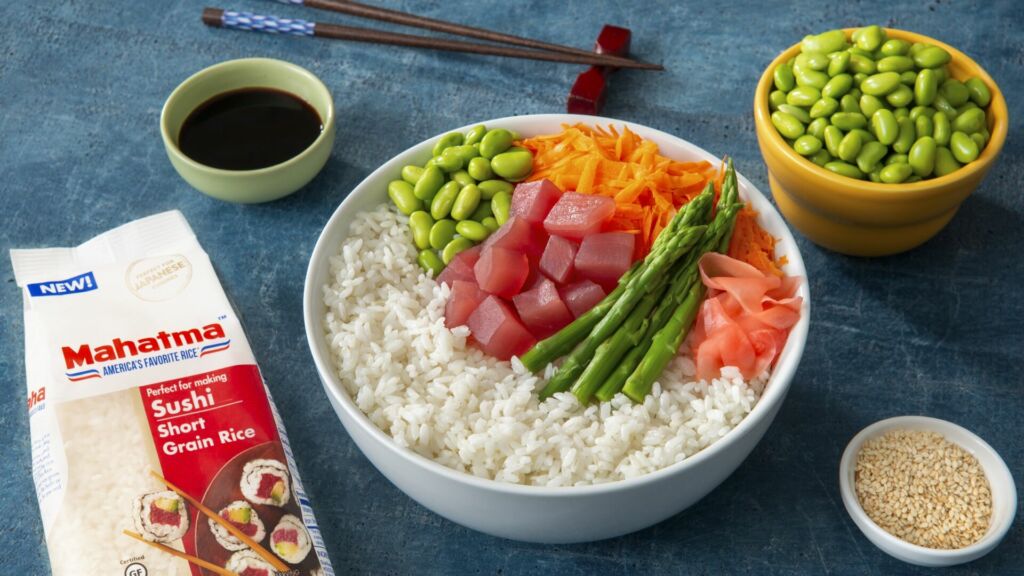 Don't forget to check out www.mahatmarice.com for more fabulous recipe inspo.