When someone mentions salad, if you're imagining a bit of iceberg lettuce with chopped carrot and a few cherry tomatoes, you're missing out on a whole world of flavor. Salads can be a really great way to mix taste and texture into one meal. And, they don't have to be a side dish, when choosing the right ingredients, a salad can leave you feeling satisfied and energized.
We'd like to change the way salads are perceived by showcasing 10 of our favorites using hearty grains like rice and quinoa, with delicious toppings. But, before we get into the recipe ideas, we'd like to debunk a few common salad myths.
Debunking Common Salad Myths
MYTH 1: Salads aren't filling
Salads can be extremely filling, you just have to bulk it up with added fiber and protein. If you want to make your salad a meal, start with a hearty grain base, one or more proteins of choice, and fiber dense veggies. By incorporating grains, you not only get those added nutrients, you also feel more satisfied.
If you're not sure where to start, grains like rice and quinoa add aroma and flavor that will take your dish to the next level. Reach for hearty Brown Rice when you want more whole grains. For a hint of sweetness, use fragrant grains and learn how to cook Jasmine Rice or Basmati. The neutral flavor of our fluffy White Rice lets other ingredients take the spotlight while providing a filling base. You might also prefer a blend of rice and quinoa, make sure to read up on our Rice Varieties, so you can choose the best grain for your dish.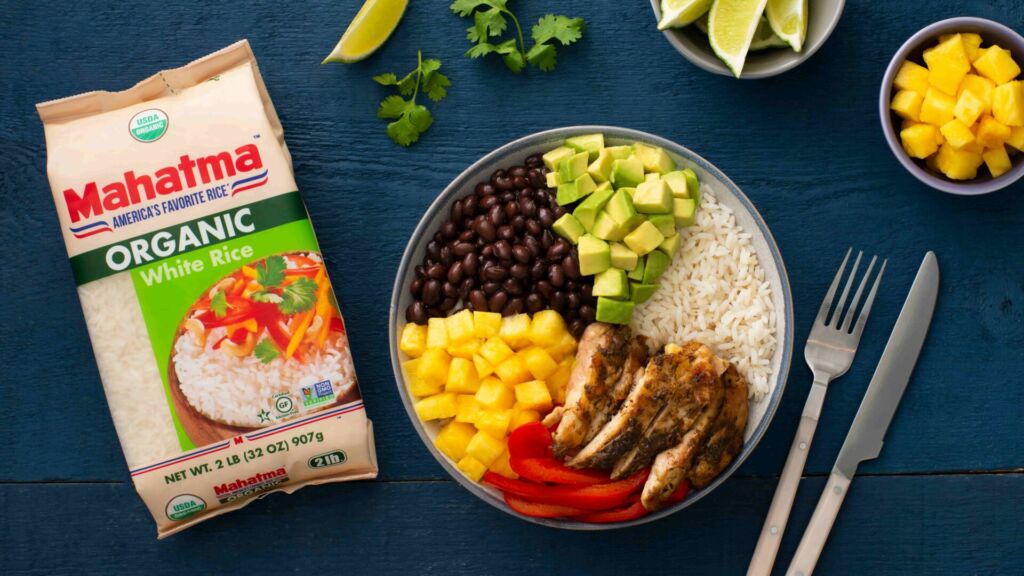 MYTH 2: Salads don't have any flavor
Whether you're getting color from fruits, veggies, or spices, salads can be tantalizingly festive. Mix in different ingredients to constantly switch it up! Try these simple tips that will take any salad to the next level.
Tip #1 Season your Salad
You'd be amazed by the flavor boost that a quick dash of salt and pepper can make or use fresh herbs for a nice touch, especially when paired with light vinaigrettes.
Fresh basil can pair well with tomatoes, creamy cheese and spicy flavors.
Mint goes well with feta, citrus and fresh fruits like watermelon.
Sprinkle cilantro on Latin-inspired salads or Asian cuisine.
Parsley is also quite versatile, highlighting fresh flavors. Sprinkle it on your favorite summer salad!
Tip #2 Choose enticing ingredients
Take a break from classic ingredients and add a bit of fun flavor to try something new.
Choose meats or vegetarian alternatives that have been marinated in flavor and grilled or broiled. Use poached eggs instead of hard boiled.
Fruit adds a splash of color and bursts of flavor. Juicy fruits are so refreshing in the summer. Toss in some berries, or dice up some mango. That's not to say that autumn fruits — from figs to apple slices — aren't just as rich and satisfying. With an extended shelf life, dried cranberries, apple chips, and raisins are great mix-ins to have on hand.
Tip #3 Use a Delicious Salad Dressing
Homemade salad dressings will give your salad an extra pop! Many of the recipes call for a quick DIY Vinaigrette — taste the difference by making it yourself.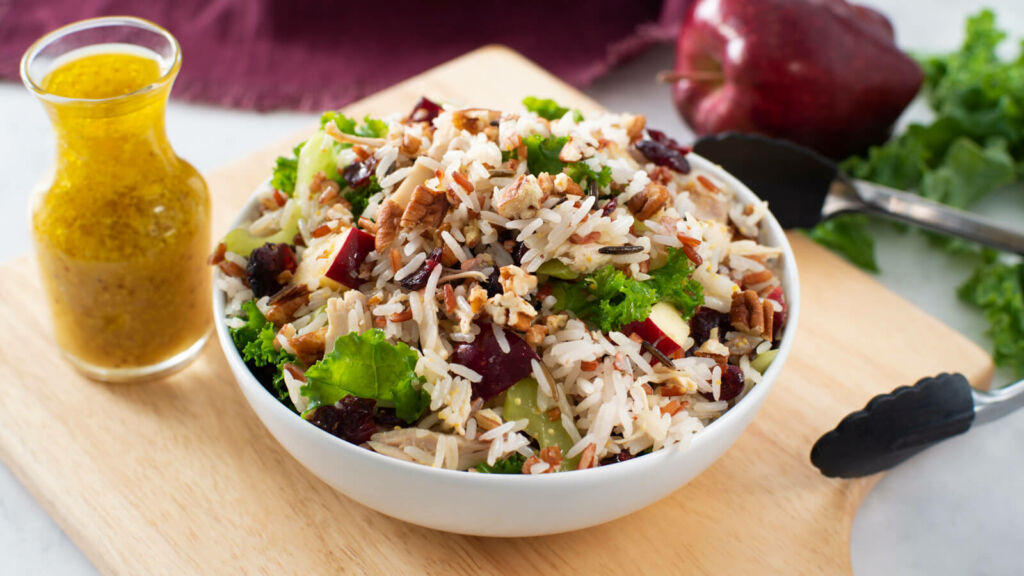 MYTH 3: Salads are boring
Salads don't have to be boring! By using an assortment of textures like crunchy seeds with soft cheese and crisp lettuce, you have the power to make your salad an experience all on its own. The key is to create contrast.
Most salads stop at vegetables and dressing, but you'd be missing out on some satisfying crunch! Use these fun and simple ideas to use in your next salad:
Nuts: Sprinkle on chopped nuts. They will add another layer of flavor complexity — especially if they are toasted!
Seeds: Add some seeds — pumpkin, sesame, flax, sunflower —to bring new flavors and textures to your dish.
Creative Toppings: Wonton strips, crispy onions, or homemade Puffed Rice!
Keep in mind that this is just a short list of tasty mix-ins possibilities; your options are truly limitless. So whether you prefer popular ingredients, or opt for those more unconventional, it's impossible to tire of well-built salads.
10 Delicious Salads
Use our tips and tricks and above all else, create your bowl using ingredients you like best to make your salad something to look forward to.
Starting with a blend of Mahatma® Jasmine with Red and Wild Rice, this salad is packed with earthy, nutty and toasted flavors! Of course there are other Reasons You Should Be Cooking With Wild Rice but this dish flaunts just how fun and festive it is!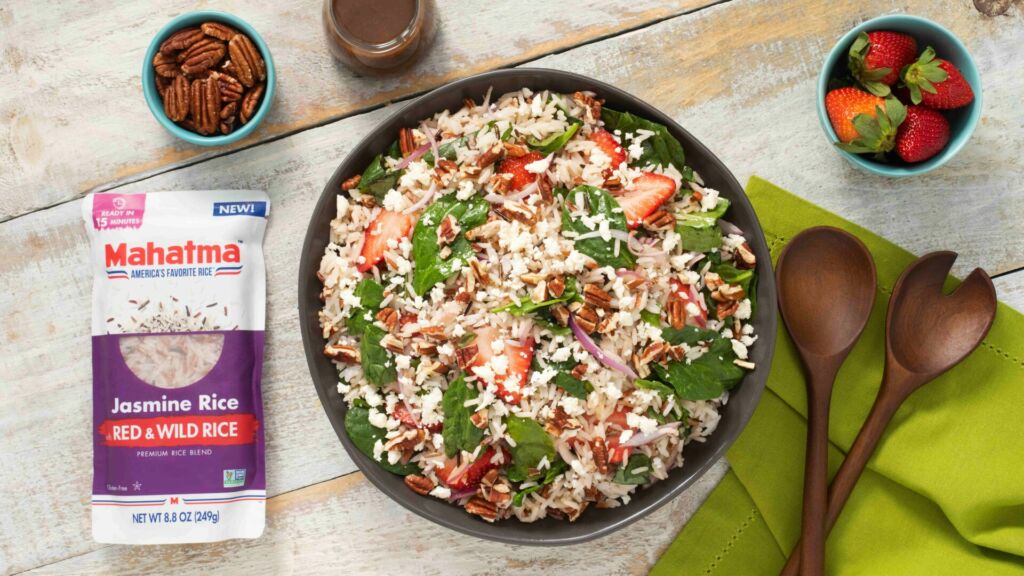 Did we mention this salad is loaded with juicy strawberries, crunchy nuts, and creamy feta? If you've tried any of these Delicious Fruit and Rice Recipes, you know just how tasty this combination is! Light yet satisfying, this vibrant salad is about to become a new summer classic.
At the same time, these festive colors would look great on your holiday table. Whether this is your go-to BBQ potluck contribution or a light side in your holiday spread, this plate is sure to please every palate.
Showcased in a Mason Jar, this tasty tower of vibrant veggies will have you counting down the minutes until lunchtime. Dress up our ever-versatile white rice with Italian dressing: a sweet citrusy vinaigrette with bits of bell peppers. Don't worry, the fluffy bed of rice will absorb all those tangy flavors until you're ready to eat!
Use hardy vegetables in this recipe as this masterpiece will be doused in dressing and refrigerated for a while. In fact, this is why avocados should be tossed with lime juice – you want to preserve that lovely shade of green. We've chosen veggies that can withstand the dressing drizzle without getting soggy, though other options could include cauliflower, broccoli, or cabbage.
Whether you are looking to round out your diet or just want a photo worthy meal, use this recipe or try any of these Rice Salads to Eat the Rainbow to switch things up.
Get chopping on this traditional Lebanese salad. Swap out the bulgur for our hearty Jasmine Rice with Quinoa — you'll get those same nutty notes with an aromatic touch! Lebanese cuisine connoisseurs may also notice our other secret ingredients — a pinch of cayenne and ground cumin! Want a sweeter salad? Mix in some sweet potatoes or pomegranate seeds.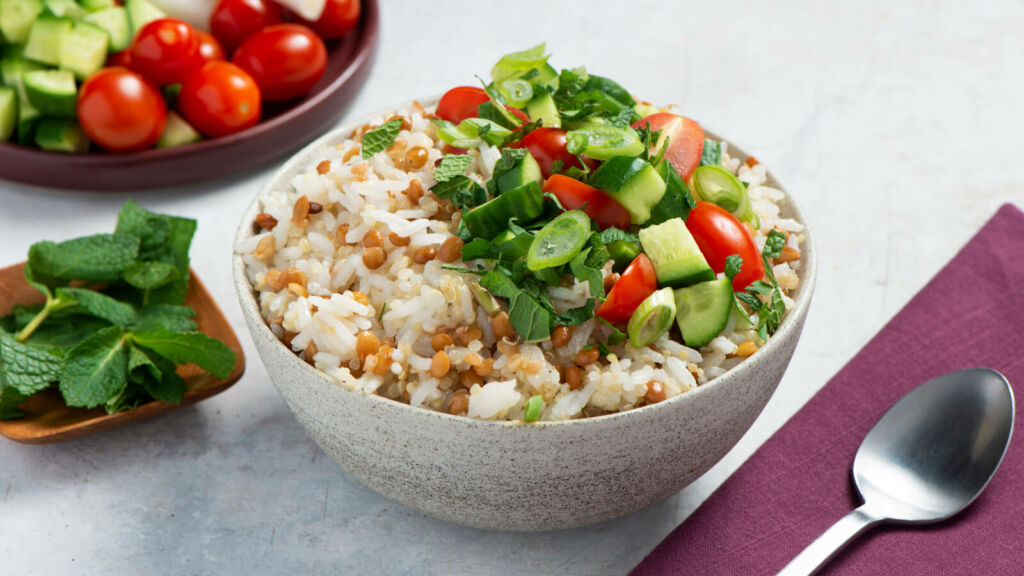 Tabbouleh is the ideal salad to get your appetite going. It is traditionally served on a Mezze, an appetizer platter, along with other Mediterranean classics such as hummus and pita. Of course, there's no rule against building your own mezze.
We put a heartier twist on Tabbouleh by also adding lentils. Looking to make it a meal? Simply heap on some grilled chicken or serve alongside a juicy steak.
This is a great meal for those who have a stocked kitchen but no meal plans. Raid your pantry and grab that bag of white rice and those tuna cans. Don't forget about produce like onions, peppers and garlic. And finally, you've got an excuse to use those capers stocked on your shelf.
In order to let the other flavors shine, we cut the mayo with a tangy vinaigrette. This enhances the flavors from those fresh vegetables, tangy capers, and ripe peppers rather than mask them.
As a creamy, citrus seafood salad that you can whip up quickly, this no-hassle pescatarian plate is sure to be a family favorite.
Fire up your grill and get going on this satisfying backyard favorite. For the summer flavors you're craving, top our fragrant basmati rice with an array of grilled vegetables including corn, asparagus, and zucchini.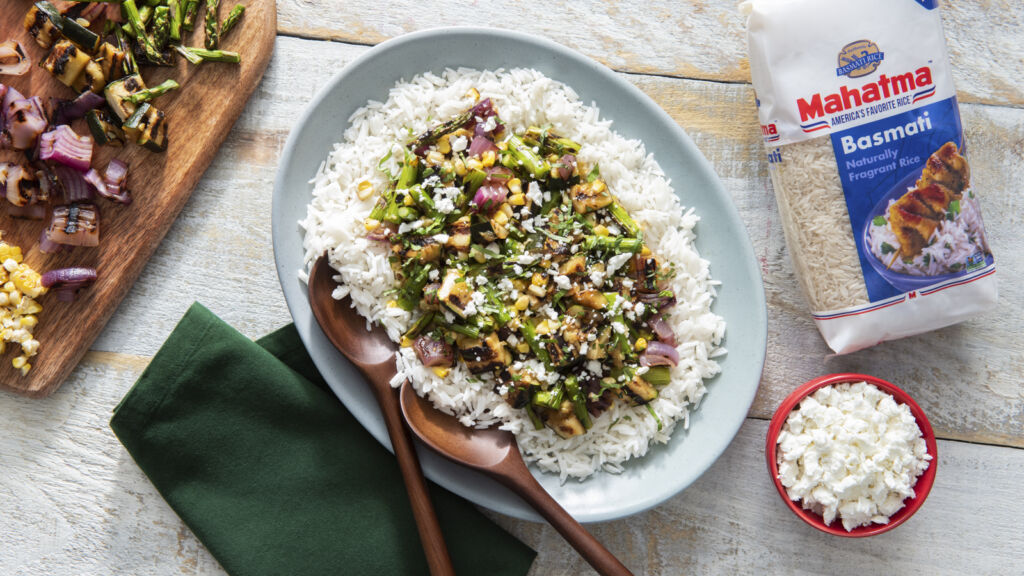 An unforgettable summer get-together begins with a great menu: get some inspiration from these tried and true Tasty BBQ Ideas Both On and Off the Grill.
Tip: By simply swapping in oven-roasted eggplant, squash and sweet potatoes, you can make this a fall favorite!
Packed with hearty whole grains and vibrant vegetables, eating salads has never been so delicious! We know that meal planning can be a bit tedious, so it's always a good idea to keep a few staples in the freezer for a quick, well-balanced meal. Mixed with an assortment of other fresh flavors, salad is a great place to sneak in some frozen veggies.
Light yet satisfying, Mediterranean-Inspired dishes always seem to hit the spot. And, to make sure your plate is reaching its full potential. Skim through our guide on How to Cook Perfect Brown Rice to ensure that you're getting the full nutty whole grain experience.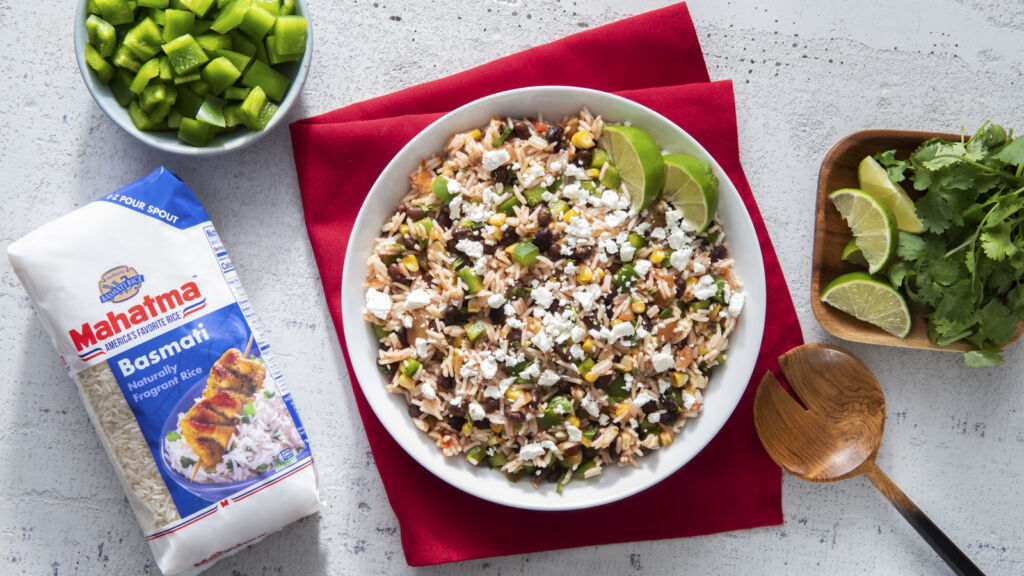 Loaded with fresh vegetables and black beans, this spicy salad is as simple as it is satisfying! You'll have all the ingredients measured, chopped, and prepped even before that aromatic basmati rice finishes cooking! Searching for a wholesome meal that will be ready in mere minutes? Repurpose that leftover rice and make it happen! Simplify your daily routine by mastering the art of Reheating Leftover Rice.
If you want to turn up the heat, toss in some jalapeños, pepper flakes, or any of these Spicy Food additions.
Stock up on our blend of Jasmine Rice with Red & Wild Rice for this plate too. This elegant dish is our take on Waldorf Salad. Get creative to make your salad just right by seasoning your chicken to get another layer of flavor. Instead of using a red apple, mix in tangy diced Granny Smith diced. Swap out sweeter pecans for buttery walnuts. You'll soon have a cornucopia of rich autumn ingredients.
While this rich dish may take a bit longer than others, it is time well spent. The ingredient list may look daunting; luckily, you most likely have these ingredients hidden away in your pantry. When cooked with cinnamon and cloves, our already flavorful Jasmine Rice with Red & Wild Rice hits a new level. And that flavor-forward, bitterness of cumin, turmeric, and paprika? They give your dish a delicious kick!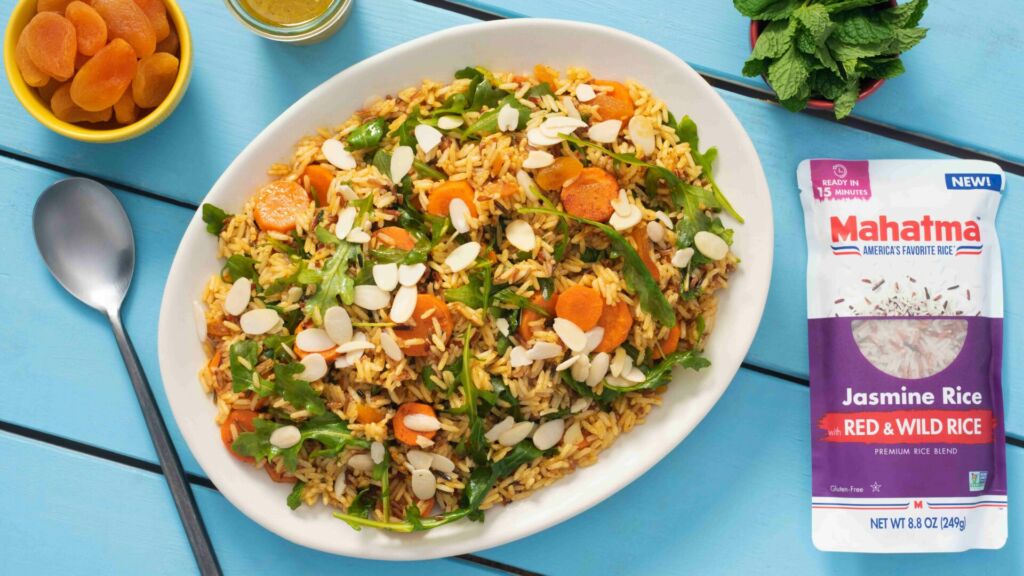 Yet another Hearty Vegetarian Recipe for your repertoire, it could also just as easily pair well with some meat.
Give your taste buds a treat by tossing together this vibrant dish. Thanks to the flavorful chicken, smothered in Jerk BBQ sauce, this salad needs no additional dressing. This marinade packs a punch and is not for the faint of heart.
The sauce contains scotch bonnet chiles, similar to habaneros — so marinade accordingly! With a crispy exterior and tender interior, your chicken should come off the grill with an irresistible smoky flavor! The smoky, spicy flavors aren't overpowering when paired with juicy mango, creamy avocado, and zesty lime.
Tip to beat the heat: A tangy salad tossed with fruit will give you the energy you need to get through those dog days of summer! This tasty Mango Chicken Rice Salad doubles down on those zesty flavors with a citrusy vinaigrette.
If you want to take a salad break try these taquitos dorados.
Now that you know the secrets of a great salad, there's nothing stopping you from mixing up a great meal!  Missing something? The good news is that once you have your grain base, you can get creative! If you don't want to stray too far off the recipe path, you can check out our list of Ingredient Substitutions. If you keep a bag of your favorite grain or two in your pantry, you can whip up a world-class salad in no time! From appetizers to dessert, Mahatma® Rice has got you covered! In fact, you can whip up our creamy arroz con leche recipe or an instant pot jasmine rice using kitchen essentials! We have a ton more salads – amongst other dishes – in our recipe selection. Do you have a favorite that you want to share? Let us know!