Did you know about 60% of all global cuisine uses rice as a complement to or part of its main dishes? This is most likely because rice grains are grown on nearly every continent with a wide range of varieties in length, color and texture making it a wonderfully versatile ingredient for all kinds of meals.
To celebrate National Rice Month, with so many rice varieties and recipes available, switch things up with us and discover exciting new flavors with the lifelong favorite that never fails. Come with us on a world tour to discover native rice varieties and authentic national dishes from more than a dozen countries.
Can you guess which is a native variety from North America? Discover the role rice plays in international cuisine and new recipes so you never get bored of enjoying the versatility of cooking with rice.
Native Rice Varieties
If you've taken a look at our quick guide to different rice varieties, you probably know by now the primary differences in grain length and flavor profile. However, in this rice world tour, it's worth highlighting where certain rice varieties are native and what makes them a large part of that culture – the rice-fish systems in Asia, or rice and beans in the typical dishes of Cajun or Latin food.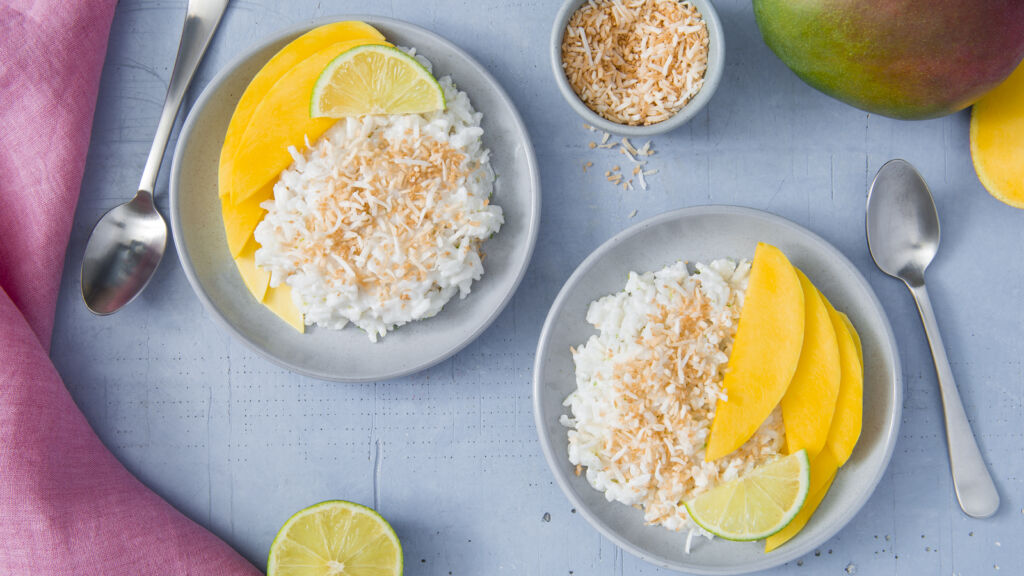 Across Southern Asia and the Middle East, basmati rice is largely grown, and Thai jasmine rice is the star crop in Southeast Asia. While these two long grain rice varieties have rapidly grown in popularity worldwide, shorter grain varieties like Italian arborio or carnaroli for risotto, or Valencia rice for Spanish paella, have gained a spot in the pantry of many home cooks. After all, one of the things that could make or break your dish is choosing the right ingredients.
From all of these international grain types, there's one that is native to North America and primarily grown in the U.S. Although it is not technically rice but rather an aquatic seed, wild rice is our local grain variety!
International Rice Dishes
Sometimes trying to determine the origin of recipes like rice pudding or Arroz con Leche can be a little tricky. Certain dishes may pertain more to a region than a single country as each culture may put their own spin on a famous meal using local ingredients.
So, let's dig into a few of those regionally famous dishes. Stock up on rice and put on your apron to take your family on a trip around the world by showcasing delicious international recipes in your weekly meal rotation. We have 16 destinations with a ton of flavor ahead of us!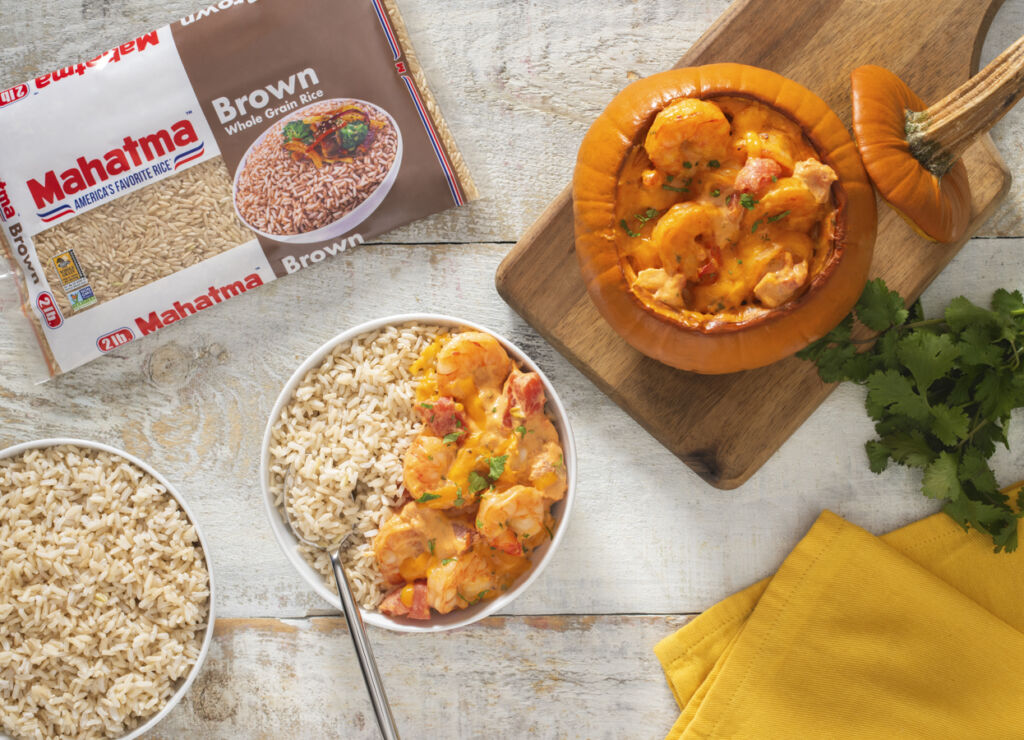 1. Brazil
Starting in South America, one typical Brazilian dish consists of a creamy shrimp stew that pairs beautifully with rice. Try this delicious Camarao na Moranga (or Brazilian Shrimp Stuffed Pumpkin) and serve over a bed of brown rice for a filling meal.
2. China
Buckle up and prepare to finally learn the answer to one of the most asked questions: Where is fried rice truly from? You guessed it! Everything started with Chao Fan (Chinese for fried rice). Starting from Chinese civilizations, this dish has become a family favorite recipe worldwide that has been reinvented with all kinds of ingredients – which is your go-to rice recipe at home? Take some inspiration from our globally Inspired varieties below:
3. Cuba
Colorful ingredients and bold flavors are bursting at our next step: Cuba. With internationally recognized dishes like Mojo Chicken or Ropa Vieja, rice is without a doubt a staple ingredient in Cuban cuisine.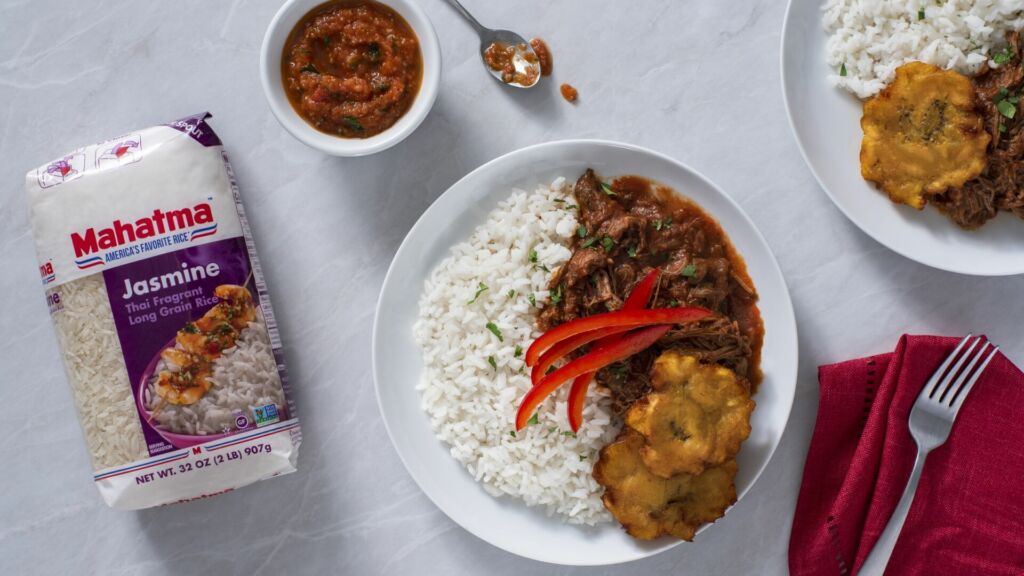 Rice fact: Cubans meals generally include plain white rice or golden-tinted yellow rice
4. Costa Rica
Have you ever heard of Gallo Pinto? This is a typical Costa Rica dish that consists of a combination of black beans and white rice, tossed in an aromatic sofrito for yummy flavors in every bite. This is a prime example of traditional dishes that might vary by region as neighboring countries in Central America have their own variety like in Nicaragua.
5. Greece
From the Mediterranean Coast, Greek cuisine has a signature rice dish: Avgolemono soup. Try it for any comforting weeknight dinner to warm you up from the inside out with this velvety chicken and rice soup with a dash of citrusy lemon flavors. Or, try a bit of homemade street food with this delicious Chicken Souvlaki served over a fluffy bed of rice with vegetables and tzatziki sauce.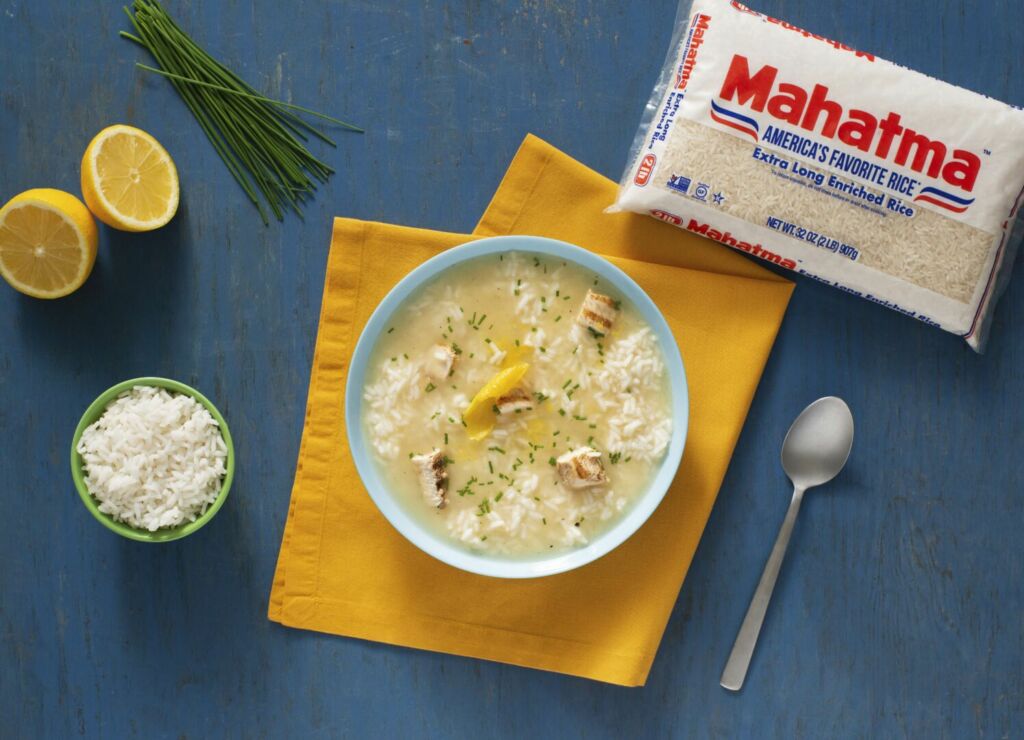 6. Guatemala
For an indulgent dessert, we recommend you explore Guatemalan cuisine and whip up these Plantain and Rice Rellenitos coated in sugar and cinnamon. Stepping out of your comfort zone was never as tasty!
7. India
Our next stop takes us to India with two exciting and vibrant chicken and rice recipes that are nothing short of flavorful. Loaded with spices, make the most out of the condiments in your pantry by preparing two classics like Chicken Tikka Masala or Chicken Biryani with basmati or jasmine rice.
8. Italy
Riso (Italian for rice) is a staple ingredient in Italy, where risotto originates. Did you know they also invented a recipe to repurpose risotto leftovers? You guessed it. Arancini, or Italian rice balls, are rolled, filled with cheese, breaded and fried for an even more flavorful dish than the previous one.
9. Japan
There are many delicious recipes from Japan that are prepared with rice! Just to name a few classics you could be trying at home tonight, we owe sushi, onigiris and even the now popular bento boxes to Japanese cuisine.
10. Korea
Korea is another Asian country filled with tasty dishes accompanied by rice. For a new take on classic beef bulgogi try these Korean Beef Lettuce Wraps with Mahatma® Jasmine Rice for either a flavorful appetizer or a light lunch or dinner option.
11. Mexico
We have all most likely attempted to make Traditional Mexican Rice, or even have a family recipe packed with cooking secrets from the abuelita. However, Mexican cuisine has many more ethnic dishes to discover, like Charro Beans, Pozole or Mole – all served with rice. You can also try these delicious Tacos Dorados.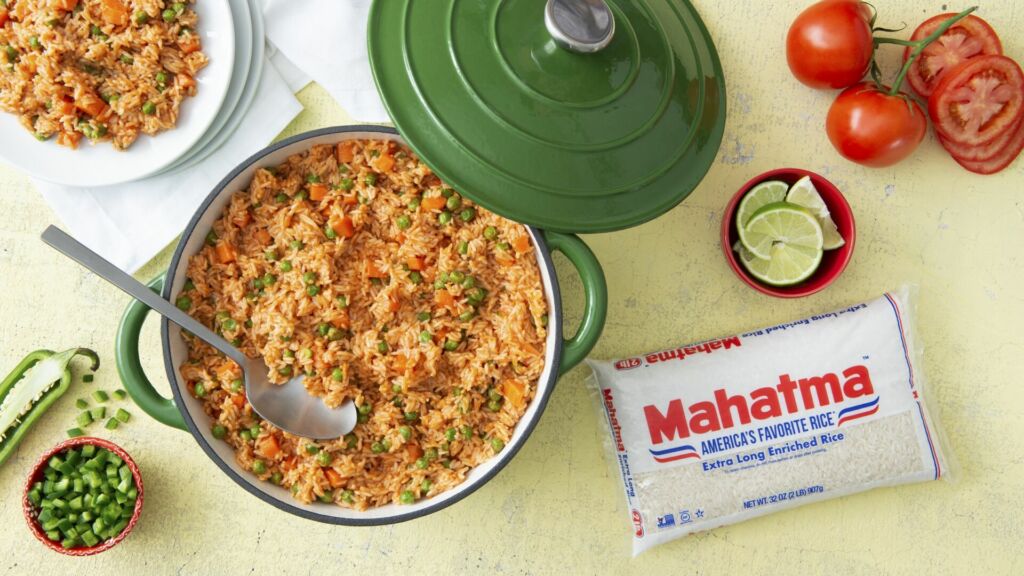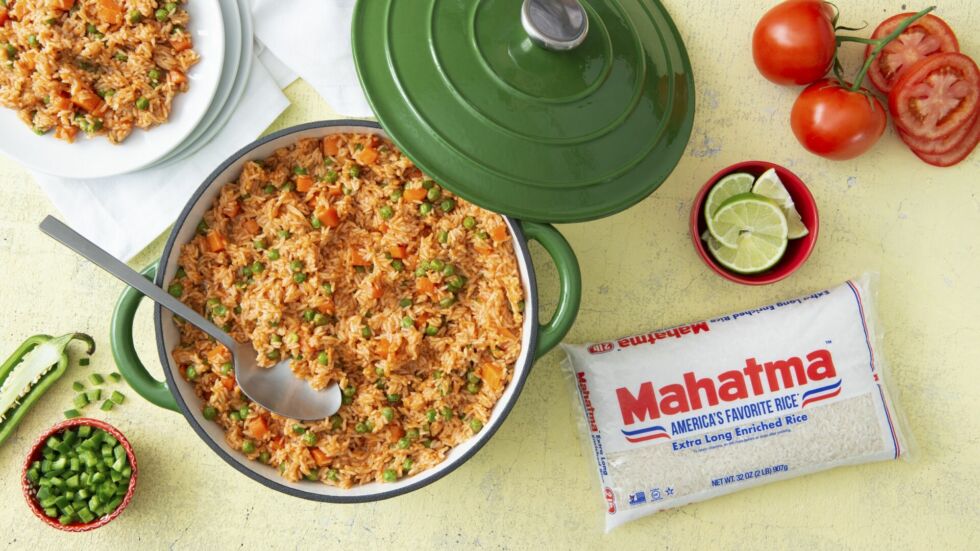 12. Morocco
Rice is an excellent Gluten Free alternative to typical couscous from Morocco, and so, you can use it in any of their traditional recipes like in this Moroccan Wild Rice Salad or this Moroccan style Chicken and Basmati Rice dish – the key is in the bold and fragrant spices!
13. Puerto Rico
The cocina criolla from Puerto Rico is packed with flavorful grain and legume recipes. Habichuelas are the most common legume in the country and the main ingredient for one of their national dishes: Arroz con Habichuelas. After you nail this recipe, continue exploring true Puertorrican flavors by trying this Picadillo with Brown Rice next.
14. Spain
Recognized across the globe, the traditional rice dish from Spain probably needs no introduction, in fact, did you know there's even a National Spanish Paella Day in the US? Now you have another excuse to prepare an Authentic Seafood Paella in March. If you want to explore other Spanish cuisine delicacies, whip up this tomato soup Gazpacho and serve garnished with Jasmine, Red & Wild Rice.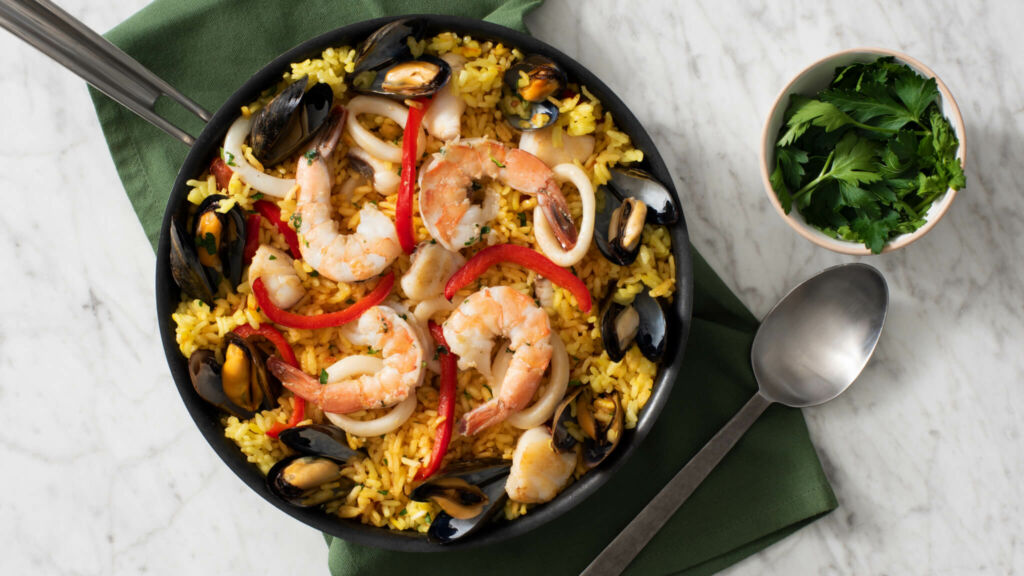 15. Thailand
Thailand is the home to aromatic rice crops we all love and use in the kitchen. Aside from being so important for the country's agriculture, jasmine rice is the main ingredient for a Thai street food delicacy: Mango and Sticky Rice.
16. USA
Last but certainly not least, Creole cuisine from Louisiana is famous for the usage of rice in some of the best dishes out there! Take your tastebuds on a visit to the heart of New Orleans by trying authentic classics like Jambalaya or Dirty Rice.
This list could go on for many other amazing destinations like Vietnam, Cambodia or Turkey in which rice is also an essential component of the everyday menu. This flavorful journey has just begun with the celebration of Rice Month and we highly encourage you to explore these global inspired dishes and learn more about the culture of these countries with the rice that unites! Share all your recipe creations with us by using #MahatmaRiceUnites.